11:31am: Jay Glazer of FOX Sports says Beckham's return to full strength will happen closer to the mid-November timeframe that had been floated for some time. Per Glazer, Beckham is expected to be fully cleared within the next week (Twitter link).
08:16am: The Cowboys made an effort to improve their WR corps in advance of Tuesday's trade deadline, including an attempt to acquire Texans wideout Brandin Cooks. Cooks was not the only receiver Dallas was interested in, and though the deadline has passed, there is still one high-profile pass catcher on the team's radar, as Ian Rapoport and Mike Garafolo of NFL.com report.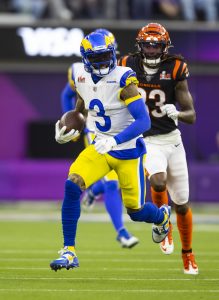 That player, of course, is Odell Beckham Jr., who is a popular name on the NFL rumor mill for the second consecutive November. Last year, it was a midseason divorce with the Browns that led to an OBJ free agent frenzy, which ultimately concluded with the three-time Pro Bowler signing with the Rams. Beckham then tore his ACL in Super Bowl LVI and has been without an employer since his contract with Los Angeles expired.
That is largely because Beckham has not been healthy enough to take the field. Reports have consistently maintained he would be ready to return to game action this month, so we fully expected contending clubs — especially those that did not land a receiver at the deadline — to ramp up their pursuit of Beckham right about now. The Rams have acknowledged since the offseason that they would be interested in a reunion, and that is presumably still the case since LA also missed out on Cooks and has gotten little production from offseason acquisition Allen Robinson. The Bills, Chiefs, Packers, and Vikings are also in the mix, and the Giants could be a factor as well.
Rapoport and Garafolo do note that, contrary to earlier reporting on the matter, Beckham is not expected to be at full strength and under contract until early December. That delay does not appear to be much of a concern, as one of the reasons the Cowboys did not overpay in a trade for a receiver is because the team believed it would have a chance to sign Beckham. Dallas has not yet talked contract with OBJ's camp but has monitored his recovery closely.
In addition to Cooks, the Cowboys also made an offer for Broncos wide receiver Jerry Jeudy, per the NFL.com duo. Denver fielded a number of calls on its former first-rounder, and GM George Paton was said to be holding out for a Round 2 selection. Teams clearly did not meet that asking price, as Jeudy stayed put. Nonetheless, it is clear that the Cowboys, who have posted a 6-2 record despite playing five of their eight games without Dak Prescott, are serious about adding another weapon to Prescott's arsenal.
According to Rapoport and Garafolo, Beckham wants a multi-year deal. It would be somewhat surprising to see him land such an accord given his recent injury history, though the sheer number of suitors could help him in achieving that goal. On the other hand, if he joins a team for only the remainder of the 2022 campaign and performs as well as he did with the Rams prior to the ACL tear, he will be in line for a much larger payday in the offseason.
Follow @PFRumors