NOVEMBER 27: As reported previously, the first stop on Beckham's 2022 free agent tour will be the Giants, who will host their former first-rounder on December 1 and 2 (via Ian Rapoport of NFL.com). OBJ will meet with the Cowboys on December 5. Rapoport confirms that Beckham will meet with the Bills as well, though it's unclear if his Buffalo summit will come before or after his trek to Dallas.
NOVEMBER 25: There continues to be tremendous interest in free agent wide receiver Odell Beckham Jr. as he plays the field to determine his new home. While many teams have been mentioned as suitors for Beckham's talents, the progress of his recovery from two knee surgeries in as many years is still a main cause for concern with most teams, according to Jeff Darlington of ESPN.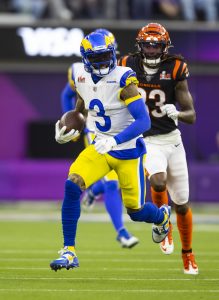 Darlington goes on to quote "more than one decision maker" from around the league saying that "the assumption that Odell will be healthy enough to make an impact…has been largely overstated." Beckham is not only having to come back from the ACL injury that ended his 2021 season, and its resultant surgery, but also a second surgery on his knee that was intended to help repair issues from the first surgery. There has been a concerning lack of reporting in regard to the progress of Beckham's recovery, which is certainly a reasonable respect towards Beckham's privacy concerning his health, but without any information, it becomes incredibly difficult to speculate on the outcome of Beckham's free agency and his eventual impact on a team, old or new.
Regardless, Beckham continues to shop for a new home. Our most recent reports have divulged plans to visit the Giants then Cowboys, both considered to be the top-two contenders for Beckham's services. It appears that Cowboys owner/president/general manager Jerry Jones had no intentions of saving his recruiting for Beckham's in-person visit, though, as the two parties made official contact yesterday, the same day as the Cowboys' Thanksgiving Day win over New York, according to Clarence E. Hill Jr. of the Fort Worth Star-Telegram.
Jones reportedly reached out to Beckham on the phone, telling reporters that he "had a good visit" and that an official in-person visit is being set up, though nothing specific has been scheduled as of yet. On what Beckham could bring to the Cowboys at receiver, Jones said, "I think Odell stands on his own as far as being able to be additive…Odell could help us. I believe that right now."
Jones did echo the sentiments of Darlington above, though, telling the media that he "doesn't know anything about Beckham's health and rehab." Not only did he stress the importance of Beckham's health, but he also emphasized that the price has to be right. "Availability is huge," Jones commented. "But the financial part of it is really huge, too."
From here, it is believed that Beckham will visit his former team in New York and potentially the Bills, as well, before an in-person visit with the Cowboys. He also reportedly remains in contact with the Chiefs and Ravens as many playoff-hopeful teams look to add a strong receiver for a playoff push, provided Beckham's readiness to return and contribute has not been overstated.
Follow @PFRumors