DECEMBER 7: Shanahan splashed cold water on the Garoppolo-in-January scenario. The sixth-year 49ers HC called it a "way outside" chance Garoppolo can come back late in the playoffs, via Garafolo (on Twitter). Noting Garoppolo still has a big recovery ahead, Shanahan said he is not especially optimistic about the comeback possibility. That said, the 49ers are not ruling this out.
DECEMBER 6: The 49ers will need to get by without Jimmy Garoppolo for an extended stretch, but they now have a shot to see him play again this season. Good news emerged on Garoppolo's foot injury Tuesday, with Adam Schefter of ESPN.com noting the veteran passer does not need surgery (Twitter link).
Garoppolo has a chance to return after a seven- or eight-week span, per Schefter. That would put him on track to potentially suit up again for San Francisco in the playoffs. Kyle Shanahan had said multiple times since the foot injury Garoppolo was done for the season. It now appears that is not the case just yet.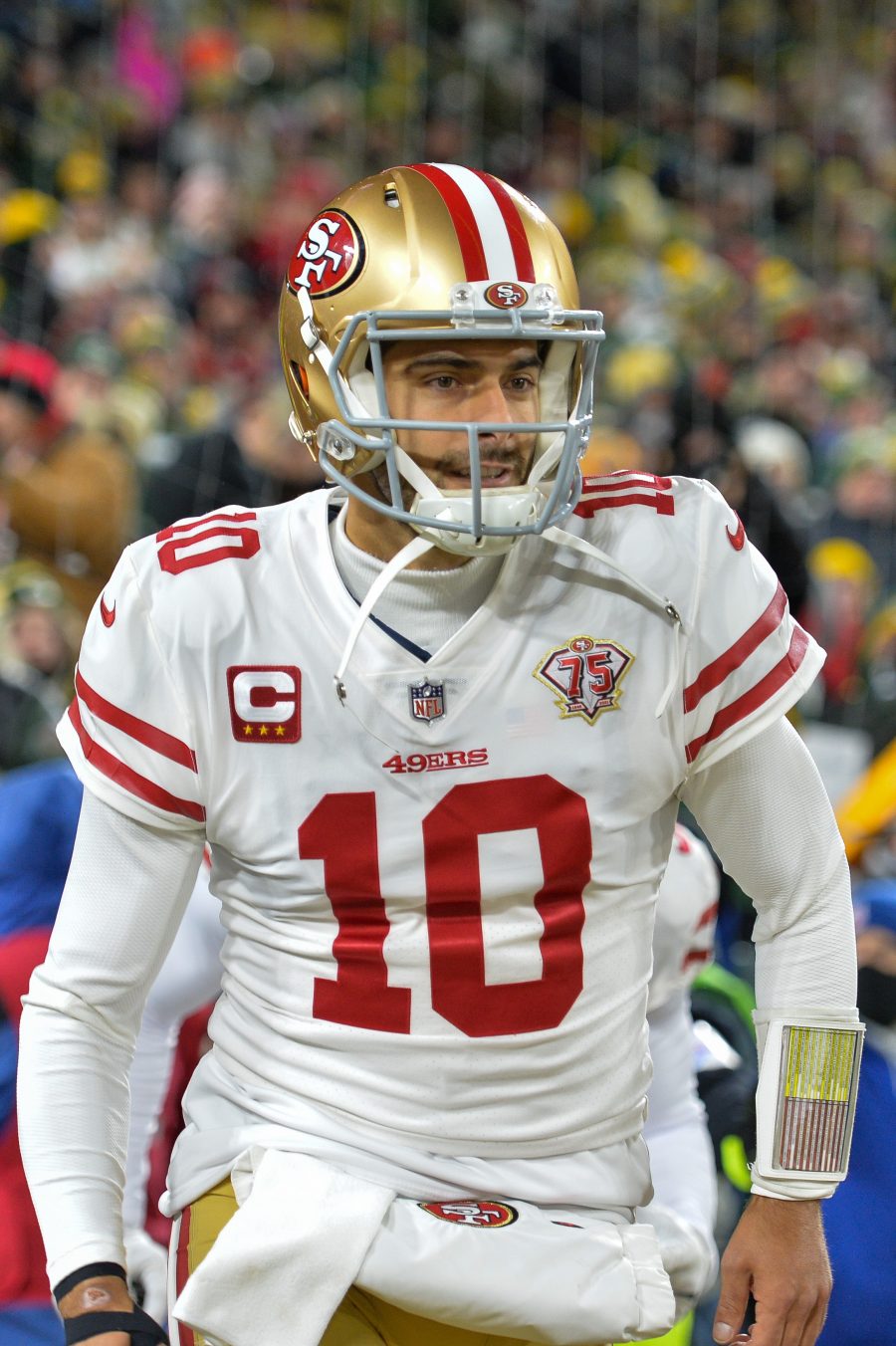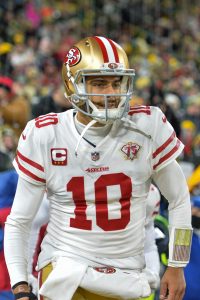 The ninth-year passer avoiding a Lisfranc injury and ligament damage sets the table for a potential January re-emergence, Mike Garafolo of NFL.com tweets, adding that the most likely scenario remains Garoppolo missing the rest of the season.
While the wild-card round will occur before Garoppolo's return window opens, the divisional round (Jan. 22-23) could feature a Garoppolo subplot. Of course, the 49ers would have to qualify — something they have not done without Garoppolo under this current regime — but the prospect of having their top QB back in uniform would represent quite the variable for a team with a No. 1-ranked defense and a four-All-Pro offense.
San Francisco (8-4) has won five straight games and now holds a one-game lead on Seattle in the NFC West. The seven-team playoff bracket, which debuted last season, allows only one team per conference to skip wild-card weekend. While the 49ers do not appear a threat to earn the conference's top seed, securing a first-round home game would obviously better position the well-assembled team for a chance to be in a second-round game with Garoppolo back at the helm.
With a healthy Garoppolo (excluding the 2017 season, when the team was out of contention upon acquiring him from the Patriots), the 49ers are 2-for-2 in NFC championship game appearances. They advanced that far despite the former trade acquisition battling multiple maladies last season, though the team could not match the Rams' firepower in a game marred by a Jaquiski Tartt dropped interception. The 49ers have made a leap defensively this year, ranking first in total defense and points allowed. This, along with the Trent Williams–George Kittle–Deebo Samuel–Christian McCaffrey quartet being healthy, stands to make life easier on Brock Purdy. Though, the 49ers beating the Dolphins with Purdy and doing enough to secure a division title with this year's Mr. Irrelevant obviously carry differing degrees of difficulty.
Tuesday's news further highlights the 49ers' decision to regroup with Garoppolo, whom they spent months trying to trade. Garoppolo is coming off an offseason that included a shoulder surgery, one that occurred in March to effectively crush his trade value, and played through thumb and calf injuries last season. It is no sure thing the 31-year-old passer returns this season, and his free agency stands to play a role. But the 49ers are open to pursuing another Garoppolo contract — at least, they were before this injury occurred — so a playoff return could provide a springboard to a second extension. Trey Lance again looms as a 2023 variable, but the former No. 3 overall pick's broken ankle created another hurdle for a historically unusual QB prospect.
For now, Purdy and Josh Johnson — a fourth-stint 49er whom the team added off the Broncos' practice squad — will try to stay the course. Shanahan expressed doubt the team would claim Baker Mayfield, and Schefter adds (via Twitter) it did not. The Rams claiming the ex-Browns and Panthers starter rendered that issue moot anyway.
Follow @PFRumors