The Rams-Baker Mayfield buzz will lead to a claim. Mayfield is headed to Los Angeles, according to Adam Schefter of ESPN.com (on Twitter). The Rams held the fourth spot in the Week 14 waiver priority.
L.A. will pick up the remaining $1.35MM left on the former No. 1 overall pick's contract. Mayfield requested his Panthers release, as The Athletic's Jeff Howe notes (via Twitter) he was set to be Carolina's No. 3 quarterback following P.J. Walker's return. The former Browns starter could become the Rams' first-stringer at some point soon.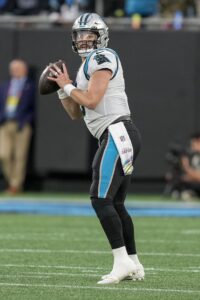 Although Mayfield's stock has tumbled since his 2020 divisional-round appearance in Cleveland, Schefter adds the Rams still believe in the ex-Heisman winner's talent. The prospect of nabbing a compensatory pick also played into this claim (Twitter link). The Rams are not viewing this (yet, at least) through a beyond-2022 lens, Jourdan Rodrigue of The Athletic tweets. The Panthers and Browns' weeks-long haggling over Mayfield's fifth-year option salary ended up aiding the Rams here, as Mayfield was tied to just a $4.858MM salary instead of the original $18.9MM option number.
Of course, the chance to upgrade on the John Wolford–Bryce Perkins situation naturally would appeal to the reigning Super Bowl champions, who have the worst 12-game record from a Super Bowl champ (3-9) in history. The Rams do not own their 2023 first-round pick, so losses piling up does not exactly do them any good — unless the second-round draft slot, and so on, is factored in.
Sporting what would be the worst season-ending NFL QBR figure in 12 years (18.3), Mayfield is not in position to net the Rams much in compensatory value. The former Oklahoma star and Offensive Rookie of the Year runner-up has been linked to needing a one-year, "prove it" deal for a bit now. He will head to L.A. with a 6-6 touchdown pass-to-interception ratio, having completed 57.8% of his throws at 6.4 yards per attempt.
Mayfield, 27, fared far better at points in Cleveland. He lost out to Saquon Barkley for OROY acclaim four years ago but showed promise after the Browns' midseason coaching change. Following a rough 2019 that featured a one-and-done Freddie Kitchens HC stay, Mayfield rebounded to finish 10th in QBR (a 26-TD, eight-INT season) under Kevin Stefanski and pilot the Odell Beckham Jr.-less Browns to the 2020 divisional round. Playing through a shoulder injury cost Mayfield last season, and his Panthers work has been worse. The Rams will attempt to coax better play from the fifth-year arm. Of course, he will be taking over a Rams team that is without Cooper Kupp and Allen Robinson and one that has struggled throughout to run the ball, as its offensive line has encountered numerous injuries.
The Rams playing Mayfield on Thursday night would seem ill-advised, but Schefter tweets there is a shot he sees action against the Raiders. The better bet here is the relocating QB making a push to start in Week 15, when the Rams have a Monday-night tilt against the Packers. That would give the scuffling passer a mini-bye to make an effort to sufficiently grasp McVay's playbook. While the Panthers were impressed with how quickly Mayfield caught on in Ben McAdoo's offense, he had weeks to do so before training camp. The truncated timeframe here will limit how McVay can run his offense, though Wolford, Perkins and a diminished Stafford reduced the Rams' capabilities as well.
The 49ers did not submit a claim for Mayfield, Schefter tweets, and Jeremy Fowler of ESPN.com adds (via Twitter) no other team is believed to have submitted a claim. Kyle Shanahan expressed doubt the team would make such a move. With the Rams 3-9, it would not have mattered anyway. The Rams effectively blocked the 49ers from investigating this situation later, however. The NFC West leaders, who swept the Rams this season, are set to roll with Brock Purdy for the time being.
Follow @PFRumors