Although David Tepper spoke with Jim Harbaugh about the Panthers' HC position, the team's first formal interview should not surprise. Interim coach Steve Wilks will interview for the full-time job Tuesday, according to The Athletic's Joe Person (subscription required).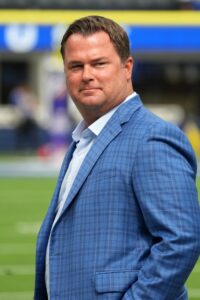 Wilks went 6-6 as Carolina's interim leader, doing so despite continuous quarterback injuries and taking over a team that had traded Christian McCaffrey. But no interim coach has risen to full-time status with his team since the Jaguars took the interim label off Doug Marrone in 2017.
This year's Panthers hiring process is not expected to be expansive. GM Scott Fitterer said Monday this year's list of candidates "will not be a large group." Teams often want to meet with a high number of candidates from different sides of the ball or, in Carolina's most recent case, from the college ranks. A limited search seemingly bodes well for Wilks, but the Panthers came away with Matt Rhule after a thin batch of interviews. Tepper's seven-year, $62MM Rhule deal proved a major misfire for the Panthers, who almost certainly will focus on the pro ranks this time around.
Fitterer will be part of the search committee, but so will Tepper's wife, Nicole, David Newton of ESPN.com tweets. A longtime Seahawks exec, Fitterer moved through a wide-ranging GM search to land the Carolina gig in 2021. Not part of the Rhule search, Fitterer will be a central figure in Carolina's latest pursuit. But Tepper, who has made some headlines since buying the Panthers in 2018, will likely lead the way.
The Panthers are expected to interview former Colts and Lions HC Jim Caldwell and fellow ex-Indy HC Frank Reich, but the Harbaugh-Panthers connection does not look to be particularly strong. Tepper said Wilks would be considered to stay on if he did an "incredible job." Wilks won more games than Rhule did in either of his two full seasons and showed considerable improvement compared to his 3-13 Cardinals season in 2018, but the Buccaneers' Week 17 demolition of the Panthers' secondary — Wilks' specialty — undoubtedly hurt the popular interim's chances.
Carolina has been linked to wanting an offense-oriented coach as well. That has certainly been a popular approach from teams over the past several years, and the Panthers have never hired an offense-geared HC — at least, not one with notable experience in the pros. The Panthers must interview two external minority candidates, in accordance with the Rooney Rule, as well.
Follow @PFRumors