Brent Celek is calling it a career. The veteran tight end has informed the Eagles that he'll be retiring, reports NFL.com's Michael Silver. Celek will release a statement on the team's website tomorrow.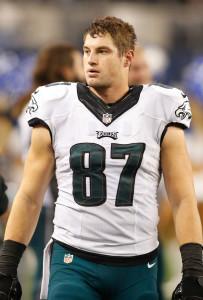 We heard earlier this month that the 33-year-old was considering retirement, with Celek suggesting that he'd either stay with the Eagles or hang up his cleats.
"I think I'm leaning more toward retirement," Celek said. "I've had a few offers, but none of them are worth leaving a city that I have been in for eleven years where I won the Super Bowl in my final year. It wouldn't feel right to put another uniform on."
Celek finished the 2017 season with a career-low 130 receiving yards, but he still managed to appear in all 16 games for the Eagles. In fact, the durable tight end only missed a single regular season game throughout his career. With former backup Trey Burton out of the picture, the Eagles presumably would have welcomed Celek back for a 12th season with the organization. Instead, they'll roll forward with Zach Ertz, rookie Dallas Goedert, and Richard Rodgers as their tight ends.
There's no denying Celek's impact on the Eagles offense throughout his 11-year career. His best season came back in 2009, when he finished with 76 receptions for 971 yards and eight touchdowns. The 2007 fifth-round pick will finish his career with the fourth-most receptions in franchise history (398), and he's also towards the top of the list in receiving yards (4,998, eighth) and receiving touchdowns (31, 11th).
Photo courtesy of USA Today Sports Images.