On Wednesday morning, defensive lineman Cory Redding took to Twitter to announce his retirement from the NFL. Redding wrote (sic):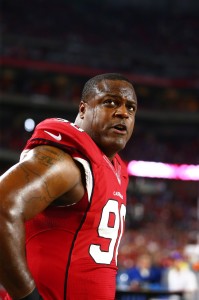 "I'm leaving the game I've played for 23 years. Thanks to the teams I played for, coaches, teammates, fans and my family for their support!"
Redding contemplated retirement before signing with the Cardinals last year. After playing a limited role in Arizona in 2015 – he failed to make a start for the first time since his 2003 rookie year – the 35-year-old decided to call it career.
Redding, viewed as a potential cap casualty heading into the spring, was released by the Cardinals in April. At the time, the Cardinals had the second-least amount of cap space in the NFL with just $2.29 in breathing room, which made the move something of a no-brainer. Cutting Redding will reduced the team's hit from $4MM to $1MM, removing his non-guaranteed $3MM salary from the Cardinals' books.
In his 12 games last season, Redding played 183 defensive snaps, picking up five tackles and two passes defended. He did show a knack for coming up with big plays, grabbing his second career interception, and recovering a pair of fumbles, including one for a touchdown.
In 2014, Redding started all 16 regular season games for the Colts, racking up 44 tackles, 3.5 sacks, and 3 pass deflections. He also made his presence felt in the postseason, recording 2 sacks and 2 pass deflections to go with 9 total tackles. In total, Redding enjoyed a 13-year career with the Lions, Seahawks, Ravens, Colts, and Cardinals and made a total of 147 starts.
Photo courtesy of USA Today Sports Images.