The Bengals placed offensive lineman Jake Fisher on injured reserve due to his ailing back, per a team announcement. Fisher is now the 14th player to land on the Bengals' IR this season.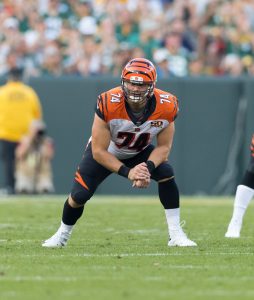 The Bengals acted fast to replace Fisher, signing old friend Andre Smith on Thursday morning. Smith may offer experience and familiarity with the Bengals' blocking schemes, but he is far less skilled at this point in his career than the 25-year-old.
Fisher, a second-round pick in the 2015 draft, also missed half of the 2017 season with an irregular heartbeat. This is a disappointing way for his 2018 season to end, especially since he is slated to reach the open market in March.
The Bengals, who are also without starting quarterback Andy Dalton, face extremely long odds of making the postseason. According to Five Thirty Eight, they have just a 6% chance of making the playoffs with a 1% probability of passing the Steelers and Ravens to win the AFC North.
Photo courtesy of USA Today Sports Images.