Travis Frederick's become one of this generation's best centers, but he's encountered a rare obstacle in the form of an auto-immune disease. The All-Pro Cowboys blocker revealed the diagnosis on Wednesday and is out indefinitely.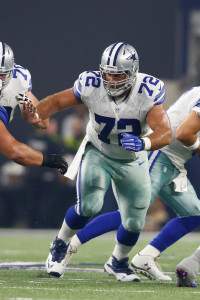 The Cowboys are pleased Frederick finally received a diagnosis for what's been bothering him this month, Guillain-Barre disease, and Clarence Hill of the Fort Worth Star-Telegram reports the team is optimistic this is not a season- or career-ending setback.
"We were really so happy when it was diagnosed that this was the problem," Jerry Jones said, via Hill. "He and we were concerned about that when we couldn't get a diagnosis. The biggest thing we have been worried is his health, his long-term health, his individual well being as opposed to how it impacted us as a team or impacts him as a player but his well being is the most important thing.
"As it relates to football, I don't have any definitive thing to talk about there."
Frederick has begun taking medicine for this condition already, but he has no timetable for a return. A previous diagnosis revealed Frederick didn't have Guillain-Barre, the sixth-year lineman merely needing rest. But once symptoms — centered around neck stingers — persisted and the accurate diagnosis emerged, per Hill.
Joe Looney has stepped in for Frederick at center. Looney's in his third season with the Cowboys and has previously served as an interior-line backup. The Cowboys rely on their three-pronged force of 27-year-old linemen — Frederick, Zack Martin and Tyron Smith — but for the time being, Looney, also 27, will have to play with the starters. Looney made three starts last season and played in all 16 Dallas games. Hill adds Martin is an emergency option at center.
Photo courtesy of USA Today Sports Images.