One week ago, Dolphins coach Brian Flores said Josh Rosen would be his starting quarterback for the rest of the season. On Sunday, he had a change of heart midway through and went with Ryan Fitzpatrick. On Wednesday, Flores announced that Fitzpatrick will lead the charge the rest of the way.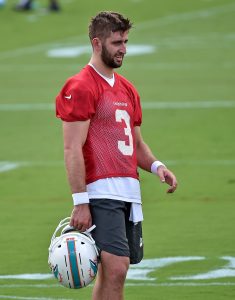 That's not quite in line with the "rest of the season" vow made to Rosen, but then again, the Dolphins' season is more or less over here in October. On the plus side – the Dolphins showed serious signs of life on Sunday against the Redskins and nearly came from behind to win with Fitzpatrick under center.
After a few days of evaluating in practice, Flores says Fitz will be his guy. Or, at least, he'll be Flores' QB against the Bills on Sunday. What happens after that is TBD.
If it's any consolation to Rosen – even under the best of circumstances, the Dolphins were, and are, still planning to take a quarterback in the first round of the 2020 draft.
Photo courtesy of USA Today Sports Images.