Josh Rosen will return to the NFC West. In need of quarterback help, the 49ers are signing the former Cardinals first-round pick off the Buccaneers' practice squad, Field Yates and Adam Schefter of ESPN.com report (via Twitter).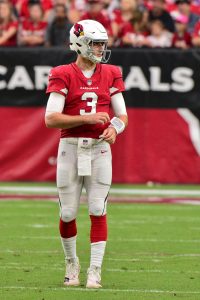 This will mean a return to a 53-man roster for Rosen, who has resided on Tampa Bay's taxi squad throughout his third NFL season. The 2018 No. 10 overall pick will be in line to back up C.J. Beathard, who will replace an injured Nick Mullens in San Francisco's starting lineup.
Rosen was interested in joining the 49ers earlier this year, according to NFL.com's Mike Garafolo (on Twitter), but instead went to Tampa. At the time, the 49ers were fully staffed at quarterback. But injuries to Jimmy Garoppolo and Mullens created a need in San Francisco, and the former UCLA passer will return to California.
Beathard is an unrestricted free agent at season's end, and Mullens is due for restricted free agency. The latter is facing Tommy John surgery after encountering elbow ligament damage Sunday. No longer attached to his rookie contract, Rosen is signed only through the end of this season. Though, he does not have enough service time to qualify for unrestricted free agency come March. The 49ers could get an extended look at Rosen if they tender him a 2021 contract in March.
Rosen's NFL career veered well off track early. Landing with a Cardinals team that used two offensive coordinators and numerous offensive linemen in 2018, Rosen became the rare first-round quarterback replaced by another first-round passer the following year. Only the Cardinals and Baltimore Colts of the early 1980s have drafted QBs in consecutive first rounds over the past 40 years, and the Cards shipped Rosen to the Dolphins for a second-round pick after selecting Kyler Murray. Rosen, however, failed to earn much playing time over Ryan Fitzpatrick in Miami. The Dolphins cut Rosen this summer; he has not played in 2020.
For his career, Rosen has a 54.8% completion rate and a 12-19 TD-INT ratio. He has averaged just 5.7 yards per attempt in 20 career games. But the ex-Bruins standout was viewed as a first-round passer ahead of his sophomore season. He ended up being the fourth quarterback chosen in 2018 but has been by far the worst of the five first-round QBs taken in 2018. Although, it can be argued the 23-year-old passer has run into circumstances that made success exceedingly difficult to attain thus far in his career.
Photo courtesy of USA Today Sports Images.