Baker Mayfield's 2021 and '22 seasons tanked his 2023 free agent market. He settled for backup money from the Buccaneers, who were looking to cut costs after the Tom Brady $35.1MM in dead money hit their cap. Mayfield fit the bill, signing a one-year deal worth $4MM.
Midway through the season, Mayfield is on pace to fare better on the 2024 market — should he land in free agency. Mayfield, 28, entered the season joining Kirk Cousins and Ryan Tannehill as starting quarterbacks in contract years. With Tannehill benched and Cousins out for the season, Mayfield is the only one left who has a clear path to adjusting his 2024 stock. The Bucs are an interested party, which makes sense given their standing.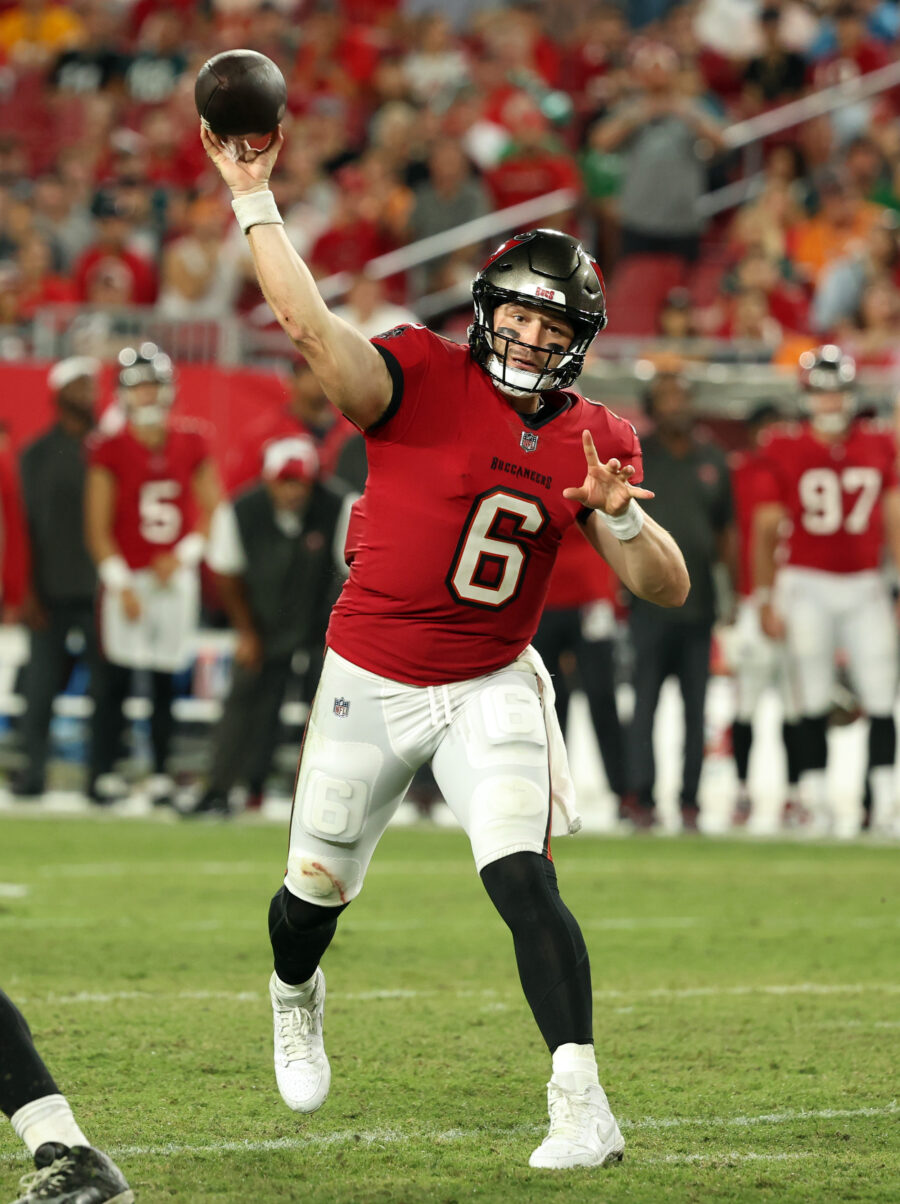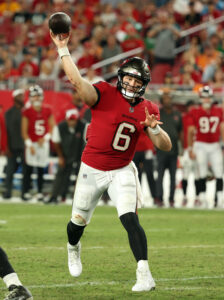 The Bucs are open to the idea of a second Mayfield contract, Jeremy Fowler of ESPN.com notes. They have exclusive negotiating rights with their current starter until March's legal tampering period. That said, Fowler adds the sides have not engaged in negotiations just yet. It would make sense for both parties to let more of the season play out. Mayfield could elevate his stock with a strong finish, but given his inconsistent career, the Bucs also may still be leery of a more lucrative payment to a middling quarterback.
Far from middling in 2021 and '22, Mayfield was with three teams last year and finished with league-worst QBR. Some Panthers staffers viewed Mayfield's late arrival in Charlotte, which came to pass because of lengthy negotiations between Cleveland and Carolina regarding both draft compensation and an adjusted contract, impacted his poor Panthers performance. Mayfield played through a shoulder injury for most of his 2021 season in Cleveland, and the Browns moved on via the controversial Deshaun Watson trade/extension.
Mayfield ranks 14th in QBR through nine games, and he is completing passes (64.6%) at a career-high rate while carrying 14-5 TD-INT ratio. While the Bucs lost four straight after a 3-1 start, Mayfield had them in position to upend the Texans before a C.J. Stroud last-minute drive. He has tossed two touchdown passes in each of the past three games while throwing just one INT in that span.
While Cousins has been one of the game's most consistent quarterbacks during his Minnesota stretch and Tannehill has seen ankle trouble (and the Titans' second-round Will Levis investment) ding his stock, Mayfield can change his perception over the next two months. It would be highly unlikely to see Mayfield rival Cousins for AAV in 2024, but a midlevel QB accord could be in play.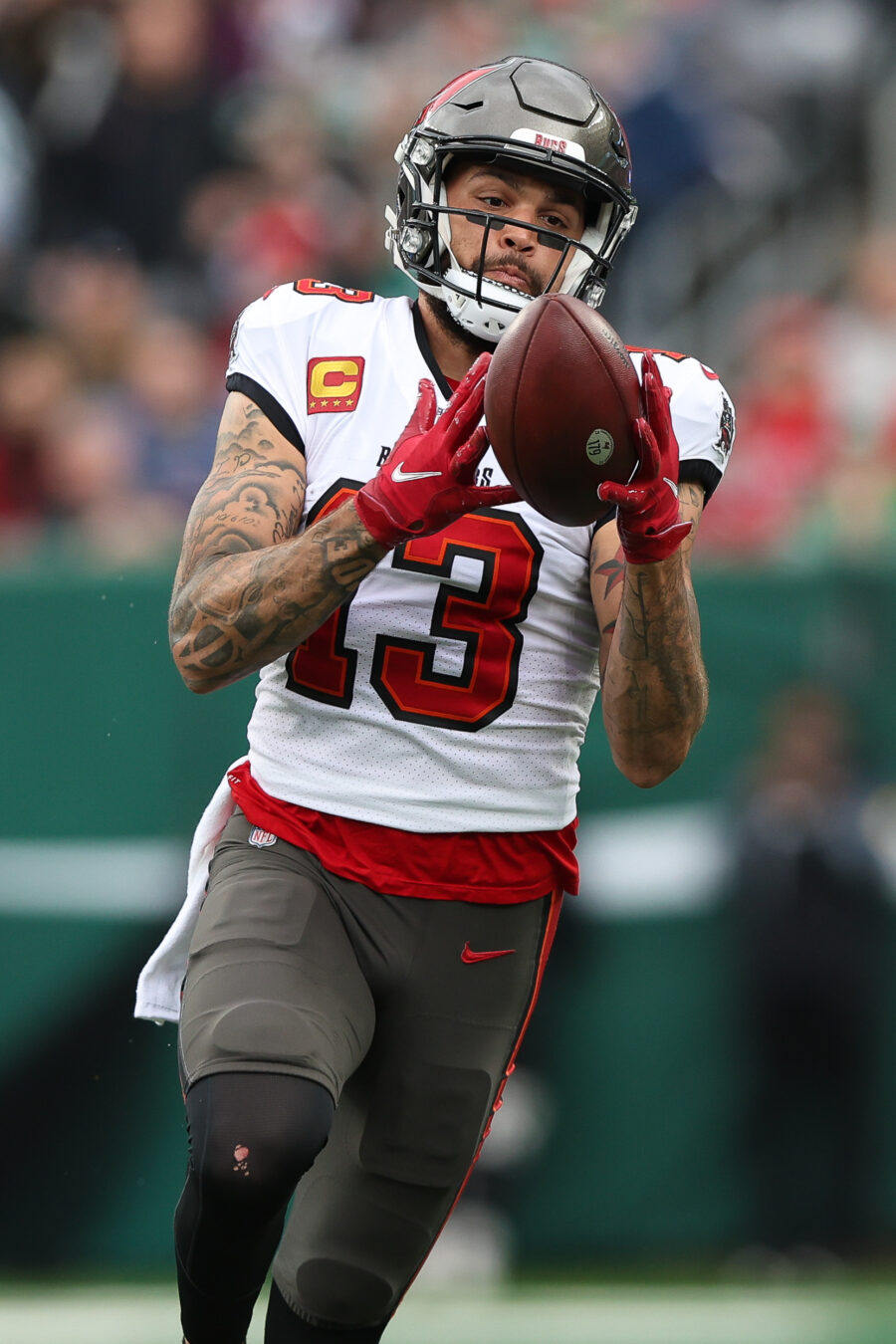 Mayfield's top target is also in a contract year. Mike Evans came up briefly at the trade deadline, but the Bucs showed no indication then or in August — when the Jets initially called — they were open to dealing the nine-time 1,000-yard receiver. Blazing toward a record-extending 10th straight 1,000-yard year to start a career, Evans is playing out a contract he inked in 2018. The Bucs are not believed to have proposed a second extension to the best wideout in franchise history, but Fowler adds some around the league believed the door is not shut on Tampa Bay revisiting talks and finding a way to retain the free agent-to-be.
Evans set a Week 1 extension deadline, making his dissatisfaction with contract talks public late in the summer. Nothing materialized, but GM Jason Licht has continually praised the likely Hall of Fame-bound talent, and although Evans said no offer has come despite off-and-on talks over the past two years, the longtime GM said in August the team wants Evans to stay in Tampa long term. Considering how close Evans would be to becoming a first-time free agent, the Bucs may have to battle other teams on the open market.
Then again, Tampa Bay has done well in that department. Over the past three offseasons, the team has re-signed Shaq Barrett, Carlton Davis, Jamel Dean and Lavonte David after letting them gauge the market during recent tampering periods. An Evans departure would obviously create a glaring need for the Bucs, which would point to the organization being interested. It remains to be seen, however, if the team is ready to pay upper-echelon money to convince the 30-year-old weapon to pass on outside interest come March.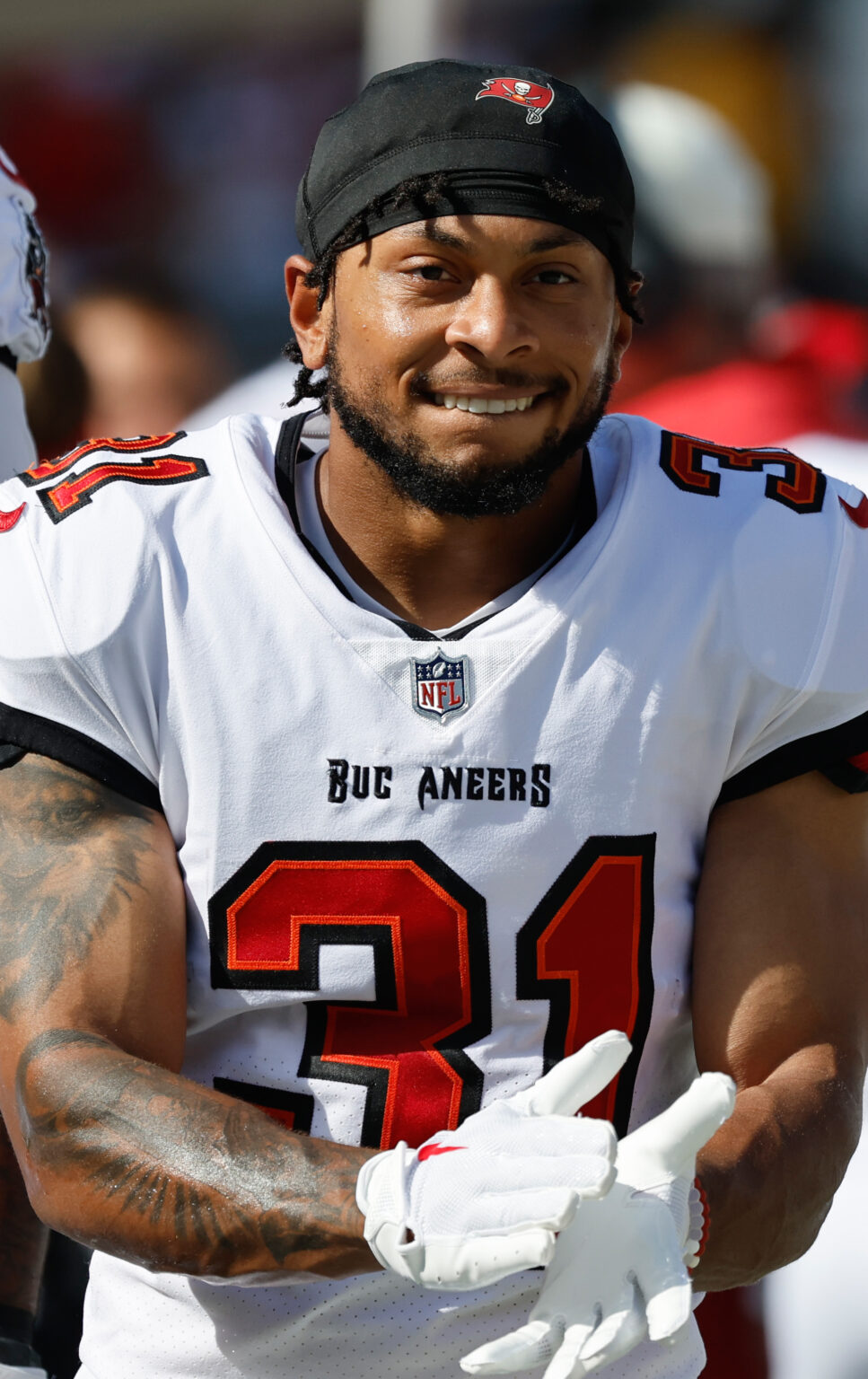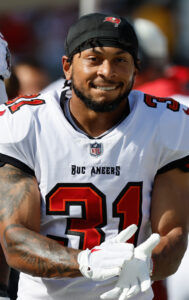 The best bet for a Bucs franchise tag, though, might be Antoine Winfield Jr. Much younger than Mayfield and Evans, the 25-year-old safety would be on track to become one of the top 2024 free agents. A summer rumor indicated the Bucs were interested in extending Winfield, but nothing has come of it yet. At midseason, Fowler adds the Bucs have not made aggressive attempts to re-sign their young players just yet. Given the timelines of the Davis and Dean deals, it is not too surprising the Bucs have not gotten serious on a second Winfield contract yet.
This year's safety market largely settled in south of $10MM per year, but Jessie Bates was the outlier, signing a four-year, $64MM Falcons pact. Winfield's age and productivity would put him in line to rival Bates' accord, which could conceivably bring the tag into play. A few teams have cuffed safeties during the 2020s. The Broncos tagged Justin Simmons twice, while the Bengals (Bates), Vikings (Anthony Harris), Saints (Marcus Williams) and Jets (Marcus Maye) unholstered the tag as well. Those tag prices all came in south of $13MM. OverTheCap projects the 2024 safety tag to be north of $18MM, which would make such a decision more difficult.
While the Bucs exercised Tristan Wirfs' fifth-year option to extend his negotiating timeline, they have until early March to keep their 2020 second-round pick off the market.