Towards the end of February, Barry Jackson of the Miami Herald wrote that the Dolphins are unlikely to exercise the fifth-year option on right tackle Austin Jackson. In the ensuing weeks, there has been nothing to suggest that the 'Fins are reconsidering that stance.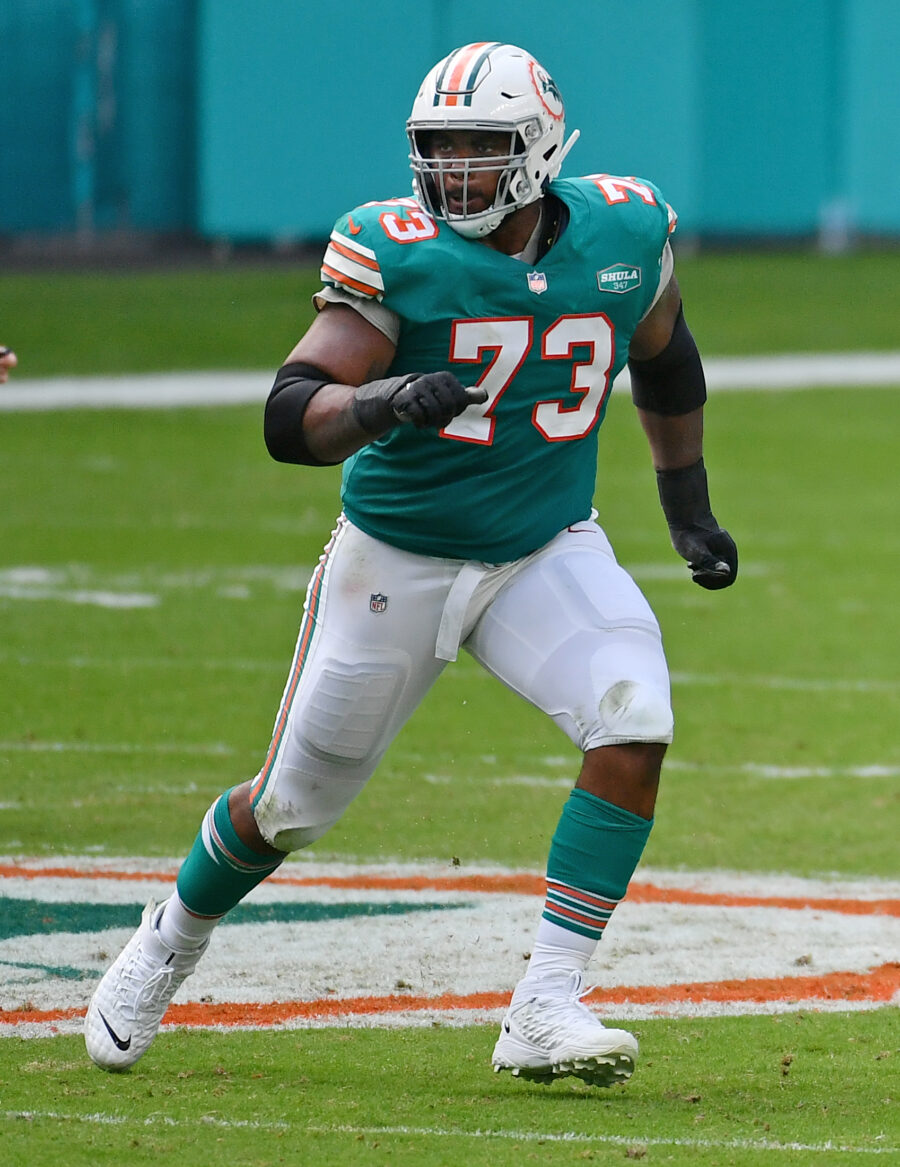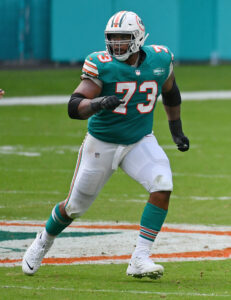 Indeed, as Barry Jackson tweeted on Friday, Miami has shown interest in free agent tackle George Fant, lending credence to previous reports that the club is expected to bring in competition for Austin Jackson. That also represents the first reported interest in Fant since free agency opened several days ago.
Austin Jackson, the No. 18 overall pick of the 2020 draft, has yet to live up to his first-round billing. Miami hoped that the USC product would become its long-term answer at left tackle, but in 13 games (12 starts) at the position in his rookie year, Jackson largely struggled. While he got some run at LT in his second professional season, most of his snaps came at left guard, with similarly mediocre results. He then opened the 2022 campaign as the Dolphins' starting right tackle before suffering an ankle injury in Week 1 that essentially wiped out his season (he wound up playing in just two contests and 84 total snaps).
It comes as little surprise, then, that Miami would decline to exercise Jackson's fifth-year option, which would lock in a fully-guaranteed $14.2MM salary for 2024. It is equally unsurprising that the team would seek to bring in competition for the RT job.
Fant, who is entering his age-31 season, signed a three-year contract with the Jets in 2020. He spent most of his first year in New York at right tackle, with generally uninspiring results. However, when he was moved to left tackle out of necessity in 2021, Fant blossomed, and his performance even led to extension talks with Gang Green last year. Unfortunately, he was limited to just eight games in 2022 due to knee trouble, and even when he was on the field, his work was not as strong as it was the season before.
The Dolphins used Greg Little and Brandon Shell as Jackson replacements last year, but both players are also out of contract. It seems Miami wants to see what else is out there, and Fant is someone who can at least provide depth at both tackle spots and who would stand a good chance of opening the season as the club's starting right tackle.
In related news, it would be "unfathomable" if the Dolphins were to exercise cornerback Noah Igbinoghene's fifth-year option (worth $11.5MM) for 2024, per Barry Jackson. Igbinoghene, who was selected twelve picks after Austin Jackson in 2020, is clearly not well-regarded by head coach Mike McDaniel & Co., as he was a healthy scratch for eight games in 2022 even though the Dolphins were without their No. 2 and No. 3 corners (Byron Jones and Nik Needham).
Jones has been released and Needham re-signed over the last week, and the Dolphins of course made a big splash to acquire Jalen Ramsey from the Rams. As it stands, Ramsey and Xavien Howard will operate as Miami's starting boundary corners, with Kader Kohou and Needham both above Igbinoghene on the depth chart.