Few teams consistently reward high-level play from homegrown talent like the Green Bay Packers. Draft picks that come in and play well usually earn a second contract and play out their primes in Titletown. And, by not waiting until the player's contract expires, the team can avoid a bidding war with 31 other teams and negotiate exclusively with its talent.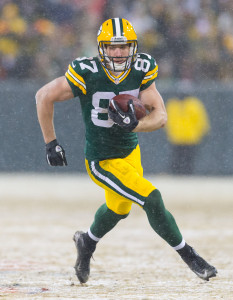 This was the scenario for wide receiver Jordy Nelson early in the 2011 season. A second-round pick in 2008, the Kansas State product totaled modest numbers in his first three years — 100 catches, 1286 yards, six touchdowns — before exploding for career highs (68-1,263-15) in the Packers' 15-1 season. Green Bay signed Nelson to an incredibly team-friendly three-year, $13.35MM extension after four games, locking him up through the 2014 season.
Nelson fought through injuries in 2012, playing in 12 games and catching just 49 balls. But, proving he doesn't need an elite quarterback to put up elite numbers, Nelson set career bests in receptions (85) and yards (1,314) in 2013, catching passes from Aaron Rodgers, Seneca Wallace, Scott Tolzien and Matt Flynn.
Now, with just one year left on his deal, Nelson is one of the Packers' prime candidates for a contract extension. Right behind him — or along side — is fellow wideout Randall Cobb, who is still on his rookie contract, but we'll get to him later.
In February, NFL.com's Ian Rapoport was told that signing Nelson to an extension is an important offseason task for the team.
In March, ESPN's Rob Demovsky reported that the team's salary cap is in excellent standing, with plenty of room to extend Nelson and Cobb if and when they choose to do so.
Today, answering tweets from his readers, Demovsky said it would be a surprise if at least one of the two free-agents-to-be didn't receive his extension before September. He also suggests that Cobb is a more vital re-sign, given his youth and a "budding star" status.
In a Facebook poll, the Green Bay Press-Gazette's Wes Hodkiewicz asked readers which receiver they'd choose to extend. 69 voted Nelson, 41 voted Cobb and 31 couldn't get off the fence, voting for both.
Nelson's not exactly old — he'll turn 29 in a week — but the Packers have recently shown a willingness to walk away from wide receivers who might have seen their best years in the rear view. Case in point, Greg Jennings, whom the Packers let walk after seven incredibly productive seasons. Jennings got his payday in Minnesota, signing a five-year deal with a maximum value of $47.5MM ($18MM guaranteed).
After next season, Nelson will have been in Green Bay seven years, just like Jennings. Both are former second-round picks who were locked up to team-friendly deals in the midst of their rookie contracts.
According to Bob McGinn of the Milwaukee Journal Sentinel, the Packers offered Jennings a contract averaging $8MM to stay in Green Bay once the free agency period started. Jennings chose Minnesota. During the season, with Jennings at his peak, the team reportedly offered $11MM/season, which Jennings turned down, far less than the $15 million AAV he was after.
Just last week, another division rival has helped set the market for receivers, with Chicago's Brandon Marshall signing a four-year, $40MM extension with $22.5MM guaranteed. Will Nelson's agent use Marshall's extension to negotiate his client's new deal? Will the Packers go the same route with Nelson they did with Jennings if the asking price is too high? Only time will tell, but all of Titletown — and especially its quarterback — will be watching.
Follow @PFRumors