Varying degrees of uncertainty engulf seven players as July begins, with their respective teams having placed their franchise tags on them. With the deadline for these talents to reach long-term deals with their organizations looming on July 15, multiple members of this contingent likely will not agree to a long-term accord with their respective team.
Here's how the franchise-tagged club looks as of July 4:
Franchise players (exclusive):
Franchise players (non-exclusive):
Cordy Glenn's Bills extension and the Panthers rescinding Josh Norman's tag removed two players from the group, but several should remain unsigned by next Friday. With teams having until 3 p.m. CT that day to finalize these agreements, there's a decent chance multiple tagged performers will play this season on one-year deals.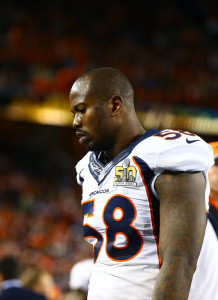 Of this septet, Eric Berry and Justin Tucker seem most likely to sign contracts with the Chiefs and Ravens, respectively. We've heard no acrimony coming from either side in these negotiations, pointing to Baltimore and Kansas City being in good positions to find common ground and secure the rights for the remainder of their tagged cogs' primes.
But elsewhere, it hasn't been so smooth. The Broncos have tagged three players — Matt Prater, Ryan Clady and Demaryius Thomas — since John Elway began functioning as the team's top personnel executive, and they signed each to long-term deals. But Miller's standoff with the Broncos has surpassed those impasses.
The nature of the deal the linebacker's seeking, one that would make him the highest-paid defender in league history, was already going to complicate this. But after Miller turned down Denver's six-year, $114.5MM proposal over money guaranteed at signing, the Broncos rescinded the offer (technically), and Miller vowed not to play the season on the exclusive tag. We could soon learn how serious he is about holding out.
Jeffery, Johnson and Cousins may reside in the same boat, with their respective teams possibly angling to see how they fare this season before being certain of their statuses as cornerstones, respectively.
Ascending into the Bears' No. 1 receiver role after Brandon Marshall's third career trade, Jeffery couldn't display the form he showed as an overqualified No. 2 after he missed seven games due to multiple leg injuries. We heard in early June the sides expected the fifth-year receiver to play 2016 on the tag and reassess after the season, but a few weeks later, the bridge to a Jeffery long-term Bears pact doesn't appear as long as previously thought. The team still has some obvious reservations on whether or not Jeffery's body can hold up before giving him a $15MM+ AAV deal in line with A.J. Green or Dez Bryant, however.
Not as much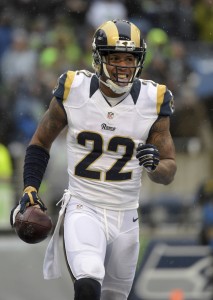 has surfaced on Johnson, but news emerged last month the Rams cornerback may view Janoris Jenkins' $12.5MM-AAV deal with the Giants as a floor. The fallout from that rumor pointed to the sides not being close enough to agree on a sufficient offer that would keep the breakout corner on the Rams' books for a while.
In a market that overpays quarterbacks and keeps them away from free agency, Kirk Cousins doesn't look to be going anywhere else anytime soon. But the talks between the fifth-year passer and the Redskins aren't progressing just yet. Of course, that could turn by next Friday, with the market for franchise quarterbacks being essentially set. Cousins, whom Washington wants to see perform again after his strong stretch run put him in this spot, would receive approximately $44MM if given the tag again in 2017.
Wilkerson's prospects of a Jets contract remain slim. The perpetually disgruntled 2011 first-rounder has been angling for a commitment from Gang Green for over two years, threatening a holdout last season before reporting and playing on his fifth-year option. Fletcher Cox's extension looks like it will serve as the sixth-year 3-4 end's floor in terms of asking price, at least in the mind of Wilkerson, who has made the same number of Pro Bowls (one) as the Eagles standout. But Wilkerson's notched 33.5 sacks since 2012 compared to Cox's 22.
However, the Jets' deep defensive end stable, scant cap room and the lack of a starting-caliber quarterback on the payroll make this a dicey proposition, given their history with Wilkerson. The subject of trade speculation for months, Wilkerson would earn a projected $18.8MM if tagged again in 2017.
So, how many among this contingent will play 2016 under the terms of the franchise tag? Which has the best chance to play elsewhere in 2017? Who has the biggest gripe if they don't see an acceptable long-term offer by next week? Which isn't worth a long-term deal right now? Weigh in with your thoughts in the comments section!
Photos courtesy of USA Today Sports Images.
Follow @PFRumors