The old adage that defense wins championships may or may not be true, but you'll be hard-pressed to find a title-winning team that didn't build heavily through the draft. Rookie classes, naturally, are evaluated on the perceived upside of the NFL newcomers, but which rookies are ready to contribute right out of the gate? And, how do they fit in with their new team schematically?
To help us forecast the immediate future of these NFL neophytes, we enlisted the help of draft guru Dave-Te Thomas who has served as a scouting personnel consultant to NFL teams for multiple decades.
Today, we continue PFR's Impact Rookie series with his insight on the Cincinnati Bengals' draft class:
The Bengals are soon to reap the benefits from another solid draft, as the first four selections in 2016 all appear to be of starting quality. Their cache from the 2015 draft saw all ten of those selections play for the team last year. They were so impressed with one of their late round finds, that the team let go several key pieces in their secondary to bring fresh legs into the fold. Now, all seven of their draft picks in 2016 have the same opportunity as the previous draft class to claim roster spots.
First Round – William Jackson III, CB (Houston, No. 24)
The Bengals let Leon Hall walk in order to keep Adam Jones, as the right cornerback signed a three-year deal that keeps him in the fold until 2019. The team will make a strong effort to keep Dre Kirkpatrick around as the left cornerback, but he is a free agent after the season and might be in line for a big deal if he can improve upon his 2015 performance.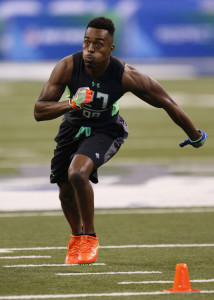 In 2015, the Bengals covered their potential loss of Andre Smith by drafting two tackles. This year, the Bengals tapped William Jackson III as insurance against Kirkpatrick's possible departure. If Kirkpatrick goes, then Jackson and 2014 first-round pick Darqueze Dennard will be counted upon to lead the secondary in 2017 and beyond.
Jackson was considered a "lockdown corner" for the Houston Cougars after he appeared in thirteen games and finished second in the American Athletic Conference with ten pass breakups in 2014. He also picked off two passes and tallied 37 tackles. Last season, the All-American led the nation and set a Houston single-season record with 23 pass deflections. He also led the nation in passes defended with 28, finishing 20th with five interceptions. He concluded his career ranked third on the UH career passes broken up chart with 40, despite only playing three seasons.
Some other "good news" numbers include Jackson recording six turnovers and coming up with 22 third-down stops. On the "bad news" scale, while he defended so many passes, it could be due to quarterbacks constantly throwing into his area. The Cougar was targeted 93 times in 2016, allowing 41 receptions (44.09%) for 460 yards, an average of 11.22 yards per grab, with receivers totaling seven big plays (20 yards or longer) and twenty first downs vs. the defender, reaching the end zone three times. In run support, he made just five tackles.
Jackson is certainly not going to impress you with being a great physical presence on the field, but he does demonstrate excellent speed (4.37 in the 40-yard dash) and jump- ball timing. He is very consistent in being "getting into the face" of a receiver. He opens his hips well when asked to handle switch-offs on deep patterns and moves well in space, but he certainly lacks any sort of punch and physicality when required to deliver press coverage (recorded ten reps in the 225-pound bench press drill). His leaping ability helps him get to most balls though and he always seems to get his hands on the pigskin, even when he isn't in great position.
Jackson fails to sink his hips low enough or explode into his hits when asked to wrap and tackle in run support. Still, as a pass defender, his timing is impeccable, evident by his nation-leading 28 passes defended that included five interceptions in 2015.
Read more about the Bengals' 2016 rookie class..
Second Round – Tyler Boyd, WR (Pittsburgh, No. 55 overall)
If not for the "double whammy" losses in the secondary, perhaps the Bengals would have used their first round selection to take a wide receiver. All signs pointed to Cincinnati going that route, especially after they lost valuable A.J. Green wingman Marvin Jones in free agency. Jones accounted for 65 receptions, including thirteen for twenty yards or longer, but scored just four times. The team also saw Mohamed Sanu bolt out the door into the free agent market, but felt they could afford to lose a player that failed to score last year and averaged 9.9 yards on 33 grabs. The problem is, take those two away from the equation, along with Green's performance, and the rest of the wide receiver unit accounted for three catches and 74 yards last season.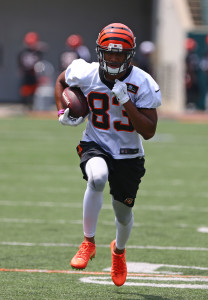 Cincinnati had an effective, yet ho-hum passing attack that ranked No. 15 in the nation with an average of 245.2 yards per game, but Andy Dalton kept mistakes to a minimum, as only three teams in the league threw more interceptions than the Bengals (nine). If a receiver was their first round target, the war room had to let out a few "growls" as they saw three receivers go back-to-back-to-back right in front of them before selecting Jackson instead with the 24th choice. The Texans took the speedy William Fuller out of Notre Dame at No. 21, followed by the Redskins snatching up Josh Doctson at No. 22. Then, the Vikings decided to take a physical pass catcher in Laquon Treadwell at No. 23 rather than the safety that they needed.
Perhaps it is fitting that for a team looking for a tough as nails receiver, they found one in a Steel City, where the Pitt's Tyler Boyd had not only rewritten all the school career receiving records by Larry Fitzgerald, but has often been compared to that city's other "favorite son," Hines Ward. Boyd was the best receiver that the ACC featured during the last two seasons, even though he did not exactly set the field ablaze, as most of his receptions were under ten yards. Perhaps his average yards gained after the catch was the result of overuse in 2015. Boyd was suspended for the season opener, but still pulled in 91 passes for a 10.2-yard average and six scores. But he also had 40 carries for an 8.7 yard average, returned eight punts and averaged 23.4 yards on eleven kickoff returns.
Boyd has a knack for catching waist-high passes without breaking stride. He does a good job of tracking the ball downfield and can haul in over-the- shoulder catches with ease. He times his jumps fairly well and shows above-average body control in the air, extending his arms properly to snatch the ball out of the air when going up for jump balls. He explodes off the line and has the second gear to run past cornerbacks when he doesn't get slowed down at the line of scrimmage.
The former Pitt wide-out is not a sudden mover (1.63 in the 10-yard dash), but shows good change of direction, body control and the ability to adjust on the move, thanks to above average hand/eye coordination. He is the type of player who can fool a scouting analysis, as he normally outplays his ability. He lacks explosion, but runs with a long, fluid stride and has the change-of- direction agility to become a threat with the ball in his hands. He won't win a track meet, but his stride generates decent quickness that compensates for a lack of blazing speed. He is a physical athlete with good strength for this position and is a very dangerous producer turning the corner on reverses out of the backfield.
Route running is what Boyd does best. He is a savvy performer with the lateral agility to take slants or crosses and generate separation, especially when he sinks his hips. He has a much better lateral burst working in the short area, but can get caught from behind. He does a nice job of sticking his feet in the ground and dropping his weight to get in and out of his cuts, but can't be considered a special open field runner. He runs good routes and looks polished, as he can leverage, plant and cut, but could stand to improve his separation burst.
Third Round – Nick Vigil, LB (Utah State, No. 87)
Folks in Cincinnati, you are going to fall in love with this kid, but bring a fire extinguisher to the game – as he plays under that old adage – like his hair is on fire. The coaches also know they might have gotten the steal of the draft and the best part about his game is, he can play anywhere in the second level. The signing of Cleveland castoff Karlos Dansby to replace 2015 starter Emmanuel Lamur might be a one-and-done deal in 2016. First, the former Brown is more suited for the inside, and might face a challenge from Vincent Rey for strong-side outside duties.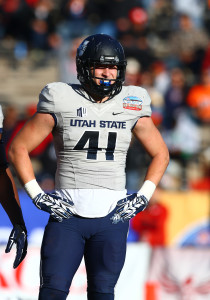 Middle linebacker Rey Maualuga has had an up-and-down career, but he's on the books for two more years at $5MM per, leaving Rey and Nick Vigil to battle for playing time when the former USC star needs a breather. At least, that is the current game plan. When you see that their other starter, Vontaze Burfict is one step closer to getting the commissioner to come down on him for his dirty play tactics, it is wise to have a versatile player like Vigil ready to step into any situation.
Vigil has above average agility, body control and balance. He shows very good explosion (4.62 in the 40-yard dash) and acceleration, quick feet and fluid change of direction skills. He is very flexible, displaying ease of movement working his way down the line. He has excellent field instincts and despite playing in three different defensive schemes during his time at Utah State, he quickly absorbed each playbook. He is capable of making all the calls and adjustments up front and is very aware of each of his teammates' assignments.
Needless to say and evident by his college numbers, Vigil is an aggressive tackler who uses his lower body strength to drive through ball carriers. He will face up, drag down and wrap up in pursuit. He won't punish his opponent due to a lack of playing strength, but is very effective making tackles that the ball carrier will not slip off of. He shows very good body control in the move and takes good angles to seal off the corners. With his high amount of tackles behind the line of scrimmage, he is a verified "hammer" type that will simply explode and punish the ball carrier.
Fourth Round – Andrew Billings, DT (Baylor, No. 122 overall)
Lightning may have struck the Bengals twice at the nose guard position. Back in 2010, a stout interior defender was not regarded as highly by general managers as their scouts. As luck would have it, the Bengals took a chance in the fourth round that year and found Geno Atkins. Now, six years later, they might have found the player who could replace Domata Peko at nose tackle, perhaps as early as next year. If Billings proves to be starter material in training camp, the front office might be comfortable with letting Peko go elsewhere after this season.
Peko is unsigned past 2017, drawing in $4.5MM, but he's north of age-40 and has played for a decade. Atkins still has four years left on a five-year, $53MM deal, so he is expected to keep up his frenzied sack pace from 2015. But, behind those two, Billings sees a great opportunity for playing time.
For a player of his size, Billings shows an incredible burst and quickness off the snap. Not only is he sudden in his movements, but he is also fluid. He displays excellent balance and body control working down the line and is a constant disruptive force with the suddenness he generates getting off the ball to penetrate. His speed allows him to make lots of tackles on the move, but he was really misused in the Baylor system, as they relied upon him more to use his strength to overpower and take on double teams often rather than utilize his explosive initial step to pressure the pocket and impact the action in the backfield.
Dave-Te Thomas owns and operates The NFL Draft Report, a service providing insight to league scouting departments for over 40 years. All year round, you can read Thomas' in-depth reviews of both blue chip prospects and diamonds in the rough by visiting the NFL Draft Report blog.
Photos courtesy of USA Today Sports Images.
Follow @PFRumors