With the season fast approaching, we're chatting with beat writers from around the league to gain insight on each team's offseason and how those moves will impact the season ahead.
Now, we continue the series by discussing the Chiefs with Adam Teicher of ESPN.com. You can follow Adam on Twitter @adamteicher and check out his stories here.
Zach Links: Heading into the offseason, I think a lot of people were expecting Eric Berry and the Chiefs to hammer out an extension before the July 15 deadline. Were you surprised when no deal was struck?
Adam Teicher: Many people assumed that the Chiefs and Berry would come to a last-minute agreement because that's what happened last year with franchise player Justin Houston. But the Chiefs weren't as motivated to get a long-term deal done with Berry as they were with Houston. While they feel Berry is a good player and has many intangible qualities that make them a better team, they don't feel he is indispensable, as they thought with Houston. So, in that light, no is the answer to the question. The Chiefs weren't going to meet Berry's price, but they did with Houston.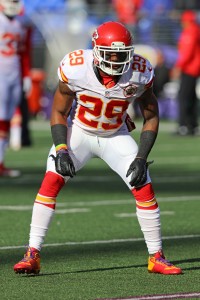 Zach Links: Berry rightly views himself as one of the league's very best safeties, but the two sides were said to be miles apart on terms. Do you think Berry is taking any of this personally?
Adam Teicher: It's hard to know what Berry is thinking because he's kept to himself publicly through the whole process. The fact he has yet to accept the Chiefs' mandatory one-year contract offer, his only option at this point to play for them this season, would indicate he's not happy with his predicament.
Zach Links: Ultimately, do you think Berry will sign a long-term deal to stay in Kansas City?
Adam Teicher: It's difficult to see that at this point. If the Chiefs weren't willing to satisfy him with a long-term offer this year, why would they do it next year? Perhaps things will change in that regard this season but I don't think they will.
Click here to continue reading about the Chiefs..
Zach Links: The Chiefs focused on keeping their own guys in-house this offseason, but they did make a splash in free agency when they signed right tackle Mitchell Schwartz to a five-year, $33MM deal. Do you think we'll see KC's offensive line improve significantly in 2016?
Adam Teicher: There's a reasonable chance of that. Schwartz should be a huge upgrade. The Chiefs started nine different offensive line combinations last year, some by necessity because of injuries but some by choice. They were constantly shuffling their starting line combinations in camp last year and things were never settled at many positions. They've already settled on their five starters for this year and that continuity should help, too.
Zach Links: Which veterans do you think will be on the bubble when it comes time to trim the roster down to 53? Which unheralded players could surprise people by making the team?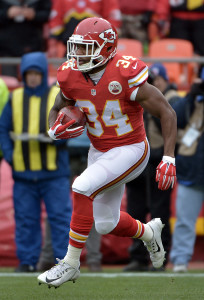 Adam Teicher: Running back Knile Davis and wide receiver/kick returner De'Anthony Thomas will have trouble keeping their jobs. Davis is fourth in line behind Jamaal Charles, Spencer Ware and Charcandrick West. The Chiefs don't need four backs. The Chiefs drafted Tyreek Hill in the fifth round and he's a similar player to Thomas, who hasn't been able to stay consistently healthy and produced little for the Chiefs when he was in their lineup, particularly on offense. The Chiefs have a couple of young players in tight end Ross Travis and linebacker Justin March who will likely make the team. Travis has the best chance of making an impact, too. He was a basketball player only at Penn State and is still learning football but the Chiefs have some expectations for him.
Zach Links: In this year's draft, the Chiefs traded down from No. 28 and tapped Mississippi State defensive lineman Chris Jones in the second round. Did you like that move? What do you think Jones' ceiling is?
Adam Teicher: Jones should be a productive player, eventually if not immediately. The Chiefs are eager to see him once they're able to practice in pads. They think he has potential as a pass rusher. He will have to earn whatever playing time he gets this year because the Chiefs are happy with what they've been getting from their three starters, Dontari Poe, Allen Bailey, and Jaye Howard. But Jones will get some snaps when they give one of the others some rest.
Zach Links: Doug Pederson is in Philly and the Chiefs have turned to Matt Nagy and Brad Childress to serve as co-offensive coordinators. What, if anything, will change in KC's offense?
Adam Teicher: The biggest change might be in the two-minute offense. The Chiefs have streamlined their two-minute playbook in an effort to improve in an area where they haven't been very good. Otherwise, not much will change. Andy Reid still has considerable influence over the offense and Childress and Nagy have been with the Chiefs for three years, so they've been part of the process in the past.
Photos courtesy of USA Today Sports Images.
Follow @PFRumors