For the majority of NFL teams, finishing the regular season with 10 wins and picking up a playoff victory would constitute a successful year. The Packers accomplished those feats in 2015, yet their season was at least somewhat of a disappointment, especially after they got off to a 6-0 start. As the Packers scuffled over the season's final 10 games, so did superstar quarterback Aaron Rodgers, whose descent (by his lofty standards) began in Week 8 during a 77-yard showing in a 29-10 loss to the eventual Super Bowl champion Broncos.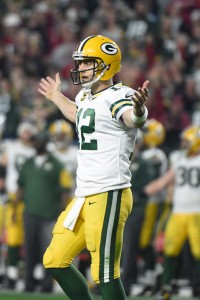 Including their shellacking in Denver, the Packers closed the regular season 4-6 and shockingly lost three of four games at Lambeau Field during that stretch. Each of those home defeats came at the hands of the NFC North, a division Green Bay had won four straight times entering last season. The final blow, a 20-13 decision against Minnesota in Week 17, cost the Packers the division and gave Minnesota its first North title since 2009. The Packers regained some of their mojo in the playoffs, going on the road to blow out the Redskins and then losing an overtime thriller to Arizona in one of the greatest games ever played, but they never really resembled Super Bowl contenders after their season-opening hot streak.
Part of the problem for Green Bay was the absence of standout No. 1 receiver Jordy Nelson, who didn't play a game last season after suffering a torn ACL over the summer. The loss of Nelson took a player who had combined for 183 receptions, 2,833 yards and 21 touchdowns from 2013-14 away from the Packers' Rodgers-led aerial attack. Rodgers and the offense in general didn't enjoy life without Nelson, but with the wideout now healthy, the team will try to return to its division-winning, championship-contending ways.
Notable signings:
As he has typically done since taking the reins as the Packers' general manager in 2005, Ted Thompson largely eschewed the free agent market and mostly focused on retaining homegrown talent during the offseason. Of the Packers' six most expensive signings this year, four were originally acquired either in the draft or, in offensive tackle Lane Taylor's case, as an undrafted free agent. Another, defensive tackle Letroy Guion, had been a Packer the previous two years.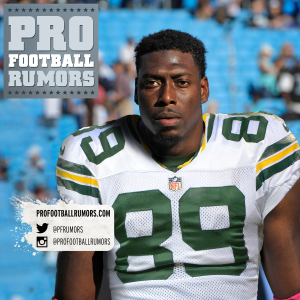 The Packers' most notable outside pickup during the winter was tight end Jared Cook, to whom they committed just one year and $2.75MM. Given that Cook only ended up on the market after the Rams released him, the Packers won't have to surrender a compensatory draft pick for signing the 29-year-old.
Before joining the Packers, the 6-foot-5, 254-pound Cook was durable and productive in Tennessee and St. Louis from 2011-15, missing a mere three of 80 games and combining for 235 catches, 3,064 yards and 15 scores. Last season was the only one during that five-year period in which Cook caught fewer than 44 passes (39) and three TDs (zero). He hasn't visited the end zone since Dec. 7, 2014, to be exact, and on another alarming note, led tight ends in drops (10) last season, per Evan Silva of Rotoworld. Cook also underwent foot surgery a couple months after signing with Green Bay, but he returned to the field last week and has since impressed Rodgers. The two-time MVP lauded Cook's speed Monday and likened him to field-stretching ex-Packers tight end Jermichael Finley.
Between Cook and Richard Rodgers, who caught 58 passes and scored eight times a year ago, the Packers have a tight end duo capable of being among the league's most prolific. Rodgers will cede targets to Cook, though, after dominating Packers tight ends in snaps last season (799 to second-place finisher Justin Perillo's 115). Part of that was on account of a torn MCL that kept Andrew Quarless out for most of the season. When Quarless was healthy two years ago, he and Rodgers combined for 1,108 snaps. With Cook replacing Quarless, who's now with the division-rival Lions, Green Bay's reliance on its top two tight ends should revisit (and perhaps exceed) its 2014 level.
Continue reading about the Packers' offseason..
In addition to Cook, running back James Starks will serve as one of the Packers' skill-position weapons in 2016. Starks spent his first six seasons with the Pack, but the 30-year-old drew offseason interest from at least two other teams (the Patriots and Dolphins) before re-upping in Green Bay through 2017. Starks, who logged career highs in several key categories last season, will continue as a steady backup to the slimmed-down Eddie Lacy.
"Eddie and James is our 1-2 punch," head coach Mike McCarthy told Rob Demovsky of ESPN.com. "That's been an excellent combination now going into our third year with those two guys. It's important to establish that and make sure those guys touch the football."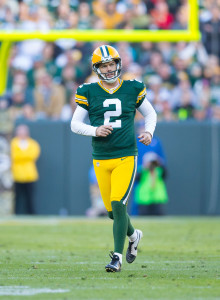 Every time Starks has scored during his career, Mason Crosby has kicked the extra point. That's not going to change, as he easily landed the Packers' largest offseason deal in length (five years), total value ($16.1MM) and guarantees ($5MM). Crosby, a Packer since they picked him in the sixth round of the 2007 draft, is now one of the league's highest-paid kickers. The 31-year-old was mediocre from 2007-10 and a disaster in 2012, but he has otherwise connected on between 81.8 percent and 89.2 percent of field goal tries during the other four seasons of his career. Crosby hit 24 of 28 attempts (85.7 percent) and made all but one of five kicks from 50-plus yards (the miss was blocked) last season. He was also one of only two kickers to go without a miss on at least 35 extra points (he had 36).
On a per-year basis, outside linebacker Nick Perry collected the Packers' most expensive offseason contract. Perry will rake in $5MM this season, but the team didn't commit to him beyond that. Green Bay actually elected in 2015 to decline Perry's fifth-year option for $7.75MM, so the club came out on top in retaining him for less. Ideally, though, Perry would have been worthy of that option. Instead, the 2012 first-rounder (28th overall) hasn't quite lived up his draft status. He's decent depth, however, and has totaled 12.5 sacks and five forced fumbles during his career. Perry amassed 3.5 sacks and one forced fumble while partaking in 33.4 percent of the Packers' defensive snaps last season, leading Pro Football Focus (subscription required) to assign his performance a mediocre 58th-place ranking among 110 qualified edge defenders.
For the third season in a row, Guion will be one of the linemen in front of Perry. The 322-pounder avoided free agency by inking a three-year, $11.25 deal a month beforehand, though his contract contains a measly $500K in guarantees. Guion's earning power took a serious hit as a result of a February 2015 felony arrest, one which came after Starke, Fla., police found 357 grams of marijuana and an unloaded gun in his truck. Guion ended up accepting a plea deal and settling the matter a month later, but the league subsequently hit him with a three-game suspension to begin last season. By including little in the way of guarantees in their pact with Guion, the Packers protected themselves against future off-field incidents and kept a solid nose tackle on a low-risk accord.
B.J. Raji is at least temporarily out of the picture (more on him in the next section), and fellow lineman Mike Pennel will miss the year's first four games thanks to a substance abuse violation, making Guion all the more important to the Packers' cause in 2016. Notably, when Raji sat out the entire 2014 season with a torn right biceps, Guion started all of Green Bay's games and easily led their interior D-linemen in snap percentage (50.1).
Notable losses: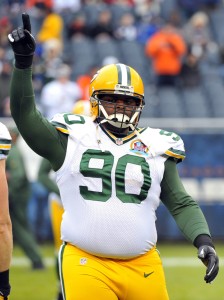 As mentioned, Raji is no longer a member of the Packers, making this the first time since 2008 that Green Bay is entering a season without the 334-pounder under its control. The Packers wanted to re-sign Raji, who's currently a free agent, but the 30-year-old is taking a hiatus from the sport.
Aside from missing 2014, Raji had been a mainstay along the Packers' front since they drafted him ninth overall in 2009. Raji started in all 77 of his appearances from 2010-15, including 15 last season. His 2016 showing didn't impress PFF, however, as the site ranked him 97th among 123 qualified interior defensive linemen. With Raji as the centerpiece of their line last season, the Packers ended up 21st in rushing defense (119.1) and tied for 26th in yards per carry against (4.5). They were a much better 13th in run defense by Football Outsiders' standards, though, after the site gave the Packers a 24th-place ranking in that department without Raji in 2014.
Along with Raji's exit came the departure of cornerback Casey Hayward, who parlayed his 51-game, nine-interception stint in Wisconsin into a reasonable deal with the Chargers. Although Hayward went without an interception last season after picking off three the previous year, he spent time both in the slot and on the outside, started a career-high 11 games and graded as PFF's 16th-best corner among 111 qualifiers. During his run in Green Bay, which began when it grabbed him in the second round of the 2012 draft, Hayward lined up in the slot on 65.4 percent of the passing downs in which he participated and held opposing quarterbacks to a weak 72.1 rating on those plays (via Jared Durbin of CBS Sports).
As good as Hayward is, the Packers still look fine at corner with Sam Shields, Damarious Randall, Quinten Rollins and Demetri Goodson set to comprise their top four. Of course, enemy offenses will put their depth to the test early on account of Goodson's four-game PED suspension. Their next two corner options, Ladarius Gunter (40 snaps) and Daniel Robertson (zero snaps), garnered little experience as undrafted rookies last season.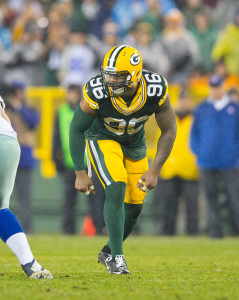 In addition to Raji and Hayward, the Packers' defense also lost linebackers Mike Neal and Nate Palmer, who combined for 1,273 snaps a year ago. Most of those (734) went to Neal, who trailed only Clay Matthews among Packers linebackers. He also racked up 16 appearances for the third straight year and at least four sacks for the fourth straight season. Nevertheless, Neal remains a free agent, which he heavily attributes to the league's ongoing investigation into claims that he and a handful of other players previously took performance-enhancing drugs. Matthews and Julius Peppers, both of whom have agreed to cooperate with the NFL, are also involved in that probe. Neal, on the other hand, hasn't yet consented to an interview with the league regarding the accusations. If he doesn't by next Thursday, he'll face a suspension.
Neal's ouster from Green Bay came as part of an offseason outside linebacker remodeling, as Ryan Wood of USA Today detailed in May, with Matthews headed back there from the middle, third-rounder Kyler Fackrell coming in, and third-year man Jayrone Elliott in line for more playing time. Of course, Green Bay also has Peppers and Perry on the outside, and Datone Jones – previously a full-time defensive end – is in the mix, too. Thus, the Packers are amply prepared for life without Neal and Palmer.
Offensively, the Packers chose not to re-sign a pair of fan favorites – receiver James Jones and fullback John Kuhn. Jones was a Packer from 2007-13, but he left for the Raiders in 2014. That didn't work out, nor did a brief summer fling with the Giants, so he returned to Green Bay last September and ended up catching 50 passes for 890 yards (good for an excellent 17.8 YPC) and eight touchdowns. Despite that respectable production, the Pack didn't show any real interest in re-upping Jones, who took a deal with the Chargers earlier this month.
The Jones-less Packers are in better shape than most at receiver, where Nelson will return to join Randall Cobb as their two best options. However, Davante Adams disappointed last season, Jared Abbrederis and Ty Montgomery combined for 24 catches, and playoff hero Jeff Janis is out for the foreseeable future with a broken hand.
As for Kuhn, he became an improbable success story with the Packers after signing with them in 2007. Now a Saint, Kuhn missed only five games in nine years with the Packers, made four Pro Bowls and, including playoffs, scored 30 combined touchdowns as a runner and receiver. In a league that's phasing out fullbacks, Kuhn still managed to appear in 26.6 of Green Bay's offensive snaps last season. Aaron Ripkowski, a 2015 sixth-rounder, will replace Kuhn in Green Bay. Their fans won't have as easy a time chanting his name as they did Kuhn's, though.
Trades:
Draft picks:
In hopes of securing a couple long-term building blocks up front, the Packers addressed the lines with their first two draft picks. Their top choice, well-rounded defender Kenny Clark (No. 27 overall), amassed 73 tackles and 5.5 sacks en route to third-team All-America honors last season at UCLA. In the wake of Raji's quasi-retirement, the Packers will rely heavily on Clark as a rookie. He's primed to start alongside Guion and Mike Daniels as they look to stuff the run and aid a Green Bay pass rush that produced the seventh-most sacks in the league (43) in 2015. Clark should contribute in both areas, as PFF's Steve Palazzolo highlighted in a pre-draft scouting.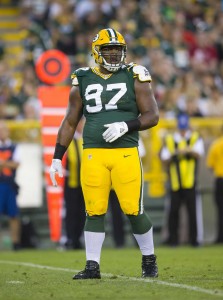 In assessing Clark, PFR's own scouting expert, Dave-Te Thomas, wrote: "Clark has a very explosive initial step with quick feet, good athleticism and balance for his size, along with the body control and low pad level to come off the snap and get an immediate advantage versus a lethargic offensive lineman. He flashes a strong, consistent hand punch, enough to consistently put the blocker up on his heels, driving with good leverage walking that lineman back into the pocket. He has that initial burst needed on movement and the suddenness to gain advantage when engaging double teams. He has good initial quickness coming off the snap and for a player of his size, that burst can surprise an offensive lineman."
With their second pick, the Packers moved up to take ex-Indiana offensive tackle Jason Spriggs in Round 2. In doing so, they gave up the 57th, 125th and 248th picks, which Chase Stuart of Football Perspective estimated in May as Green Bay paying the Colts 130 cents on the dollar.
Initially, Spriggs will act as depth behind starting tackles David Bakhtiari and Bryan Bulaga – who combined to miss six games last season. Bulaga hasn't played a 16-game season since 2010, his rookie year, so Spriggs' presence might come in handy immediately. Going forward, Spriggs could replace impending free agent Bakhtiari on the left side next year. in the meantime, the 301-pound Spriggs will have work to do, as Thomas explained, "Spriggs has a tall frame with minimal body fat, but will need to add at least 20 to 25 pounds of bulk to succeed at left tackle."
Like Spriggs, the aforementioned Fackrell might not contribute much this year. As mentioned, the Packers are loaded with depth at outside linebacker, for one, and the third-rounder from Utah State got off to an inauspicious start at camp. On a better note, Fackrell picked up a sack against the Browns in the Packers' preseason opener last Friday. He accumulated a total of 13 during his three full college seasons, including five in 2015, and will make his mark in the pros as a pass rusher (if he makes one, that is).
The Packers had two fourth-rounders, the first of which they used to select another linebacker – ex-Stanford Cardinal Blake Martinez. Green Bay might have a steal on its hands in Martinez, who is set to accrue significant playing time in the middle of its defense this year after piling up 138 tackles and two sacks last season. Thomas likens him to former Pack linebacker Nick Barnett and current Jets stalwart David Harris.
Six picks after landing Martinez, the Packers circled back to the defensive line and added former Northwestern Wildcat Dean Lowry at No. 137. Lowry, like Martinez, has a legitimate chance to emerge as a great value pick immediately. With Fennel on the shelf for a quarter of the season, Lowry will be a relied-on member of the Packers' defense. The 296-pound end filled the stat sheet at Northwestern, where he notched 28 tackles for loss and 11.5 sacks from 2013-15.
Other:
In Perry and Jones, their top pick in 2013, the Packers have back-to-back first-rounders whose fifth-year options they've elected against exercising in consecutive offseasons. The club decided in May not to pick up Jones' $8.369MM option for 2017, which could make this his last season in Green Bay. Jones, 26, had eight sacks in three seasons as a D-lineman and will look to up his production in a hybrid role this year. To prepare for reps as an edge-rushing outside linebacker, Jones lost 15 pounds during the offseason, thereby dropping his weight to 284, according to Tom McMahon of the Associated Press. The returns have been positive so far.
"He got off to a very good start, had some very good physical plays, had the sack," defensive coordinator Dom Capers said of Jones' performance against the Browns.
Top 10 cap hits for 2016:
The Packers didn't live up to expectations in 2015, but it's still fair to regard them as legitimate Super Bowl contenders entering this season. Not only is Nelson rejoining their offense, but their elite quarterback remains the face of an all-around terrific roster. At minimum, a return to the top of what will likely be a competitive NFC North should be within reach for Green Bay. Given that there don't appear to be any pushovers in the division, the utter dominance the Packers exhibited in going a combined 20-3-1 against the Vikings, Lions and Bears from 2011-14 is likely in the rearview mirror.
Contract information from Over the Cap and Spotrac was used in the creation of this post. Photos courtesy of USA Today Sports Images.

Follow @PFRumors