The old adage that defense wins championships may or may not be true, but you'll be hard-pressed to find a title-winning team that didn't build heavily through the draft. Rookie classes, naturally, are evaluated on the perceived upside of the NFL newcomers, but which rookies are ready to contribute right out of the gate? And, how do they fit in with their new team schematically?
To help us forecast the immediate future of these NFL neophytes, we enlisted the help of draft guru Dave-Te Thomas who has served as a scouting personnel consultant to NFL teams for multiple decades.
First Round – Robert Nkemdiche, DT (Mississippi State, No. 29 overall)
The NFL Draft Report casts a wary eye on the Cardinals' first round selection. In sort of a déjà vu' for the staff, could this Ole Miss prospect pull a "Honey Badger" and see the error of his ways off the football field, or are we again seeing a remake of the Demetrius Underwood situation, where a talented player simply self-destructs in life? We are very cautiously including him in this article, because it's hard to cast the troubled Nkemdiche as an "impact player," despite his talent.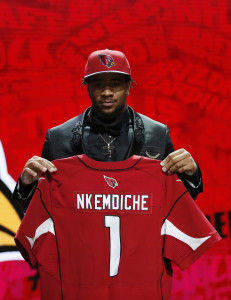 [RELATED – Click here to read our in-depth recap of the Cardinals' offseason] 
Currently, Nkemdiche is slated to be one of the first defensive ends off of the bench in relief of Chandler Jones and Calais Campbell. The Cardinals say they want to extend Campbell, but that could be a tall order as they also have to carve out a monster deal to retain Jones. If all works out with Nkemdiche, he can serve as insurance against Campbell going elsewhere in free agency.
Nkemdiche has Ndamukong Suh-like athletic ability, but his problems occur when he seems to throttle down more than he plays with intensity. His occasional "let-ups" on the field became much more noticeable this year and he did seem to be more concerned about his running back duties than he did in giving pursuit as a defender. The Ole Miss defender made only two long distance tackles this year, despite having valid lateral agility and burst to give proper chase. When his head is in the game, Nkemdiche demonstrates the ability to easily take plays from the chalkboard to the field.
He needs minimal reps to retain and evident by the fact that he has started every game during his career, he has a good feel for blocking schemes and the vision to locate the ball in a hurry. He understands his assignments and his feel for the ball is above average, but his woeful inconsistency and attention to detail can be maddening, at times. He is not the type who will make an effort on every play to get to the ball and there are more than a few times where he is caught out of position due to a mental error.
Nkemdiche is a hard worker in the weight room, but is the type that needs to be pushed to get the best effort out of him. He has the ability to be a self-starter and he is a good field leader who lets his actions speak louder than his words, but his inconsistency has now become an issue. He is compliant to the coach's wishes and plays with good intensity and effort when he performs to his ability, but he runs too hot-and-cold to be strongly considered a football player on par with his athleticism.
Ultimately, on the field, we believe that Nkemdiche has a lot to offer. How he performs at the next level, however, will hinge largely on his own head.
Third Round – Brandon Williams, CB (Texas A&M, No. 92 overall)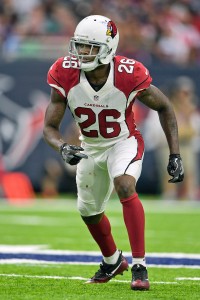 Rated the third best player in the state of Texas and the seventh-best running back in the nation as a senior at Brookshire Royal High School, Williams was really never given the opportunity to be the featured ball carrier. He originally joined the Oklahoma Sooners in 2012, where he rushed for 219 yards on 46 carries while seeing action in eight games. OU life was not for Williams, and he sat out the 2013 campaign after leaving the university and enrolling at Texas A&M.
The strength room's MVP during his season on the sidelines for the Aggies, Williams was still relegated to a support role during his first year at A&M. In 2014, he saw action in every game and made six starts, but he still didn't have a major role on the team.
The 2015 season was a year of change – a change for the better – for Williams. He took over field cornerback duties for the Aggies, as he tallied 37 tackles on the year, including a season-high five third-down tackles against Alabama. He also broke up seven passes and returned to his roots, making a lone appearance at running back, recording one carry and one reception against Nevada, each for three yards.
True, Williams still has a lot to learn at his new position, but throughout camp, he has been the Cardinals' most impressive newcomer. He has a developing frame with room to carry at least another ten pounds of bulk with no loss in quickness. He possesses the long arms and reach, along with very good timing and leaping ability to get to the pass at its highest point. The Aggies defender displays natural hands to make the interception and demonstrates good vision and running stride to gain valid yardage after the pass theft.
Williams is slated to start opposite of Patrick Peterson and the Cards are hoping that he learns a lot from his three-time First-Team All-Pro teammate.
Dave-Te Thomas owns and operates The NFL Draft Report, a service providing insight to league scouting departments for over 40 years. All year round, you can read Thomas' in-depth reviews of both blue chip prospects and diamonds in the rough by visiting the NFL Draft Report blog.
Photos courtesy of USA Today Sports Images.
Follow @PFRumors