After eking out a victory in one of the most memorable postseason contests in some time, the Cardinals advanced to the NFC Championship Game — and proceeded to get stomped. But most of the core of a team that finished last season with a 13-3 record, and Arizona also made a few additions through free agent signings, draft picks, and one notable trade.
Notable signings:
The Cardinals already possessed an excellent offensive line, having ranked third in adjusted line yards and fifth in adjusted sack rate — both Football Outsiders metrics — in 2015. That front five has the potential to be even better this season, as the club inked former Eagles and Broncos guard Evan Mathis to a one-year deal. Any contract that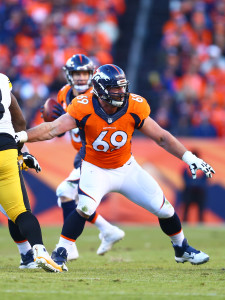 only spans a single season is typically considered a relatively risk-free endeavor, but Mathis' pact is especially favorable for Arizona.
Despite the fact that Mathis ranked as the third-best guard in the league last season (and posted the NFL's best grade in the run game) according to Pro Football Focus, he'll earn just over $4MM in 2016. For reference, that salary is in line with the scheduled earnings of the likes of Shawn Lauvao and Zane Beadles, both of whom are inferior to Mathis. Though he's entering his age-35 season, Mathis is still one of the most effective guards in football, and this deal can be deemed a win.
Mathis will be blocking for a Cardinals running back group that includes not only David Johnson and Andre Ellington, but veteran Chris Johnson, who agreed to a one-year contract worth $1.5MM. Johnson garnered interest from both the Dolphins and Patriots before re-signing with Arizona, and reportedly turned down more money elsewhere to return to the desert.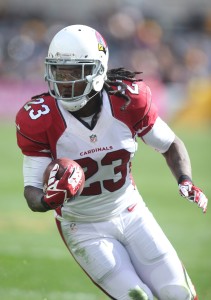 Given that he did have offers from other clubs, it's a tad surprising that Johnson ended up returning to the Cardinals, if only because he could have presumably gotten more playing time elsewhere (especially in Miami). Though some reports have hinted otherwise, Johnson figures to be the clear-cut No. 2 option on the Arizona depth chart, and it will take an injury for him to approach his 196-carry total from last season. Still, Johnson claimed that his "heart was in Arizona," so the Cardinals' culture and locker room evidently sold him more than straight cash.
Along the same lines, tight end Jermaine Gresham also asserted he took less money to reunite with the Cardinals. Gresham said he had offers from both the Bears and Jets, including one four-year, $23MM deal that included $12MM in guarantees. Of course, we're taking Gresham's word that he had those offers in hand, and we can't know the exact structure of the rejected contracts. But it seems apparent that players are willing to join (or stay with) Arizona for less money, either in the hopes of winning a championship or because of the club's strong clubhouse (or both).
Gresham, 28, has never quite lived up to his first-round draft status, and given the weapons available to quarterback Carson Palmer, Gresham probably won't ever again come close to his career-high in receiving yards (737). But he's an able and willing blocker, especially in the run game, and for the cost of $3.5MM, he's a bargain as Arizona's second tight end behind Darren Fells.
Quarterback Drew Stanton will also return to the Cardinals, agreeing to a two-year deal worth $6.5MM to once again serve as Palmer's backup. The accord provides a healthy amount of upside for Stanton — who apparently drew interest from the Colts, Titans, Dolphins, and Cowboys — as it contains $8.7MM in available incentives. If Palmer were to suffer another major injury (he's already undergone two ACL surgeries during his career), Stanton would be well-compensated as the next man up. Arizona, additionally, is reportedly viewing Stanton as a possible successor to Palmer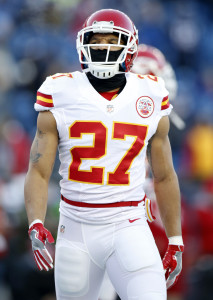 when he eventually hangs up his cleats.
On the defensive side of the ball, Arizona's only major free agent addition was safety Tyvon Branch, who resurrected his career with the Chiefs last season following an injury-marred end to his tenure with the Raiders. The Cardinals value versatility in their secondary, and Branch, who can play both safety positions and nickel corner, will help the defensive backfield make up for the loss of Tyrann Mathieu if he's forced to miss any time after tearing his ACL last season.
Like Branch, safety Tony Jefferson will see expanded playing time if Mathieu is absent early in the season, and he could emerge as a full-time player after signing his restricted free agent tender over the offseason. The Cardinals placed the lowest tender on Jefferson, meaning he could have signed an offer sheet with another club and left without Arizona receiving compensation. The Raiders and Texans did express interest in signing Jefferson, and the 24-year-old admitted that he came close to inking a deal with a new team.
The Cardinals also brought back two veterans who recently spent time with the organization, re-signing defensive back Chris Clemons and defensive lineman Red Bryant to minimum salary benefit contracts. The "defensive back" title is a little misleading in the case of Clemons, as he'll reportedly back up Deone Bucannon at dime linebacker. Bryant, as anyone who's watched Amazon's All or Nothing series knows, was simply overjoyed to return to an NFL field last season, and will provide depth on the defensive line once again.
Continue reading about the Cardinals' offseason…
Notable losses:
Arizona saw upheaval at a couple of position groups this offseason, but no unit will look as different as the Cards' offensive line, which could see as many as three new starters. Center Lyle Sendlein, at this point, has not been re-signed, and head coach Bruce Arians said earlier this year that he expects Sendlein to retire. Sendlein has had a successful career by almost any definition, as he entered the league as undrafted free agent back in 2007 and wound up starting 124 games for the Cardinals. He'll be replaced at the pivot by one of A.Q. Shipley or third-round rookie Evan Boehm.
The loss of guard Ted Larsen is a little less momentous. He started 26 games for Arizona over the past two seasons, but consistently ranked near the bottom of PFF's guard ratings — last season, PFF graded him as one of the ten-worst at his position. Larsen signed a one-year deal with the Bears during the offseason, but the Cardinals have replaced him with Evan Mathis, a better player in all facets of the game.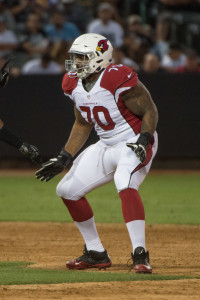 The most significant defection along the offensive line wasn't Sendlein or Larsen, but rather right tackle Bobby Massie, who will join Larsen in Chicago after agreeing to a three-year pact. Massie, 26, was never anything more than an average tackle, but he was a known quantity. The Cardinals didn't seriously entertain re-signing him, largely because they had invested a 2015 first-round pick on tackle D.J. Humphries, who is now expected to man the right side after not seeing a single snap during his rookie season. As such, I listed Arizona as one club that could have interest in free agent tackle Eugene Monroe.
The other area of the Cardinals' roster that will look a bit different in 2016 is the secondary, and given that the unit ranked fourth in DVOA against the pass last year, it's not clear that change will be a good thing. Cornerback Jerraud Powers is gone after playing 75% of the team's defensive snaps last season, inking a deal with the Ravens after also generating interest from the Giants. Arizona expressed some desire to re-sign Powers, but apparently couldn't come to an agreement on his value (he'll earn $1.75MM with Baltimore). Powers' absence leaves a major hole at corner opposite Patrick Peterson, where career special-teamer Justin Bethel currently looks the like the favorite to start.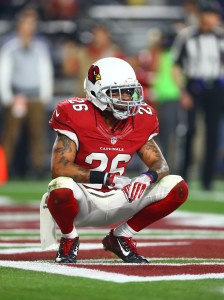 Fellow defensive back Rashad Johnson also had talks with the Cardinals about a possible return, but the veteran safety said the club never made him an official offer before he signed a one-year deal with the Titans. Johnson saw even more playing time last year than did Powers (about 80% of Arizona's snaps), but his loss might be a little easier to overcome, as the Cards boast Tyrann Mathieu, Tony Jefferson, Tyvon Branch, and D.J. Swearinger at safety.
Pass-rush specialist Dwight Freeney hasn't re-upped with the Cardinals to this point, but he's made it known that he'd prefer to return the desert. Arizona, for their part, is said to be comfortable with their current crop of edge rushers, and would like to get a look at its younger options in camp before turning to Freeney, who posted eight sacks in 11 games last season. Fellow linebacker LaMarr Woodley also looks to be done with the Cardinals, although he won't be difficult to replace after grading out poorly against the run and pass in only 279 snaps.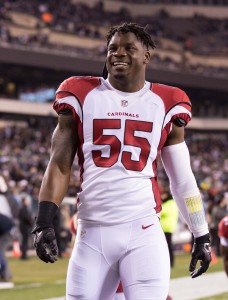 Sean Weatherspoon inked a one-year deal with the Cards last season that paid him nearly $4MM, and although he appeared in 13 contests, he didn't make much of an impact, seeing just 126 snaps. His limitations may have been injury-related, as Weatherspoon was coming off a Achilles tear that cost him nine games in 2014. Nevertheless, inside 'backer will be manned by Kevin Minter and safety-turned-linebacker Deone Bucannon for the foreseeable future.
Lastly, defensive lineman Cory Redding was released in April, and then decided to call it a career about a month later. The Cardinals have a history of bringing in seemingly over-the-hill veterans and milking their last bit of production, but Redding can be considered a miss for general manager Steve Keim. Redding, 35, was paid $3MM for less than 200 snaps, and wasn't particularly effective when he was on the field.
Trades:
The most important move of Arizona's offseason wasn't a signing, or a loss, or a draft pick. It was a trade that shocked the NFL world in mid-March, as the Cardinals acquired pass-rusher Chandler Jones from the Patriots. From my vantage point, the deal was a clear win for Arizona, as Jonathan Cooper, a former first-round pick, had essentially no value after starting only 11 games during his first three seasons in the league. Handing over the No. 61 pick, then, for Jones — whose 36 sacks since 2012 ranks 10th among edge rushers — was a steal.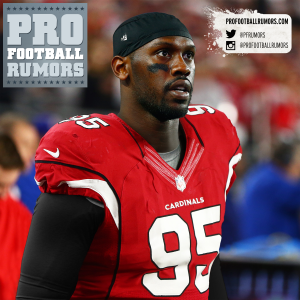 Jones' impending free agent status, and likely contract demands, surely played a role in New England's justification of the trade. The 26-year-old Jones will play 2016 under his fifth-year option at a price of $7.799MM, and is scheduled to hit free agency next spring. There's almost no chance Jones actually reaches the open market, as Arizona would likely use the franchise tag on him if the two sides can't work out a long-term deal. Head coach Bruce Arians, however, was confident that the Cardinals would be able to retain their new sack-master. "When he hits free agency, we'll have the dollars to make sure he stays," Arians said in March.
At the time of the trade, reports indicated that Jones would shift from his longtime role as a defensive end in New England to a 3-4 standup linebacker in Arizona's scheme. That change will have to be worked out during training camp and the preseason, and it's possible that Jones will play a variety of roles under defensive coordinator James Bettcher. Jones' 2017 payday could be affected by his specific position, though, as defensive ends cost about $1.5MM more than linebackers under the terms of this year's franchise tag.
Draft picks:
1-29: Robert Nkemdiche, DL (Ole Miss)
3-92: Brandon Williams, CB (Texas A&M)
4-128: Evan Boehm, C (Missouri)
5-167: Marqui Christian, S (Midwestern State)
5-170: Cole Toner, T (Harvard)
6-205: Harlan Miller, CB (Southeastern Louisiana)
Defensive lineman Robert Nkemdiche fell to the 29th pick due to character concerns, but most observers are convinced that the former Ole Miss Rebel will have an immediate impact in the NFL. As Jeff Dooley of Pro Football Focus noted, Nkemdiche wasn't the most polished or productive collegiate player. He is, however, a measurables freak who oozes potential.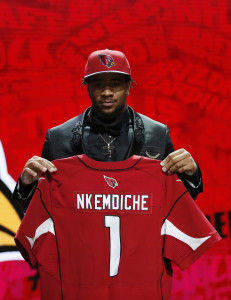 As far as athletic outliers go, Nkemdiche is near the top of the list. He ranked fourth among all draftable defensive lineman in SPARQ score, a metric that compiles combine data and transitions it into a single score. Nkemdiche also grades as a Force Player, a classification developed by Justis Mosqueda that also uses combine numbers to project edge rushers. Clearly, neither metric ensures that Nkemdiche is guaranteed to be an NFL success, but he'll have every opportunity to prosper in Arizona. He'll begin his rookie year as rotational rusher, vying for snaps behind Chandler Jones, Calais Campbell, Rodney Gunter, Corey Peters, and others.
Beyond Nkemdiche, the rest of the Cardinals' draft class earned a middling grade (Mel Kiper of ESPN.com assigned Arizona's picks a "B-"). Brandon Williams is a former collegiate running back who has only one season of experience at cornerback, and he likely won't earn much playing time on defense in year one. Evan Boehm, on the other hand, could easily become the Cards' starter at center, as his only competition is veteran A.Q. Shipley, who's has trouble holding down starting snaps during his career. At the very least, Boehm figures to be Arizona's top reserve on the interior, as he can play both center and guard.
Other:
Signed 16 undrafted rookie free agents following the draft.
Top 10 cap hits for 2016:
The Cardinals are now one of the best-run franchises in the NFL, a statement that would have seemed unthinkable a decade ago. General manager Steve Keim has shown a willingness to use free agency to augment his roster, and isn't afraid to sacrifice draft pick compensation to acquire a game-changer like Chandler Jones. Head coach Bruce Arians offers not only a colorful personality (and colorful language), but a mastery of offensive concepts that is unparalleled in the league. The NFC West clearly won't be a cakewalk — the division-rival Seahawks were, along with the Cardinals, were the only other club to rank among the top-five in both offensive and defensive DVOA — but Arizona is well-positioned to make another run at the Super Bowl in 2016.
Information from Over the Cap, Spotrac, and Roster Resource was used in the creation of this post. Photos courtesy of USA Today Sports Images.
Follow @PFRumors