In an offseason with some landmark signings and departures in the AFC West, the Chiefs wound up being the group's steadiest franchise, opting instead to mostly to keep their core together. After ascending past the first round of the AFC playoff bracket for the first time since the 1993 season, Kansas City stands to return most of its starting lineup this year.
Exactly how good are the Chiefs? That's a little tough to figure out since the Chiefs suffered many of their losses to quality opposition and saw most of their wins come against substandard teams or quality team that happened to be depleted at quarterback. The organization has done well to return to the position of an annual postseason contender, but how much further can this group carry this franchise as presently constructed in a division that features the defending Super Bowl champions and a potentially resurgent Raiders team?
Notable signings:
The Chiefs entered the offseason with half of their starting defense bound for the UFA market, but they'll now head into the season with ten starters back from last season's No. 7-ranked defense. In a continued effort to keep a core together that's been responsible for the franchise securing two playoff berths in a three-season span for the first time since the 1990s, Kansas City brought back Derrick Johnson, Tamba Hali, Jaye Howard, and Eric Berry.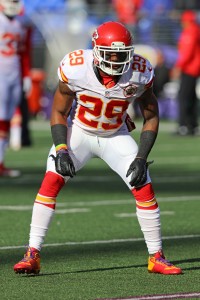 After his heroic recovery from cancer, Berry delivered one of his finest seasons to date. The former No. 5 overall pick's return to full-time status coincided with the Chiefs becoming only the second 1-5 team since the merger to make the playoffs, and Berry blazed to his second All-Pro honor while securing comeback player of the year acclaim.
Berry is viewed as the face of the Chiefs, an organization that has strived for stability since John Dorsey and Andy Reid took over. Because of that, many have expected Berry's contract to be completed by the July 15 deadline. Kansas City reached a deal on July 15 of last year to make Justin Houston the highest-paid linebacker ever, so despite an offseason where little has emerged from these talks, the 27-year-old Berry is a good bet to be signed. Using Harrison Smith's five-year, $51.25MM Vikings extension — one that contains $15.28MM fully guaranteed and averages $10.25MM per year — as a primer should make this pact simpler than Houston's to negotiate.
The other re-signings should give the Chiefs a good chance at again being a top-10 defense, but the team is now heavily committed financially to two linebackers who will be firmly in their mid-30s by the time their three-year contracts end. The Chiefs picked Dee Ford two years ago in the first round despite Hali and Houston residing in their primes, doing so with the presumed intent to plug in the ex-Auburn edge defender into Hali's spot once his contract expired. However, Ford has not proven to be up to the task to this point, and Houston's ACL surgery further clouded the Chiefs' pass-rushing situation. These factors led to bringing Hali back.
While the 32-year-old lifetime Chief had another Pro Bowl season, Hali's sack numbers continued to dwindle. He notched 6.5 last season after a six-sack 2014. The 2006 first-round pick finished with at least nine during the previous four slates, and he spent his 10th NFL season battling knee injuries. Committing three years — two are essentially guaranteed — and $21MM to Hali prevented the Chiefs from either attempting to retain Sean Smith or adding a veteran cornerback to help compensate for his defection.
Hali still resides as a quality player, but both he and Ford being employed in K.C. this season shows somewhat of a planning failure. The Chiefs' clogged 2017 payroll, once cap numbers for the extended veterans balloon, illustrates this.
Set to turn 34 this season, Johnson remains one of the NFL's top inside linebackers. He's obviously nearing the finish line, but the identical three-year, $21MM deal fell in line with similar accords given to aging non-rush 'backers in recent years. Karlos Dansby's Browns deal and David Harris' Jets pact laid the groundwork for a third Chiefs-Johnson agreement. Johnson's outplayed both and returned from a 2014-erasing Achilles injury to enhance Kansas City's run defense. The Chiefs going from 28th to eighth in that span included Johnson as the key variable, and he has a good chance of remaining productive for at least the largely guaranteed portion of his deal — 2016-17.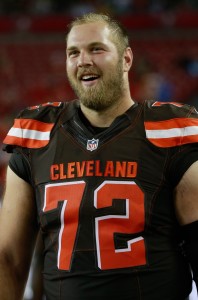 Kansas City also faced the prospect of losing Howard, but the emerging defensive end's market didn't price him out of Missouri. As a result, the Chiefs brought the 27-year-old starter back on a deal hat looks like a team-friendly accord after Howard enjoyed a breakout season. His contract is similar to fellow starting end Allen Bailey's 2015 re-up (four years, $25MM). This is the best trio of defensive linemen the Chiefs have housed since they moved to a 3-4 in 2009, and the Howard pact keeps it intact for another year.
Retention represented the theme of the Chiefs' offseason, but their biggest upgrade came at one of their more troublesome modern-day spots. Mitchell Schwartz will fill a gaping hole at right tackle after becoming one of the best right-edge blockers in football during his latter Browns seasons. The Chiefs haven't deployed a consistent option at right tackle since the early 2000s, with those famed lines featuring John Tait prior to his 2004 exit.
Schwartz, whose older brother Geoff Schwartz spent time at right tackle for the 2013 Chiefs, rated as Pro Football Focus' No. 7 tackle last season and No. 2 right tackle. He'll help fortify an edge that contributed to Alex Smith being sacked a career-high 45 times in each of the past two years. Kansas City will now boast above-average options at both tackle spots and center, with Mitch Morse impressing as a rookie and Eric Fisher improving, after not trotting out many players who could have qualified for that distinction over the past two seasons.
Continue reading about the Chiefs' offseason…
Notable losses:
However, Schwartz's arrival comes as the Chiefs lost their best-performing incumbent lineman for the third straight season. After Branden Albert and Rodney Hudson signed top-market deals following their strong contract years, Allen continued that string of well-timed proficiency by joining the Texans for four years and $28MM. The Chiefs experimented with Allen at right tackle for parts of two years before he returned to guard and fared much better than his previous stay inside. Allen helped the ground game compensate for Jamaal Charles' season-ending injury,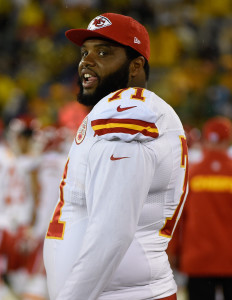 helping lead the team to 11 straight victories behind Charcandrick West and Spencer Ware.
The Chiefs will plug in low-investment guards after the former second-round pick's exit. Allen and Grubbs did not get a chance to play together much last season. A trade acquisition from the Saints, Grubbs' neck injury came after he played well at left guard during his seven-game Chiefs sample, which doubled as the 31-year-old former Pro Bowler's last NFL action. But Allen didn't enter the starting lineup until that seventh game. A lack of guard depth didn't seem to matter as the Chiefs continued to reel off victories in their friendlier second-half schedule sector, but it might this year now that both are gone.
Kansas City will turn to Laurent Duvernay-Tardif to reassume his right guard post in all likelihood, with fellow 2014 sixth-rounder Zach Fulton set for another crack at a starting job. Neither received good reviews from PFF in their respective years as starters — Fulton in '14, Duvernay-Tardif last season — but in an era where offensive linemen are taking longer to develop due to practice-time constraints, the Chiefs are banking on enough reps in the system covering for their bargain-buy approach here. Kansas City's other primary guard competitors are swing tackle Jah Reid, a waiver claim (Jordan Devey) and a fourth-round rookie (Parker Ehinger).
Defensively, the Chiefs will deploy almost the same unit as what Bob Sutton sent out in 2015, except without their No. 1 cornerback from the past three years. The Raiders' four-year, $38MM offer for Smith went unmatched by the Chiefs, who did not make a serious effort to retain the 6-foot-3 corner. The rangy 29-year-old talent outplayed his three-year, $16.5MM Chiefs deal, and the team's steady pass defense over the past three years can be partially attributed to their reliance on the right cornerback's man-coverage prowess.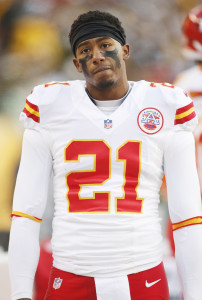 Without Smith, the Chiefs' entire cornerback corps will consist of rookie-contract players. They drafted three rookies but will count on either Phillip Gaines or Steven Nelson — third-rounders in 2014 and '15, respectively — seizing at least one of the three primary corner jobs. Gaines looks like the better bet at this point, having opened last season as the team's primary slot option. His Week 3 ACL tear induced the Chiefs to unveil a rare two-corner, four-safety dime package, one that left Nelson out of action throughout the season.
Kansas City will need to rely on its corners a bit more because it lost both of the ancillary parts of that four-safety sub package.
Branch parlayed his season as the de facto dime back into a two-year, $8MM deal with the Cardinals, doing so after signing a one-year, $2.1MM Chiefs accord. The former Raiders standout rehabilitated his value while helping the cornerback-limited Chiefs. A UFA before retiring, Abdullah probably could have continued his career as well after being a quality starter in 2014 and a key backup last season. The Chiefs shifted Abdullah to his old safety spot alongside Eric Berry and often shuttled Ron Parker into the slot often, with the since-retired defender further diversifying one of the league's best back-line contingents.
Despite starting in just two games in his three-season Chiefs tenure, Daniel set a new standard for backup quarterbacks by inking a $7MM-per-year deal to follow Doug Pederson to Philadelphia. The 29-year-old Daniel's defection opens the door for homegrown talents Tyler Bray and Aaron Murray to attempt to capture the backup job. Neither has thrown an NFL pass, so the Chiefs would be much more vulnerable if Alex Smith went down. Bray currently holds the job out of offseason workouts, but the former 2013 UDFA missed the past two regular seasons due to injuries. A 2014 fifth-rounder, Murray worked as a third-stringer the past two seasons. Both could be competing for one roster spot after the Chiefs drafted Kevin Hogan in this year's fifth round.
Trades:
Acquired a 2016 second-round pick (No. 37), a 2016 fourth-round pick (No. 105), and a 2016 sixth-round pick (No. 178) from the 49ers in exchange for a 2016 first-round pick (No. 28) and a 2016 seventh-round pick (No. 249).
Acquired a 2016 third-round pick (No. 74) and a 2016 fourth-round pick (No. 106) from the Buccaneers in exchange for a 2016 second-round pick (No. 59).
Draft picks:
After trading back, the Chiefs drafted for talent given their current strength on their defensive line. However, Jones proved to be a disruptive presence in the SEC and could take over as a key depth piece as a rookie after Mike DeVito retired due to concussion concerns. The early-entree draftee should see playing time quickly and may prove to be a higher-ceiling talent than either Jaye Howard or Allen Bailey. Jones is the highest-drafted defensive lineman the Chiefs have selected since Dontari Poe in 2012 and could soon end up replacing the longtime nose tackle up front, given Poe's contract situation and Howard's ability to pl
ay nose.
The other big takeaway from Kansas City's draft was its persistent effort to add cornerback depth. The Chiefs entered the draft in dire need of a corner to potentially pair with Marcus Peters, but they did not go about it like a team that knew it had to have a starter.
Instead of filling the need with its first- or second-round pick, Kansas City approached it from a volume standpoint. The strategy will flood the Chiefs' already-young stable at this position, with Kansas City hoping to unearth at least one immediate contributor from its newest crop. Because as presently constructed, the Chiefs could need it, especially given the state of their pass rush.
Russell excelled at press coverage at Notre Dame despite being just 5-foot-11, and the Chiefs aren't averse to pressing. Murray graded well in coverage last season, according to Pro Football Focus, with White profiling as another lottery ticket-type grab for a group comprised of two second-year players (Peters and Steven Nelson), one third-year cog who is coming off injury (Phillip Gaines), a trending-down ex-waiver claim (Marcus Cooper) and now three rookies.
It's a formula that could be tested early. The Chiefs did not hold up well in coverage against quality passing attacks in 2015, but it's difficult to gauge their readiness. They seemed to improve as the year progressed, only most of said development came against substandard offenses.
Tabbed by most analysts as a depth-level guard, Ehinger will see a cozier path to a starting role than most in his position thanks to the Chiefs' guard circumstances. The Cincinnati product has experience at tackle as well and graded, per PFF, as a plus pass-blocker in all but one game last season. Of course, he was facing American Athletic Conference opposition.
Hogan will vie with Brady and Murray for the Chiefs' No. 2 quarterback job, which hasn't been this inexperienced since Tyler Palko was forced into action in 2011 — when he went 1-3 as a starter to help keep the Chiefs out of the playoffs — before Kyle Orton arrived as a waiver claim.
Extensions and Restructures:
The Chiefs have emerged as one of the most build-from-within franchises in the league over the past three years. Their extension for Kelce served as one of many extensions or re-signings under this management's watch, and the Andy Reid/John Dorsey duo has now extended players drafted under three regimes.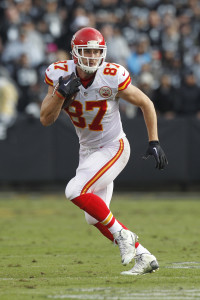 At 26 and entering his fourth season, Kelce has emerged as the No. 2 option in Alex Smith's pass-catching pecking order and a top-10 tight end. The Chiefs' longtime issue finding a steady No. 2 wideout helped place Kelce in this role, and he's delivered near-identical seasons over the past two years, recording between 860 and 875 receiving yards and scoring five touchdowns in each year. He's now the league's second-highest-paid tight end on a per-year basis at $9.37MM and one of the many core players the Chiefs have locked up long-term.
Ware and West aren't exactly core performers, but they kept Kansas City's running game afloat better than Jamaal Charles' replacements did after he tore his ACL in 2011. The tandem combined for more than 1,250 yards from scrimmage after Charles went down in mid-October and profile as a low-cost power/speed pairing should Charles be unable to return to form.
Neither was set to be eligible for unrestricted free agency until 2018 on their rookie contracts, and these re-ups could be significant for Charles. Now 29 and rehabbing from another knee surgery, the longest-tenured starting back in franchise history is under contract through the '17 season — but on non-guaranteed $5.3MM and $7MM cap numbers, respectively. Charles not showing his best stuff this season could make him a cap casualty or trade candidate come 2017, when money will be tight for the Chiefs.
Other:
Houston's surprise surgery could be the biggest road block standing between the Chiefs and their first AFC West title in six years.
The star left outside linebacker's recovery timeline remains murky going into training camp, but expecting an immediate return to form even if the one-time All-Pro proves able to start in Week 1 seems optimistic.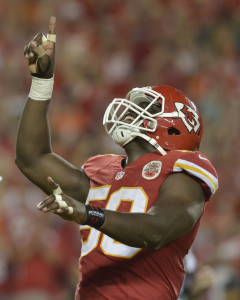 Houston's ACL issue stands to be a key factor for the Chiefs' pass defense. A lot will be asked of the supplementary edge defenders and a young corner corps to keep the unit functioning without the operation's linchpin at his best.
Despite Fisher's fifth-year option being exercised, putting the middling left tackle in line to be the sixth-highest-paid offensive lineman in 2017, it shapes up as a defining year for the former No. 1 overall pick. Those options being guaranteed against injury only, the Chiefs can still move on from Fisher and his near-$12MM '17 salary before it becomes fully guaranteed. Although they're devoid of a surefire left-side option beyond Fisher, the Chiefs could well be over 2017's projected salary ceiling once a likely Eric Berry extension is processed. However, the Chiefs have enjoyed quality campaigns from most of their contract-year blockers in recent seasons.
Another mid-level campaign could make cutting Fisher, whose best season came in 2015 when Pro Football Focus tabbed him as its No. 36 tackle, a legitimate conversation. It would create cap room for a Dontari Poe extension or franchise tag, neither option seeming feasible right now.
The move from Doug Pederson to a Brad Childress/Matt Nagy co-coordinator arrangement shouldn't change much. Andy Reid's offenses have been among the more consistent in football over the past 16 years. Following his flameout as Vikings head coach, the now-60-year-old Childress spent one season as the Browns' OC before becoming the spread-game overseer in Kansas City. Just 38, Nagy could prove a rising star after serving under Reid as a coaching intern in Philadelphia as recently as 2009. The former Arena League quarterback spent the past three years coaching K.C.'s signal-callers.
Top 10 cap hits for 2016:
The Chiefs' quick ascent has been fairly remarkable given how ugly things were at the end of a 2-14 2012 slate. But, if they're going to take the next step, they've positioned that window for the next two years. The Chiefs are committed financially to this nucleus through 2017 and are banking on stability to lift them past the more volatile, and more successful, Broncos and hold off the remade Raiders.
The '16 season will go a long way toward determining how legitimate the franchise's prospects at advancing further in the playoffs are. Kansas City has booked only one AFC title game berth since 1970 despite making 14 playoff appearances in that span. But the Chiefs haven't employed this kind of core since their steady run in the '90s and that streak could be snapped soon.
Proving they can defeat quality opposition consistently will be paramount as they attempt to climb onto the conference's top tier. While it's debatable as to whether that can occur with a limited offense, the Chiefs are likely to be in contention for a playoff spot for the fourth straight year. Of course, to justify the commitment to the current cast, they'll have to get back there and be a threat to advance.
Information from Over the Cap, Spotrac, and Roster Resource was used in the creation of this post. Photos courtesy of USA Today Sports Images.
Follow @PFRumors