As always, this year's cutdown day was accompanied by a few surprise cuts and one or two seemingly out-of-the-blue transactions. Let's recap some of yesterday's biggest stories before another flurry of activity begins this afternoon:
Bradford heads north. After losing starting quarterback Teddy Bridgewater to a season-ending ACL tear earlier this week, the Vikings decided that they did not want to put their playoff hopes in the hands of longtime backup Shaun Hill. Instead, they send a 2017 first-round pick and a 2018 fourth-round pick to the Eagles in exchange for Sam Bradford. That fourth-rounder would become a third-round choice if Minnesota advances to the NFC Championship Game, and a second-round selection if the club wins the Super Bowl, a problem the Vikings would surely be quite happy to have. Bradford is not a world-beater by any means, but he is a capable signal-caller who performed very well down the stretch in 2015 and who gives Minnesota some credibility under center. Bradford, who signed a two-year deal with Philadelphia earlier this year, will be under club control through 2017, when Bridgewater will presumably be ready to return, but he could provide some insurance in case Bridgewater is not fully recovered or he could find himself traded elsewhere, which would give the Vikings a chance to recoup some of what they sent to the Eagles. Whether Bradford will have time to pick up the offense with less than a week to go before the season opener remains to be seen.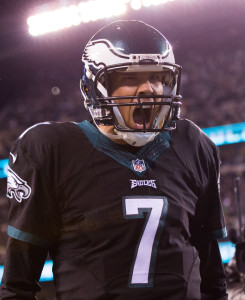 The Wentz era begins…now. Of course, Bradford's departure left the Eagles without their presumptive starting quarterback, which opened the door for speculation as to whether Philadelphia would open the season with Chase Daniel under center or if this year's No. 2 overall selection, Carson Wentz, would be thrust into the spotlight. That speculation was quickly put to bed when Philadelphia announced that, as long as Wentz has recovered from his rib injury by Week 1, he'll start the Eagles' opener against the Browns. The original plan was for Wentz, a North Dakota State product, to redshirt his rookie season and learn the professional game behind Bradford and Daniel, but you know what they say about the best-laid plans…
On the road again. After naming Trevor Siemian their starting quarterback, it was common knowledge that the Broncos were attempting to trade Mark Sanchez, whom the team acquired from Philadelphia earlier this year to compete for a starting job but who consistently underwhelmed in the preseason. They were unsuccessful in their trade efforts, prompting them to release Sanchez shortly before the cutdown deadline, and the Cowboys were quick to pounce. In need of a veteran backup for rookie starter Dak Prescott, who is expected to hold down the fort until Tony Romo returns from his latest injury, Dallas inked Sanchez to a one-year deal with a base value of $2MM and a max value of $5.375MM, with playing time and team performance incentives.
More Broncos on the move? Sanchez was dispatched from Denver, and the Broncos also parted ways with running back Ronnie Hillman, their 2012 third-round selection. But perhaps the biggest news was that the Broncos have reportedly put star cornerback and enigmatic personality Aqib Talib on the trading block. Talib has made the Pro Bowl in each of his two seasons with the Broncos, and he was an integral part of their Super Bowl-winning squad last season. However, he once again found his name in the headlines for the wrong reasons earlier this summer, when he suffered a gunshot wound either at a Dallas nightclub or at a park during the early morning hours of June 5 (Talib told police he was "too intoxicated" to remember how he was shot). Because of the off-field issues that have plagued his career, it is unclear what sort of return the Broncos could get for Talib, but there would surely be plenty of interest in a 3o-year-old corner with his ability. For what it's worth, GM John Elway denied the report that Talib is on the trading block.
Surprising (and not so surprising) cuts. A couple of big names surprisingly found themselves on the wrong side of The Turk, including the Ravens' Justin Forsett and the Packers' Josh Sitton. The Forsett cut ostensibly signaled that the Ravens were ready to roll with a largely unproven stable of running backs, including Terrance West, Buck Allen, and Kenneth Dixon (who is currently injured). However, while there is a good chance Baltimore will in fact bring Forsett back into the fold, the same cannot be said for Green Bay and Sitton. The 30-year-old has established himself as one of the best guards in the league, and while no one was willing to assume his $6.15MM base salary in a trade, he has already garnered a great deal of interest on the open market and has at least one visit (with the former division rival Bears) lined up. And, while it hardly qualifies as a surprise, the Jets waived former first-round pick Dee Milliner with an injury designation, thereby signaling the end (probably) of Milliner's highly disappointing tenure with Gang Green.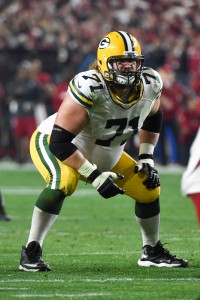 Extensions and more. While cutdown day is, appropriately enough, usually newsworthy for its cuts, that doesn't mean new contracts can't be handed out as well. In addition to setting up a visit with the newly-released Sitton, the Bears also solidified their O-line for the long haul by signing Kyle Long to a four-year, $40MM extension. Long, 27, has been a Pro Bowler in each of his three seasons since entering the league, starting all but one game for the Bears over that time, and he is expected to shift back to his familiar right guard spot in 2016 after spending 2015 as the club's right tackle. Meanwhile, after trading Andy Lee earlier this week, the Browns found themselves a new punter in Britton Colquitt, whom they signed to a one-year deal.
Miscellaneous. While it has felt like a foregone conclusion for some time now, the 49ers officially named Blaine Gabbert the team's starting quarterback, and the Texans activated J.J. Watt, who has made a speedy recovery from surgery to repair a herniated disk and will apparently not miss any regular season games, as was initially feared. Meanwhile, the Browns traded cornerback Justin Gilbert, who never came close to living up to his status as a first-round draft pick, to the division-rival Steelers, who are in real need of secondary reinforcements. Cleveland will receive a 2018 sixth-round selection in the exchange.
Photos courtesy of USA Today Sports Images.
Follow @PFRumors