Although the Chargers announced they're not making a decision on a potential Los Angeles relocation until after the season, they are talking to the Rams about the long-rumored move, Ian Rapoport of NFL.com reports.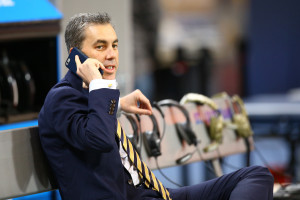 Rams' chief operating officer Kevin Demoff confirmed the two franchises are talking about a Chargers northern migration, one that became much more realistic after San Diego citizens resoundingly voted down the Bolts' downtown stadium proposal on election day.
"There are no hurdles to any deal," Demoff said, via Rapoport. "The relationship between the two owners is in a good place, and I believe the Chargers feel welcomed. Nothing stands in their way of moving if that is what they want to do. I would also say we have no insight on what their decision will be. It's only that we have worked hard to make sure their L.A. option is a good one."
The Chargers and Rams agreed to a deal in principle earlier this year just before Dean Spanos announced his team was going to play 2016 in San Diego, and the Bolts subsequently attempted to craft a desirable stadium deal. The latest coming out of San Diego is the city will continue to host Chargers games next season, but that's not certain yet. Neither is the viability of Los Angeles being a two-team city, with Roger Goodell's preference remaining to keep the Chargers and Raiders — who still have a Los Angeles path — in their respective markets.
The Rams and Chargers, though, have a green light to share Stan Kroenke's $2.6 billion stadium, which is set for a 2019 unveiling, thanks to the owners' decision in January. Although the Bolts haven't yet asked the league for an extension on deciding on L.A., they could do so soon. Should the Chargers pass on Inglewood by Jan. 15, that would give the Raiders the opportunity to move back. The Raiders remain committed to Las Vegas, but that venture isn't certain yet either due to the likely relocation vote having no consensus yet and potential hiccups regarding the financing of the proposed stadium.
Moving parts remain, but Demoff's comments represent a step for a Rams-Chargers union.
Photo courtesy of USA Today Sports Images.
Follow @PFRumors