It's conceivable that either the Chargers or Raiders could relocate to Los Angeles in the coming years, but NFL commissioner Roger Goodell said Thursday the "ideal" scenario is for the two teams to stay where they are (Twitter link via Alden Gonzalez of ESPN.com). Goodell was in attendance when the Rams broke ground on their $2.6 billion stadium in Inglewood, Calif., where the Chargers have the option of sharing the soon-to-be built facility with the Rams. They must decide by Jan. 15 whether to do it, and while an extension is possible, the Chargers haven't asked for one, Goodell revealed (Twitter link via Vincent Bonsignore of the Los Angeles Daily News).
Chargers owner Dean Spanos said last week that he's tabling relocation thoughts until the end of the season, which wouldn't leave him much time to negotiate a deal with the Rams' Stan Kroenke. His organization would gladly team with Spanos' franchise, though, with Rams chief operating officer Kevin Damoff saying, "We'd welcome [the Chargers] with open arms" (Twitter link via Gonzalez).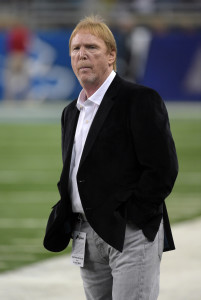 If the Chargers stay in San Diego – which is possible for at least 2017 – and the Raiders' Las Vegas plans fall through, there's "growing support" within the league for the Silver and Black to return to LA, per Bonsignore. Although an October report indicated the NFL could force Raiders owner Mark Davis out, a high-ranking league official told Bonsignore that notion is "total BS." On the contrary, there's "growing admiration" for the job Davis has done since taking over the Raiders after his father, Al Davis, died in 2011.
While the league would be OK with the Raiders going back to LA, where they played from 1982-94, or staying in Oakland, Bonsignore writes that Las Vegas remains the likeliest option. The Raiders aren't interested in remaining in Oakland, relays Bonsignore, as the city hasn't made much known progress toward a new stadium to replace the 50-year-old Coliseum. Meanwhile, Nevada Gov. Brian Sandoval has already signed off on $750MM in public money toward a potential $1.9 billion Raiders facility.
Davis will file for relocation in January, and once that happens, he'll need 23 approval votes from the league's other 31 owners to make his Las Vegas dream a reality. Goodell isn't fully on board with the Raiders going to Vegas, but Bonsignore doesn't expect Davis to have difficulty garnering the necessary number of votes.
Photo courtesy of USA Today Sports Images.
Follow @PFRumors