The Redskins are firing GM Scout McCloughan after two seasons at the helm, according to The Washington Post. McCloughan is being let go due to his ongoing issues with alcohol, one official says.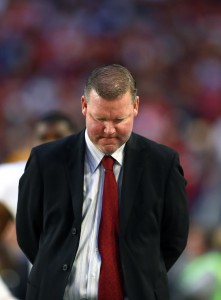 "He's had multiple relapses due to alcohol," said the official. "He showed up in the locker room drunk on multiple occasions. . . . This has been a disaster for 18 months."
The same official intimated that McCloughan also lost his two previous NFL jobs due to alcohol abuse. The exec did not "make the best of his third chance" in the league, in the anonymous source's estimation.
Meanwhile, there were rumblings late in the season that some in the Washington front office were jealous of McCloughan's power, Mike Jones of the Washington Post tweets. Ultimately, he was told, team management would one day use McCloughan's drinking as an excuse to fire him. McCloughan's players, scouting staff, and even coaches all respected and appreciated him, Jones tweets.
"The Washington Redskins have released Scot McCloughan from the organization effective immediately,"Redskins president Bruce Allen said in a statement. "We wish him success in his future endeavors. The team will have no further comment on his departure. The organization remains confident in our personnel department as we execute our free agency plans as well as prepare for the upcoming NFL Draft." .
This brings an end to a bizarre saga that has been playing out in D.C. for weeks now. McCloughan has been out of pocket during the most critical part of the offseason and things got really strange when he was not present at the Scouting Combine in late February. This week, as the madness of free agency swirled, agents found themselves negotiating with other officials in the team's front office. Reportedly, the chaos in Washington made the representatives of free agents question the team's stability. Quarterback Kirk Cousins may also feel the same way – he personally asked owner Dan Snyder to trade him.
The Redskins have been "entertaining" new general manager options for "quite some time," according to Jason La Canfora of CBSSports.com. He mentioned Buccaneers GM Mark Dominik as a candidate whose name has surfaced in internal talks. La Canfora also suggested that the team could promote executive Alex Santos to the GM spot, but it's not clear if that has been a consideration. The Redskins have never promoted an executive from within to fill the GM role.
Without their GM in the building, the Redskins made a number of notable moves this week. Here's a quick rundown:
The Redskins also lost DeSean Jackson and Chris Baker to the Buccaneers, lost Pierre Garcon to the 49ers, and came up short in their efforts to sign Calais Campbell.
Photo courtesy of USA Today Sports Images.
Follow @PFRumors