No NFL team experienced a more stark fall from grace last year than the Panthers, who went from a 15-1, NFC championship-winning juggernaut in 2015 to a bottom feeder in 2016. On the heels of a six-win, last-place season, Panthers general manager Dave Gettleman handed contracts to several household names, mostly on defense, and used the early portion of the draft to give quarterback Cam Newton more help.
Notable signings: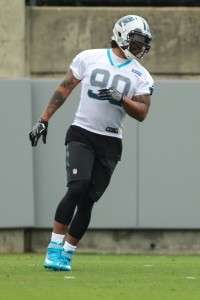 Carolina's defense finished anywhere from second to sixth in the league in scoring, yardage, sacks and DVOA two years ago, and while the unit's dominance dropped off last season, it was still a formidable group. The Panthers ended up with the league's second-most sacks (48) and a more-than-respectable DVOA ranking (10th), so Gettleman didn't do anything extreme on that side of the ball. Three of his biggest moves included extending his premier defensive lineman, franchise-tagged tackle Kawann Short, on a whopper of a deal and re-upping dependable veteran ends Mario Addison and Charles Johnson for very reasonable money. Those three combined for 19.5 sacks last year, and they'll have assistance from local favorite Julius Peppers in 2017.
Peppers, who attended North Carolina and starred with the Panthers from 2002-09, returned on a palatable contract. Age isn't on the 37-year-old's side, but the former Bear and Packer hasn't recorded fewer than seven sacks in a season since 2007. Peppers logged 584 defensive snaps in Green Bay last season, his ninth straight 16-game campaign (11 starts), and Pro Football Focus ranked his performance a solid 35th among 109 edge defenders. Now, Peppers will replace the 25-year-old Kony Ealy, whom the Panthers sent with a third-round pick (No. 72) to the Patriots for a second-rounder (No. 64). Jettisoning a capable player in favor of one who's 12 years his senior is clearly a risk, but it's worth noting that Ealy's running out of team control. Ealy will be a free agent next offseason, so if the Panthers weren't expecting to re-sign the Super Bowl 50 standout, moving him for a slightly better draft selection and presumably upgrading for a year with Peppers isn't unjustifiable.
Peppers wasn't the only past Panthers defender whom they reunited with in free agency. Slot cornerback Captain Munnerlyn, a Panther from 2009-13, returned after a three-year stint in Minnesota. Like Peppers, Munnerlyn is back with gas remaining in the tank, with PFF's Sam Monson noting that he yielded just one touchdown on 68 targets last season. At 29, Munnerlyn's easily the elder statesman in a Panthers corner corps that lost Josh Norman a year ago and subsequently received encouraging performances from rookie starters James Bradberry and Daryl Worley. At the same time, the rest of Carolina's CBs didn't provide much, meaning Munnerlyn should be a welcome addition.
Another established newcomer, safety Mike Adams, will also have an important role in the Panthers' secondary this year. Like Peppers, Addison, Johnson and Munnerlyn, the 36-year-old Adams is past a prime age, though he's still an adept defender. Adams was PFF's 19th-rated safety in 2016, when the then-Colt started in each of his appearances (15) for the third year in a row, intercepted two passes and forced a pair of fumbles. Playmaking has been the norm for Adams, who picked off 12 passes and forced seven fumbles during his three-year Indianapolis tenure. Barring an age-related decline, which certainly isn't out of the realm of possibility, he should be a better starting free safety option than predecessor Tre Boston, whom Carolina cut after it signed Adams.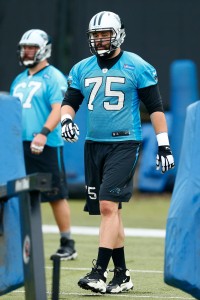 While nearly all of the sizable contracts Gettleman doled out in free agency went to defenders, left tackle Matt Kalil received the largest deal of any new Panther. Matt Kalil is now teammates with his brother, starting center Ryan Kalil, but the former isn't a lock to remain with the club beyond this year. If Carolina's not impressed with Matt Kalil's work, it'll be able to void his contract – a scenario that doesn't seem particularly far-fetched. After all, the 27-year-old was somewhat of a disappointment over the past few seasons in Minnesota, which selected him fourth overall in 2012. Kalil's best trait during the first four seasons of his career may have been his durability, as he started in 64 straight games in that span. However, because of a hip injury, he didn't play past Week 2 last year.
The good news for the Panthers is that Kalil's health shouldn't be an issue going forward. That isn't necessarily the case with their previous No. 1 left tackle, Michael Oher, whom concussion issues have troubled since last September and who might not play again. Thanks in part to Oher's 13-game absence in 2016, the Panthers' protection of Newton took a step backward with Mike Remmers on the blindside (Remmers is now with Kalil's old team, the Vikings). The Panthers obviously expect Kalil to outdo Remmers, though it's far from a lock that he'll warrant a large long-term investment.
Notable losses: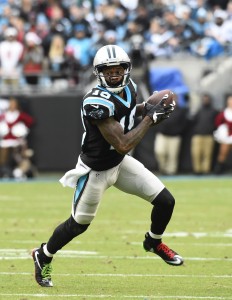 The Panthers' most noteworthy departure in free agency, wide receiver Ted Ginn Jr., is now with the division-rival Saints. The field-stretching Ginn finished second among Panthers wideouts in snaps (688), catches (54), targets (95), yards (752) and touchdowns (four) last season, yet the team didn't bring him back or add an established veteran to make up for his exit. While the Panthers did sign ex-Buccaneer Russell Shepard, his pass-catching resume is more in line with that of Corey Brown, who left Carolina for Buffalo. It seems, then, that the Panthers will primarily rely on rookies (more on them later) to take over for Ginn and complement their most proven aerial targets, Greg Olsen, Kelvin Benjamin and Devin Funchess.
Like Ginn, Brown and the aforementioned tandem of Boston and Remmers, fellow ex-Panthers in fullback/running back Mike Tolbert and linebacker A.J. Klein saw a fair amount of action in Carolina in 2016. Tolbert counts as one of the most decorated Panthers in recent memory, in fact, as he earned three Pro Bowl trips and a pair of All-Pro nods during his tenure with the club from 2012-16. The Panthers deemed Tolbert expendable in late February, however, releasing him after he combined for 488 snaps (324 on offense, 164 on special teams) a year ago. The 31-year-old, now with the Bills, wasn't much of a factor on offense in his Carolina swan song, racking up the lowest totals of his half-decadelong stint with the team in carries (35), rushing yards (114) and catches (10).
Klein took the field more than Tolbert in 2016 (350 snaps on defense, 231 on special teams) and made at least six starts for the third straight season (seven, to be exact), though PFF assigned him subpar grades for his performance. Klein didn't post great traditional numbers, either (29 tackles, two forced fumbles and a sack), yet the Saints still handed him a solid payday. At $24MM over four years, including $9.4MM guaranteed, it's not surprising that the Panthers let Klein walk. They're unlikely to miss Klein as long as starting middle linebacker Luke Kuechly stays healthy. The four-time Pro Bowler sat out nine games from 2015-16 (six last year), leading to more on-field time for Klein.
Trades:
Draft picks: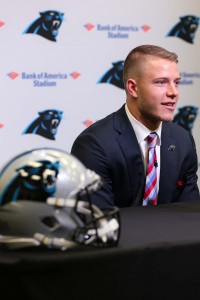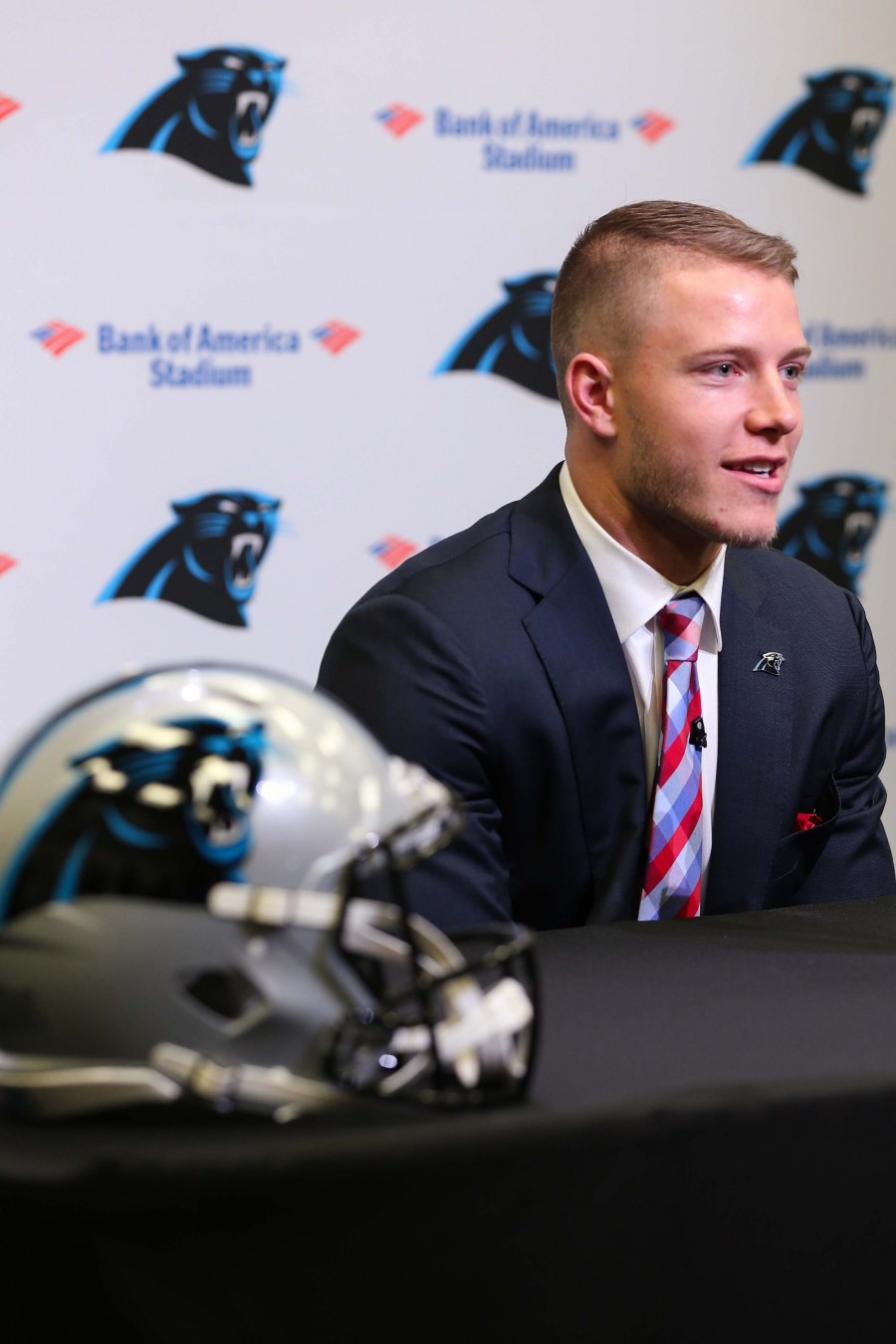 Carolina didn't do much to bolster its offensive skill during free agency, but that wasn't the case at all in the draft. The Panthers spent their first two picks, both top 40 selections, on backfield-capable options after finishing last year just 20th in yards per carry and 22nd in rushing DVOA. Both first-rounder Christian McCaffrey, who rushed for a ridiculous 3,622 yards from 2015-16, and second-rounder Curtis Samuel were major threats as ball carriers and pass catchers during their college careers. While McCaffrey will complement veteran back Jonathan Stewart this year, Samuel will be more of a Ginn replacement. Samuel averaged a whopping 7.5 yards per carry on 172 attempts at Ohio State, but he functioned as more of a receiver in college and will continue to do so in the pros. The 5-foot-11, 196-pound speedster lined up far more in the slot (425 snaps) than in the backfield (220) in his final season with the Buckeyes, notes PFF, which likens him to Percy Harvin.
Extensions and restructures:
Stewart has been a quality contributor for the Panthers throughout his nine-year career, including last season when he rated as one of PFF's most elusive and hardest-to-tackle backs (via Cyrus Geller), but whether he'll see his extension through is up in the air. The Panthers locked him up before drafting McCaffrey and Samuel, and they also have Fozzy Whittaker and Cameron Artis-Payne signed through 2018. So, a less-than-stellar showing from Stewart in his age-30 campaign could bring an end to his time with the Panthers next winter, when releasing him would open up $3.75MM in cap room.
Other:
It was an easy decision for Carolina to give itself the opportunity to keep Benjamin in the fold through 2018, especially with Funchess having underwhelmed since going in the second round of the 2015 draft. While Benjamin missed 2015 with a torn ACL, he has been terrific when healthy. The ex-Florida State star has averaged 68 catches, 975 yards and eight touchdowns during his two seasons of action. That type of production is certainly worth the $8.459MM Benjamin will make if he plays 2018 under his fifth-year option.
Top 10 cap charges for 2017:
Unlike 12 months ago, the Panthers are neither the top dogs in the NFC nor their division as the season approaches. Both of those honors belong to the conference-winning Falcons, who handled the Panthers in two matchups last year. In order for Carolina to rebound and push for its fourth NFC South title since 2013 this year, it'll have to fare much better against the Falcons and its two other division rivals, the Buccaneers and Saints. The Panthers went an ugly 1-5 against those clubs last season, which cost them a chance to at least push for a wild-card berth. It would be a surprise to see that type of futility again this year from the Panthers, whose roster looks capable of bouncing back from a nightmarish 2016 and bidding for a playoff spot.
Information from Over the Cap and Roster Resource was used in the creation of this post. Photos courtesy of USA Today Sports Images.
Follow @PFRumors