Colin Kaepernick is now connected to a third league. On the heels of an unspecified settlement with the NFL, the former 49ers quarterback is in discussions with the XFL, a league spokesman confirmed to Sporting News' Michael McCarthy.
The 31-year-old passer, who has not played since the 2016 NFL season finale, was in talks with the Alliance of American Football as well.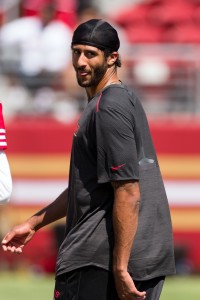 A report indicated a Kaepernick-AAF relationship was scuttled by the quarterback's salary demands. Kaepernick was believed to be seeking $20MM to play in the AAF, and McCarthy reports the same figure has surfaced in the XFL talks. Kaepernick, per McCarthy, is targeting $20MM to suit up in the XFL, which is set to respawn in 2020.
With the XFL salaries set to compare to the AAF's, which has given non-guaranteed, three-year deals worth $250K, Kaepernick's alleged demand would seemingly be a non-starter here as well. However, the XFL is planning to pay stars "a lot" more.
While anything in the neighborhood of $20MM may even escape the parameters of "a lot", with McCarthy reporting the Vince McMahon-run operation is eyeing $250K-per-year salaries for starting quarterbacks, the XFL aligning with Kaepernick would obviously put it in position to strongly compete with the AAF and potentially capture interest of a sect of football fans turned off by the former Super Bowl starter's inability to land an NFL job.
If nothing transpires on the Kaepernick-XFL front, the new league would be in position to woo better quarterback talent compared to the AAF — if, in fact, it can pay $250K salaries to starting QBs.
The word coming out of Kaepernick's camp has consistently pointed to the passer wanting to continue his career. He has been linked to several NFL jobs, following injuries to starting quarterbacks, but nothing, obviously, led to another opportunity. Kaepernick's attorney predicted his client would be on an NFL roster soon, even throwing out the Panthers and Patriots as possible landing spots.
Photo courtesy of USA Today Sports Images.
Follow @PFRumors