We could ask you whether the Bengals will take LSU quarterback Joe Burrow with the first overall pick. We could also ask you whether the Redskins will select Ohio State sack machine Chase Young, who profiles as the best overall talent in the entire 2020 NFL Draft class. We could also ask you whether you think pancakes are delicious. Or whether your front lawn is green.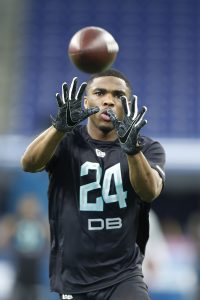 [RELATED: Jeff Okudah's NFL Draft Profile]
That doesn't mean for sure that Burrow and Young will be the first players off the board on Thursday, but that's the general sense in the NFL world. The real question marks start at No. 3, where the Lions may be split between their favorite draft crushes. Auburn defensive tackle Derrick Brown could provide them with the run-stopping solution they hoped to have in Damon Harrison. Clemson standout Isaiah Simmons could bolster them at both edge and safety, all in one shot. Still, Ohio State cornerback Jeff Okudah is very much in the mix, and the Lions have reportedly been zeroing in on him for weeks.
There's a convincing case to be made for each, but the Lions have a massive hole to fill at cornerback after trading Darius Slay to the Eagles. Simmons and Brown may have attributes that they want, they don't address the team's biggest need. Okudah, with cheetah-like speed and the smarts to stay on the good side of zebras, seems like a sensible pick.
"I would put Okudah down as the safest [defensive player in this draft]," NFL Network's Daniel Jeremiah said recently. "I know exactly what position he plays, I've seen him play that position against elite competition and I've seen him play at a very high, consistent level. To me, Okudah is the safest."
Now, it's time for your take. Will the Lions take Okudah with the No. 3 pick? Or, will they go in a different direction (perhaps by trading from No. 3)?
Cast your vote below (link for app users) and break it all down in the comments.
Photo courtesy of USA Today Sports Images.
Follow @PFRumors