Well this is an unusual arrangement we didn't see coming. The Eagles are signing veteran quarterback Josh McCown to their practice squad, Adam Schefter of ESPN.com tweets.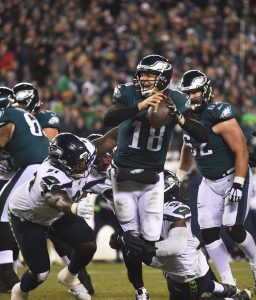 Thanks to a new COVID-19 exception veterans will be able to serve on practice squads, making this possible. As Schefter notes, he'll easily be the oldest practice squad player in NFL history. Making the situation even more unique, McCown won't even be reporting to the team. Instead McCown will continue to live in Texas, earn a $12K weekly salary, and serve as Philly's emergency quarterback remotely.
McCown's lovable journeyman career has taken him all over the football world, so it feels right for him to blaze this unheard of trail. We had heard back in January the Eagles were talking about adding him to the coaching staff, and this is the next best thing.
After originally announcing his retirement in June of last year, he signed with Philly last August after they had a couple of injuries. After serving as Carson Wentz's backup and not starting a game he was suddenly thrown into the spotlight when Wentz went down in the Eagles' first round playoff game against Seattle.
McCown came into the game cold off the bench and nearly led them to a miracle victory, tearing his hamstring in the process and playing through the injury.
The Eagles have Nate Sudfeld and Jalen Hurts behind Wentz now, but in these uncertain times it can't hurt to have too much insurance. McCown has turned into a fan favorite over the course of his career that started in 2002 with the Cardinals, and this is a nice feather in his cap.
Here is Philly's full practice squad:
* = international player
Follow @PFRumors