Trevor Lawrence has been expected to lead off the draft for a while now, while the Jets' connection to BYU's Zach Wilson continues to gain steam. Although the Jets are not a lock to move on from Sam Darnold and take Wilson, they appear to be on the doorstep of such a consensus. The draft suspense may, then, begin with the 49ers.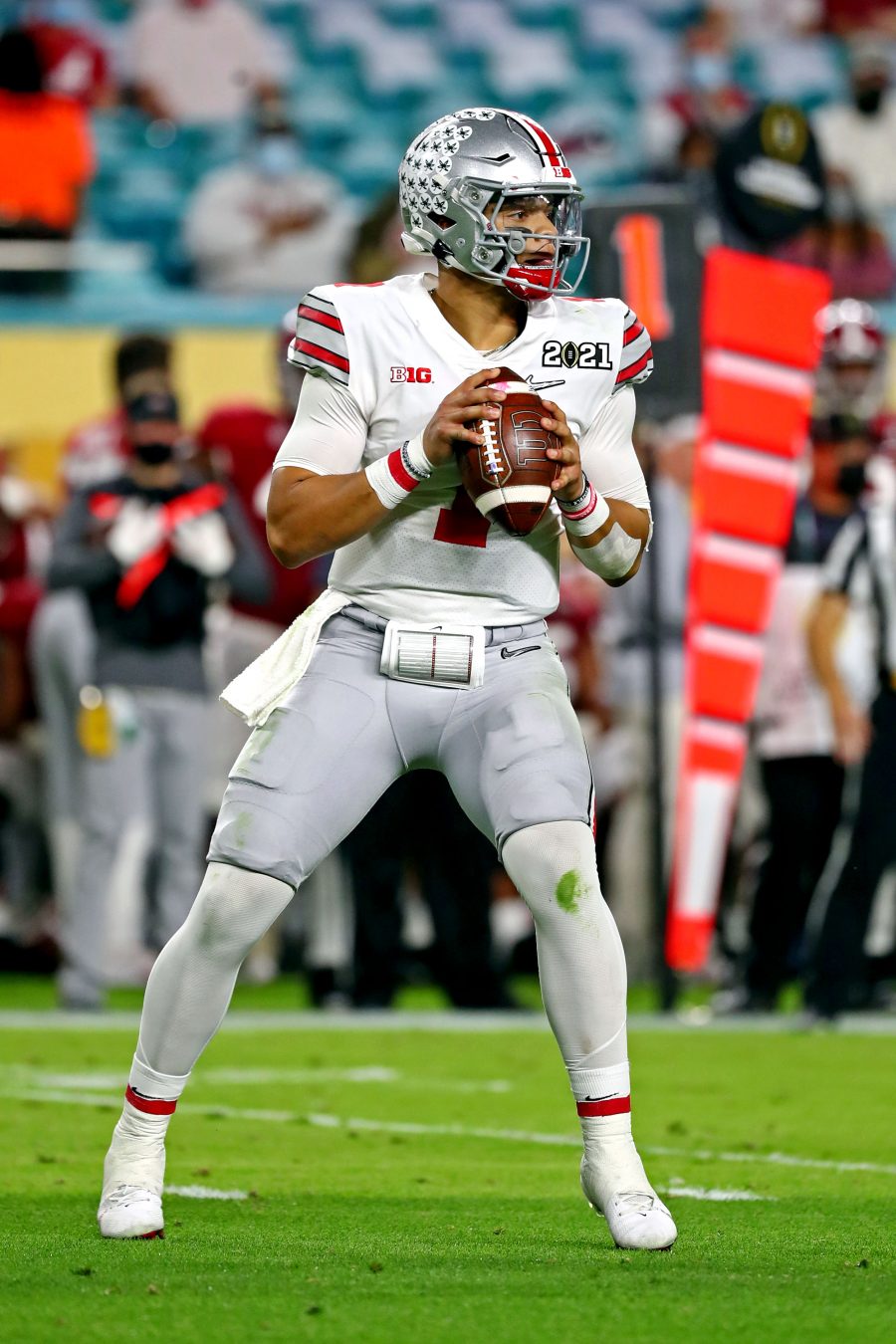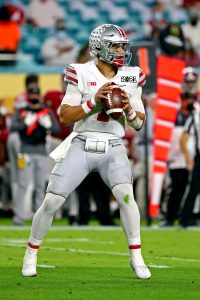 Kyle Shanahan and John Lynch have each endorsed Jimmy Garoppolo as the planned 2021 starter, and the 49ers are sending out signals they do not expect to trade their incumbent passer. But the team parted with tremendous future draft capital to climb nine spots to No. 3 overall. The 49ers should be widely expected to draft a quarterback in the first round for the first time since they chose Alex Smith first overall in 2005. Which one will they select?
Only two drafts — 1971 and 1999 — have begun with three consecutive teams taking quarterbacks. With the Falcons connected to choosing a Matt Ryan heir apparent, this draft could be the first to start with four straight QBs. Should Lawrence and Wilson head to the Jaguars and Jets, the 49ers will have their pick of seemingly Justin Fields, Trey Lance or Mac Jones. With a Garoppolo trade seemingly now in play, one of these three could have the keys to the San Francisco's offense as soon as this coming season.
Fields has resided on this tier the longest, being the 1B option to Lawrence going into the 2020 season. Dwayne Haskins' Ohio State successor did not do too much to ding his stock, even though multiple choppy performances did occur this past season. Fields boasted a 41-3 TD-INT ratio in 2019 and dominated in the Buckeyes' rout of Clemson in the College Football Playoff this past season. That said, Hall of Fame scout Gil Brandt does not expect the 49ers to go with Fields, whom some teams have well outside the top 10 on their respective boards.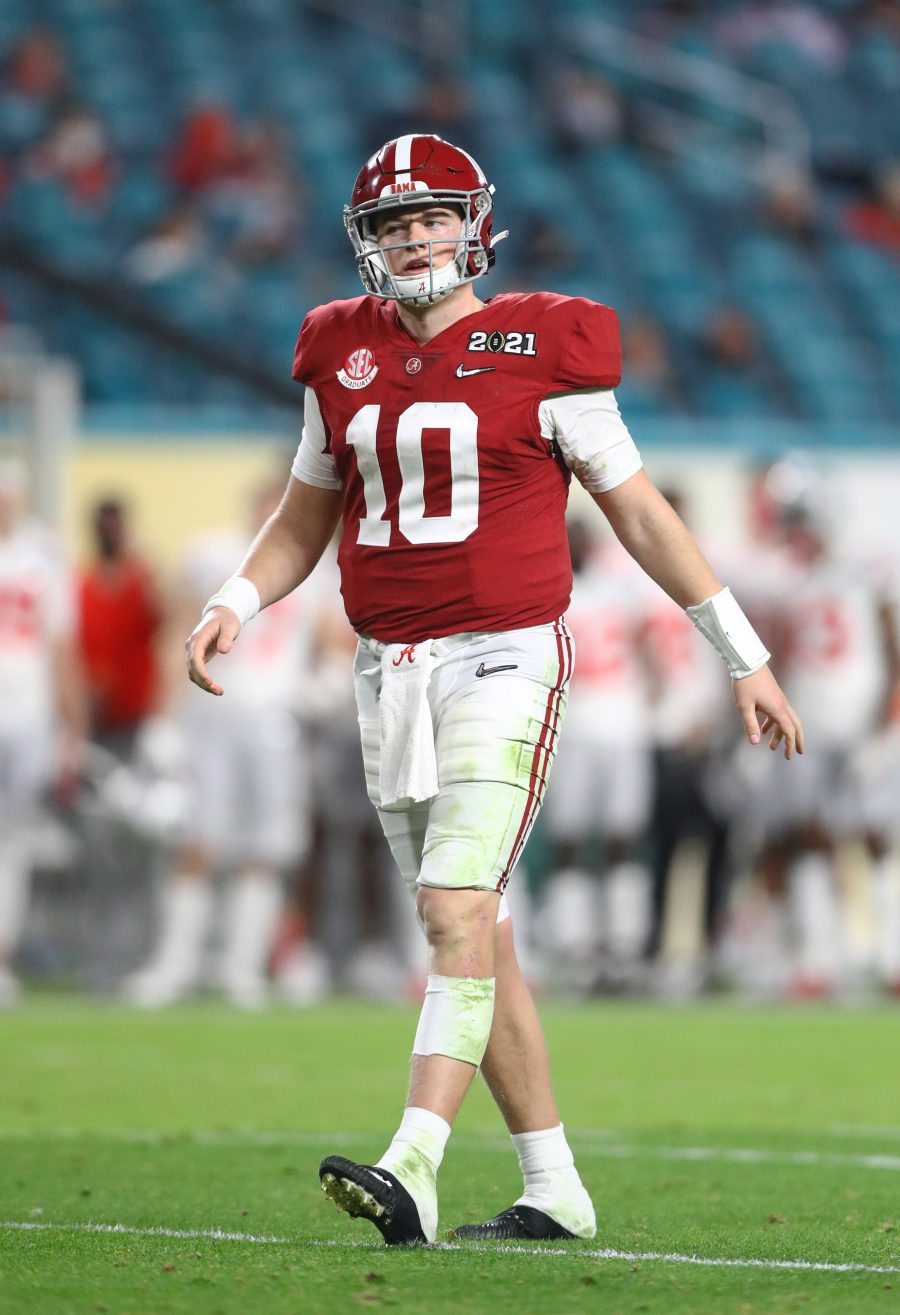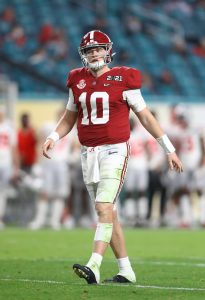 Fields' final college QB opponent, Jones has received glowing endorsements from soon-to-be first-round picks DeVonta Smith and Jaylen Waddle. The ex-Crimson Tide pass catchers preferred Jones to the Dolphins' Tua Tagovailoa, and the former completed a stunning 77% of his passes, averaged 11.2 yards per attempt and finished a 13-game season with 41 touchdown passes. Scouts Inc., however, has the less mobile Jones well below Fields and Lance, slotting the one-year Alabama starter 28th overall.
Scouts Inc. rates Lance as this draft's third-best QB prospect, placing him 12th (to Fields' 13th position). The North Dakota State prodigy profiles as one of the strangest prospects to ever land on the top-10 radar. Division I-FCS players typically do not enter drafts early; Lance put his name in this year's draft after one full season as the Bison's starter. While that season featured eye-popping production (28 TD passes, no INTs, 1,100 rushing yards) and resulted in North Dakota State's latest title, a team using a top-five pick on an FCS prospect with one season of experience and no Scouting Combine to further judge him would be a historic move.
Where will the 49ers go at No. 3? How will they proceed with Garoppolo and his $26.4MM cap number? Vote in PFR's latest poll (link for app users) and weigh in with your thoughts in the comments section.
Follow @PFRumors