The Lions may not compete for a playoff spot in 2022, but they will hope to show signs of improvement in Year 2 of the Brad Holmes/Dan Campbell partnership. The club did not make a play for a franchise quarterback in a draft class widely considered weak at the position, instead opting to focus on other areas of need while giving 2021 trade acquisition Jared Goff another year under center.
However, Holmes did make one major draft-day splash, moving up 20 spots from No. 32 overall to No. 12 overall to nab Alabama wide receiver Jameson Williams. While Williams, who tore his ACL in the 2022 College Football Playoff National Championship Game, is not expected to see game action until the middle of the season, Detroit clearly sees him as a foundational piece of its offense in the long term.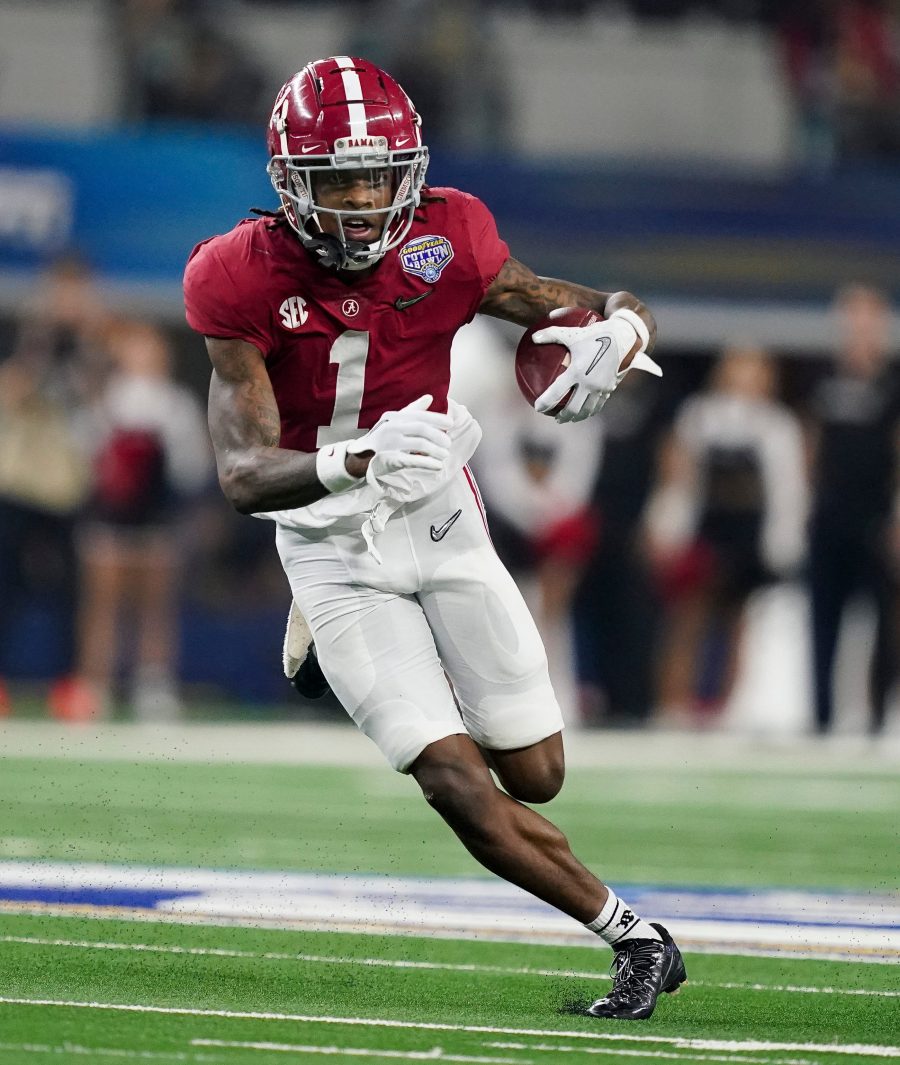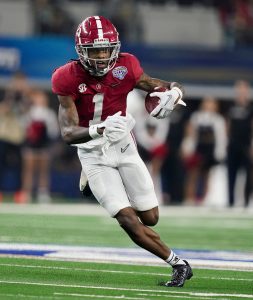 Aidan Hutchinson, meanwhile, will be asked to make an impact right away. The No. 2 overall pick from the University of Michigan, Hutchinson was a menace to collegiate offenses in 2021, racking up 14 sacks, 16.5 tackles for loss, and a pair of forced fumbles in his final year with the Wolverines. That performance made the Michigan native a Heisman Trophy candidate as well as a candidate to be the first player taken in this year's draft. While he fell just short of both honors, he has been penciled into a starting DE job since Holmes turned in the card for him, and he should provide a jolt to a defense that posted the third-fewest sacks in the league in 2021.
As might be expected for a rebuilding outfit, the Lions did not make many notable free agent acquisitions. They will hope that their young talent proves itself to be the core of a future contender, a core than can be supplemented with more outside help — including, perhaps, a new quarterback — in 2023.
Trades:
Traded pick nos. 32, 34, and 66 to Vikings for pick nos. 12 and 46; selected Williams with no. 12 pick, selected DE Josh Paschal with No. 46 pick.
Just as they largely avoided making any major moves in free agency, the Lions did not pull the trigger on any notable trades other than the draft-day transaction that netted them the opportunity to draft Williams. The club's 3-13-1 record in 2021 gave it the No. 2 overall selection, and it had acquired the No. 32 overall pick from the Super Bowl champion Rams as part of last year's Matthew Stafford/Goff trade. Los Angeles' championship victory stuck Detroit with the lowest possible first-round choice, and Holmes was not content to wait until the bottom of the round to land another possible difference-maker after picking Hutchinson.
Instead, he catapulted up the board to take Williams, whose ACL tear is obviously a concern but whose delayed start to the 2022 campaign was not a major deterrent for a team that does not have realistic postseason expectations this year. Williams had a breakout performance in 2021 after transferring from Ohio State to Alabama, finishing with 79 catches for 1,572 yards and 15 touchdowns, earning him a First Team All-American nod.
A strong route runner with good hands and dangerous speed, it is easy to see the appeal in Williams, who could perhaps add weight to his 179-lb frame but who has the size (6-2) and length to make the most of his tools. Though he will need to improve against press coverage and in making contested catches, Williams will pair with 2021 draftee Amon-Ra St. Brown to form an intriguing tandem at or near the top of Detroit's future WR depth charts.
Because of his team's defensive struggles in 2021 — the Lions surrendered 27.5 points per game last season, the second-worst mark in the NFL — it was not surprising to see Holmes continue to fortify that side of the ball even after the Hutchinson selection. Paschal, who was selected with the other pick acquired in the trade-up for Williams, may not provide a significant lift in the edge rush department, though he should always be stout against the run and can be effective as an interior rusher in sub-packages. In his final season at Kentucky, he produced five sacks and 15 tackles for loss, earning Second Team All-SEC acclaim for his efforts.
Like Williams, Paschal will need to wait a bit to make his professional debut. During spring workouts, Paschal aggravated a core injury that he initially sustained in college, and he was forced to undergo offseason surgery. He was recently placed on the reserve/PUP list, so he will miss at least the first four games of the regular season.
Notable free agency additions:
Chris Board, LB. One year, $2MM. $1MM guaranteed.
Isaiah Buggs, DL. One year, $965K.
DJ Chark, WR. One year, $10MM. Fully-guaranteed.
Jarrad Davis, LB. One year, $1.04MM. Released 8/29/22. Signed to practice squad 8/31/22.
Devin Funchess, TE. One year, $1.04MM. Released 8/30/22.
Garrett Griffin, TE. One year, $965K. Released 8/15/22. Signed to practice squad 8/31/22.
Mike Hughes, CB. One year, $3.5MM. $1MM guaranteed.
Kendall Lamm, OL. One year, $1.12MM. Released 8/30/22.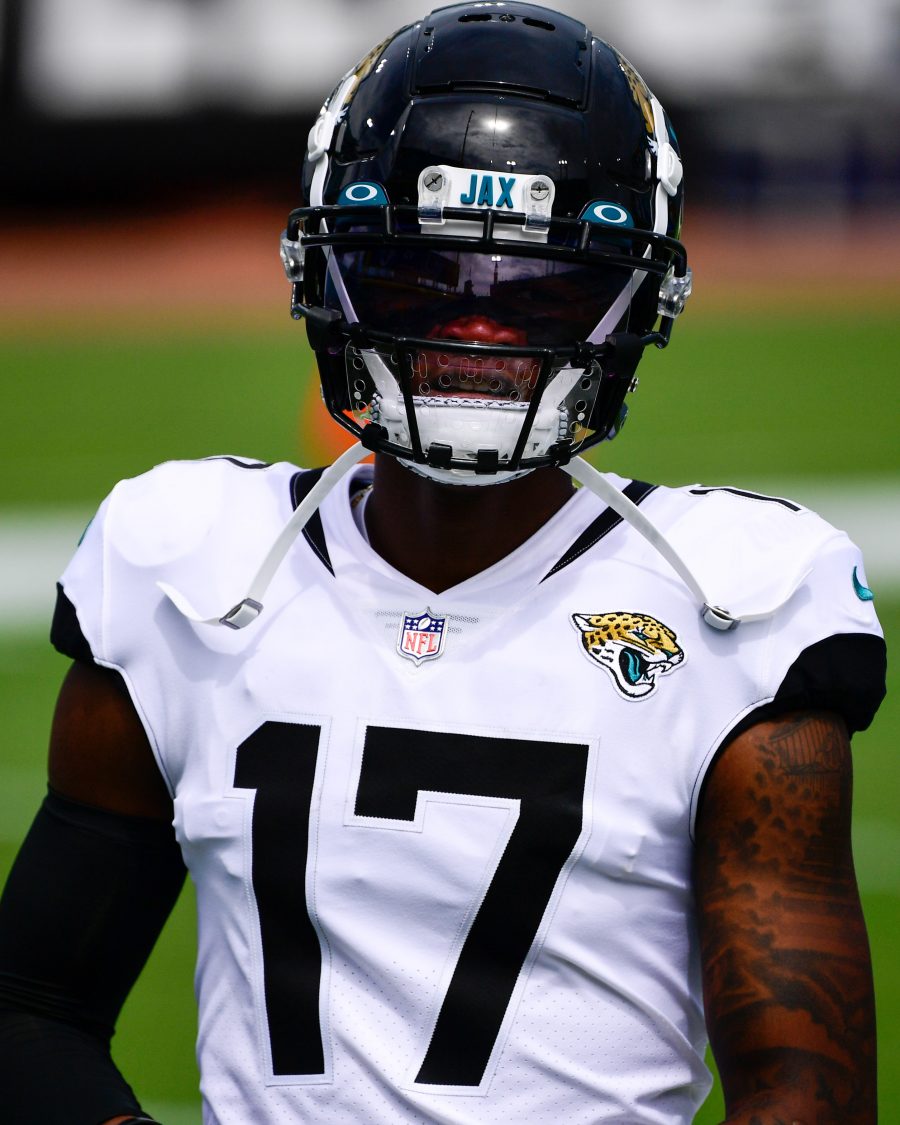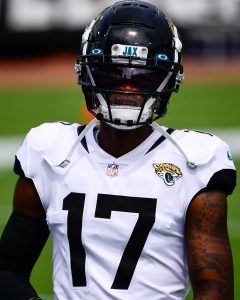 Chark's contract was far and away the biggest commitment that the Lions made to an outside free agent this offseason, and his signing, combined with the Williams selection and the re-signing of fellow wideout Josh Reynolds, demonstrated a clear organizational desire to stockpile skill-position talent (at one point this offseason, the team was rumored to be interested in swinging a trade for 49ers star Deebo Samuel). With Chark, St. Brown, Reynolds, tight end T.J. Hockenson, and (eventually) Williams on the field — to say nothing of a quality offensive line and a competent 1-2 punch of D'Andre Swift and Jamaal Williams in the backfield — the offense should be well-positioned to improve on its poor yards-per-game (322.6) and points-per-game (19.1) numbers in 2022.
A fractured ankle limited Chark to just four games in 2021, his final season with the Jaguars, and he missed time in 2020 as well. In 2019, however, he earned a Pro Bowl nod after authoring a 73/1,008/8 line, and he still has youth on his side (he will turn 26 in September). A 6-4 receiver with legitimate big-play ability, a strong display in the Motor City could put Chark in line to take advantage of the exploding WR market next offseason, though much of his success will of course depend on the rapport he develops with Goff and whether he can shake the health issues that have hampered him over the past several years.
Holmes made a few modest FA signings to bolster his defense, though one of those (Davis) was recently cut and added to the taxi squad. Davis, whom the Lions selected in the first round of the 2017 draft, was a full-time starter over his first three years in the league before seeing his playing time cut dramatically in 2020, the fourth and final year of his rookie deal. He appeared in nine games (five starts) with another defensively-challenged club, the Jets, in 2021, and reunited with the Lions in March.
Given that Detroit's LB corps is presently comprised of options that are generally underwhelming (Alex Anzalone) or unproven (2021 fourth-rounder Derrick Barnes and sixth-round rookie Malcolm Rodriguez), it would not be surprising to see Davis promoted to the active roster at some point. On the other hand, Davis has never really lived up to his first-round billing despite strong tackle numbers in the first several years of his career, and the fact that he could not crack a 53-man roster that is so light on linebacker talent is telling.
Board, on the other hand, made the roster and is presently penciled in as a starter alongside Anzalone. The Ravens signed the North Dakota State product as a UDFA in 2018, and he instantly became a key member of the club's special teams unit. He eventually earned more burn on the defensive side of the ball, appearing in 25% of Baltimore's defensive snaps in 2020 and 33% in 2021. That increased playing time was largely a function of the Ravens' own second-level struggles; Pro Football Focus graded Board as an average-to-below-average performer in terms of run defense, pass defense, and coverage in 2021, so he is unlikely to offer the boost that the Lions really need. At present, the team's LB collection appears to be the weakest position group on the roster.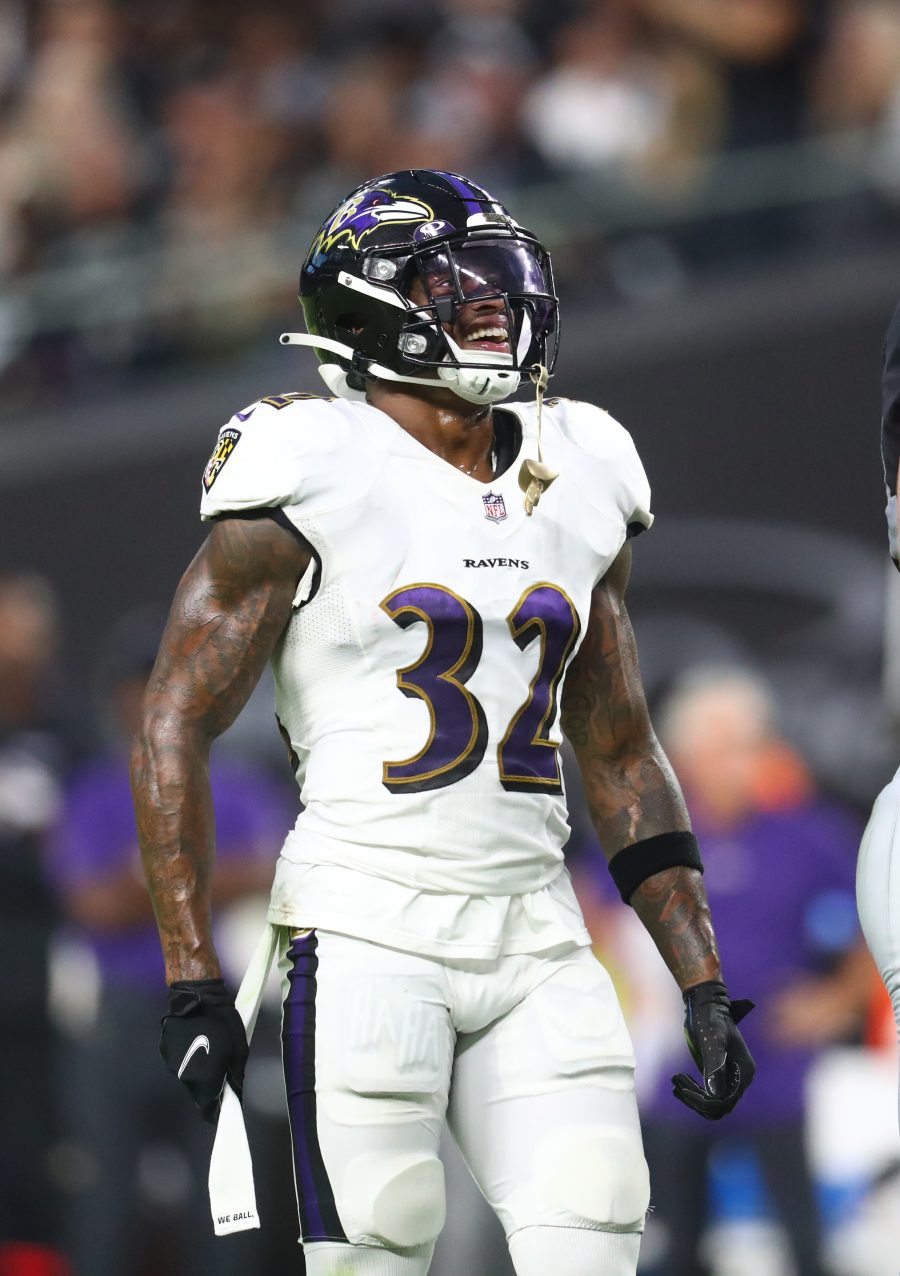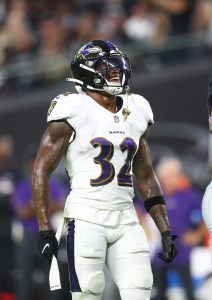 In an effort to improve the team's secondary, Holmes added another ex-Raven in safety DeShon Elliott. Elliott, a 2018 sixth-rounder, has always had the potential to be at least a competent starter at the NFL level, but injuries have marred his young career. He missed all of his rookie season due to a fractured forearm, and he appeared in only six games in 2019 thanks to a knee injury. He finally suited up for a full slate of contests in 2020, and he played reasonably well, grading out as a plus-defender in coverage and against the run in the eyes of PFF. He was enjoying a similar performance last year before a biceps and pectoral injury suffered in Week 8 knocked him out for the rest of the campaign.
A big hitter who has enough speed to adequately patrol the back end of a defense, Elliott would have been in line for a much larger payday if not for the injury concerns. If he can stay healthy in 2022 while producing at the level he appears capable of, he could pull down a multi-year pact in 2023. His addition moved Will Harris, a 17-game safety starter in 2021, to cornerback, and Harris is expected to line up both outside the boundaries and in the slot.
Hughes is all-too-familiar with the harsh reality of health problems. The former first-round pick of the Vikings appeared in only six games in his rookie season in 2018 due to an ACL tear, he missed time with a neck ailment in 2019, and more neck issues limited him to only four games in 2020. Being traded to the Chiefs last May was apparently the tonic he needed, as Hughes appeared in all 17 regular season games for Kansas City and all three of the club's postseason contests. He also earned an excellent 79.6 overall grade from PFF, which was especially fond of his coverage ability. Despite that, and despite reports of a robust market for his services, Hughes had to settle for a one-year, $3.5MM accord. Still, he should get plenty of opportunity to prove his injury woes are a thing of the past and to post a second strong platform year as a member of a CB corps that has some upside but that has no proven performers outside of Amani Oruwariye.
Notable re-signings:
While the Lions were not especially active in acquiring outside free agents, they did make a concerted effort to retain some of their own talent. The largest contract given to the club's own pending FAs went to Walker, who landed a three-year accord following a 2021 season in which he started all 15 games he played and recorded 108 tackles. He has always been a sure tackler, but his abilities in coverage have been more questionable. Last year, he yielded a 97.6 passer rating on passes in which he was the closest man in coverage, and though that is a significant improvement over the 122.8 and 117.2 marks he posted in the prior two seasons, it is still less than ideal. The hope is that he will continue to better himself in that regard while maintaining his tackling prowess. He and Elliott will likely be called upon a great deal given the porousness of the linebackers in front of them.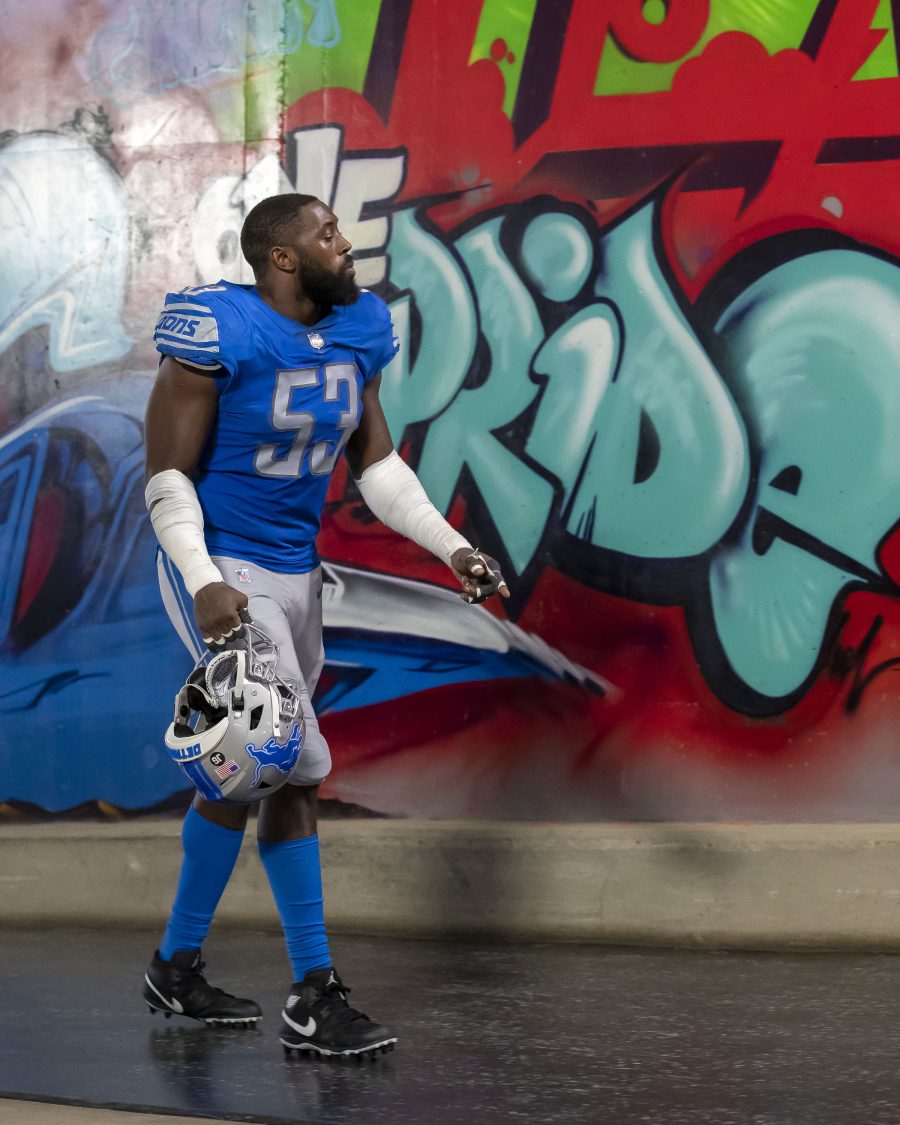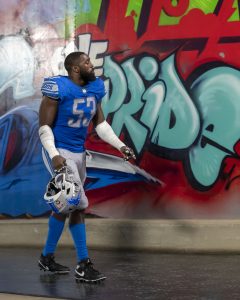 One way to minimize the weak spots in the second and (perhaps) third levels of coverage is to give opposing quarterbacks minimal time to throw, and to that end, the Lions retained Charles Harris, who was something of a revelation in 2021. A first-round pick of the Dolphins in 2017, Harris never made much of an impact in Miami and was dealt to Atlanta in May 2020 in exchange for a seventh-round pick. In his first season in Detroit, Harris appeared in all 17 games (14 starts) and notched 7.5 sacks after posting 6.5 total sacks over his first four professional seasons.
Harris and Hutchinson give the team a pair of young DE bookends with first-round pedigree, and after adding Paschal in the second round of this year's draft and selecting players like NT Alim McNeill and DE Levi Onwuzurike with Day 2 selections in 2021, it has become clear that Holmes is taking the tried-and-true approach of building his defense from the inside out.
As noted above, however, Holmes has paid plenty of attention to his pass catchers. The GM was the Rams' director of college scouting when Los Angeles selected Reynolds in the fourth round of the 2017 draft, and he claimed Reynolds off waivers from the Titans in November. The move reunited the Texas A&M product with Goff, and Reynolds rewarded his new team with a 19/306/2 line in seven games (five starts) to close out the season. The club also re-signed Raymond, who had made a name for himself as a return specialist for Tennessee in 2020 and who caught 48 passes for 576 yards and four TDs for the Lions in 2021, all of which were easily career-best marks. He also returned 21 punts, and considering the new additions to the WR room, he may asked to concentrate primarily on special teams, especially when Williams is healthy enough to play.
The Lions re-signed backup signal-callers Blough and Boyle this offseason but ended up parting ways with both of them. Sudfeld, signed on August 31 after being released by the 49ers, will operate as Goff's clipboard holder.
Notable losses:
A silver lining of having a 3-13-1 season is that there are not many difficult departures to endure in the ensuing offseason. Far and away the biggest name on this list of notable losses is Flowers, who signed a massive five-year, $90MM contract in 2019, a deal authorized by the Lions' previous regime. Flowers did record seven sacks in his first Detroit season, but he played in just seven games in each of the subsequent two campaigns due to injury. The move saddled the Lions with a significant dead money charge, although the cap savings of $10.4MM made it an easy decision. Flowers did not generate much reported interest this offseason, and he signed with the Dolphins at the end of August.
Campbell expressed a desire to retain Reeves-Maybin, which makes sense given the aforementioned lack of LB talent. Detroit's 2017 fourth-rounder, who played 62% of the club's defensive snaps in 2021 after operating primarily as an ST player over his first four NFL seasons, decided to head south instead, signing a two-year, $7.5MM pact with the Texans.
Draft:
Round 1: No. 2 Aidan Hutchinson, DE (Michigan)
Round 1: No. 12 (from Vikings) Jameson Williams, WR (Alabama)
Round 2: No. 46 (from Vikings) Josh Paschal, DE (Kentucky)
Round 3: No. 97 Kerby Joseph, S (Illinois)
Round 5: No. 177 James Mitchell, TE (Virginia Tech)
Round 6: No. 188 (from Seahawks through Jaguars and Eagles) Malcolm Rodriguez, LB (Oklahoma State)
Round 6: No. 217 James Houston, DE (Jackson State)
Round 7: No. 237 (from Saints through Eagles) Chase Lucas, CB (Arizona State)
Other:
Considering the Lions' offensive struggles in 2021 and the fact that Campbell took over play-calling duties from Lynn in November, it was no surprise to see the team move on from Lynn. Johnson worked as an offensive quality control coach in 2019 before becoming tight ends coach in 2020, and he saw expanded responsibilities once Campbell became the play-caller. Johnson will have a little more talent to work with than Lynn did, and it is clear the current brain trust — which retained Johnson even though he was originally hired by the prior administration — thinks highly of his abilities.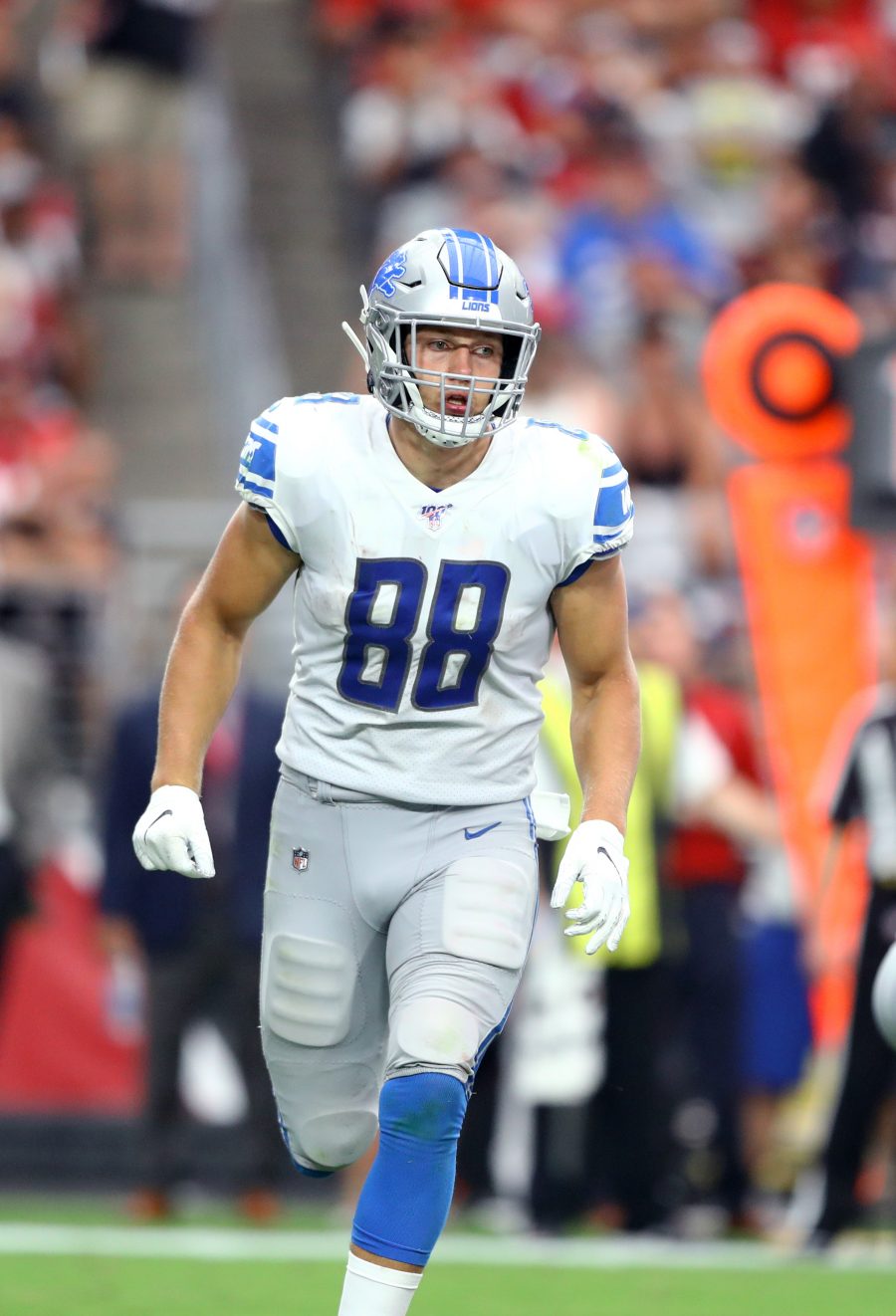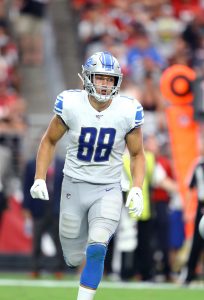 One of the bright spots on the offensive side of the ball during the past several seasons has been Hockenson, who earned a Pro Bowl bid in 2020 after posting a 67/723/6 line that year. A thumb injury cost him the final fives games of the 2021 season, but he was on pace to match or exceed his 2020 totals, and the team exercised his fifth-year option. That locks Hockenson in to a $9.39MM salary for 2023, although player and team may well hammer out an extension before then.
In addition to a new deal for Hockenson, Holmes is also prioritizing a re-up for Oruwariye, who enjoyed a breakout in 2021. A fifth-round pick in 2019, Oruwariye picked off six passes last season, and while PFF assigned him a mediocre 59.0 overall grade for his efforts — which was only marginally better than his 50.4 mark in 2020, his first year as a full-time starter — he allowed a meager 74.1 QB rating as the closest defender. This appears to be an instance where a player's PFF grade is not reflective of his actual performance, and it seems the Lions will be relying heavily on Oruwariye to lock down one boundary for the foreseeable future.
Starting opposite Oruwariye will be Jeff Okudah, the No. 3 overall pick in 2020 who missed seven games as a rookie and then suffered a torn Achilles during Detroit's season opener last year. There was some question as to whether Okudah would beat out Harris for a starting job, and considering his draft status, it would have been hugely demoralizing if he had been unable to do so. Luckily, Campbell has stated that Okudah has been "trending in the right direction" in recent weeks, so he will get another shot to prove his worth. His 2022 performance will doubtlessly have a significant impact on how Holmes addresses his secondary in 2023.
Top 10 cap charges for 2022:
Jared Goff, QB. $31.15MM.
Taylor Decker, LT. $14.4MM (via 9/3/22 restructure).
Jeff Okudah, CB. $9.14MM.
Michael Brockers, DT. $8.98MM.
Halapoulivaati Vaitai, G. $8.73MM.
Frank Ragnow, C. $7.55MM.
T.J. Hockenson, TE. $6.51MM.
Aidan Hutchinson, DE. $6.49MM.
Penei Sewell, RT. $5.48MM.
Jamaal Williams, RB. $4.63MM.
Goff guided the Rams to a Super Bowl LIII appearance at the end of the 2018 season, a campaign in which he earned his second consecutive Pro Bowl nod. It appeared that he and Rams HC Sean McVay were in the early stages of a long and fruitful relationship, and Los Angeles handed Goff a four-year, $134MM ($110MM guaranteed) contract in advance of the 2019 season. Goff, however, was unable to replicate his 2017-18 success over the 2019-20 campaigns, and his relationship with McVay eroded over time.
When Holmes swung the Stafford/Goff trade last year, he was clear that he took on Goff's contract not just as a means to pry additional draft capital from the Rams, but also because he believed Goff could return to his Pro Bowl level of performance. Of course, the No. 1 overall pick of the 2016 draft was unable to approach anything close to those heights in 2021, and while the lack of offensive talent surrounding him is certainly a major reason for that, it might not be a stretch to characterize 2022 as a make-or-break year for Goff.
Although the dead money ramifications of a release made it all but certain that Goff would return this season, the Lions can release him in 2023 and save over $20MM against the cap, with a palatable $10MM dead money charge. If he struggles in 2022, he may well be on his way out of Detroit. On the other hand, his $20.6MM base salary next year would represent a bargain for a Pro Bowl passer, so if the team's improved weaponry leads to better results, it is certainly possible that Holmes will bring him back. With the 2023 collegiate class of QBs considered to be much stronger than this year's class, though, Holmes could have a career-defining decision to make if he is in position to select one of those players.
Follow @PFRumors