Following the Titans' decision to send A.J. Brown to the Eagles, they dealt with a quick revenge game. The recently extended wide receiver made a rather notable impact in Week 13's Tennessee-Philadelphia matchup — an Eagles rout. Although other factors undoubtedly contributed to Jon Robinson's ouster, the GM's decision to unload Brown certainly played a role.
Titans ownership extended Robinson and Mike Vrabel in January, but a recent report indicated owner Amy Adams Strunk had become displeased with the state of the team's roster. Brown's absence is the most significant difference between last season's Titans roster and this one, and the narrow gap between the fourth-year wideout's 119-yard, two-touchdown day and Robinson's firing is difficult to overlook.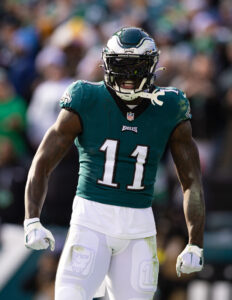 The Titans were the first team to act on a contract impasse with a fourth-year wideout this offseason, bowing out of negotiations early by sending Brown to the Eagles — for first- and third-round picks — and drafting Treylon Burks. Tennessee's front office viewed Brown's health as a potential long-term issue, according to SI.com's Albert Breer, who notes Robinson and personnel staffers had concerns about the talented receiver's early-career knee trouble.
Knee trouble did plague Brown, 25, at points during his Tennessee tenure. He underwent surgery on both knees during the 2021 offseason. That followed a season in which Brown missed games and extensive practice time due to a knee contusion. Knee trouble also recurred during the 2021 preseason, but it was a chest injury led Brown to a three-game IR stay last year.
The Titans had started negotiations with Brown in late March, and Robinson said he wanted the former second-round pick to be a long-term Titan. A day before the draft, a report indicated Brown had been in touch with the Titans' coaching staff and the sides' relationship was fine despite an early proclamation the wideout would skip offseason work absent a new deal. Brown later said the Titans did not offer him a $20MM-per-year deal and mentioned it would not have taken the Eagles' ultimate price — $25MM AAV — to keep him in Nashville.
Vrabel's draft-room reaction became one of the more memorable visuals from this year's draft weekend, and the Titans have been unable to replace the production the Ole Miss alum provided during his rookie-contract years. Brown (950 receiving yards) is averaging a career-high 79.2 per game with Philly, and his nine touchdown receptions are two shy of a career-best mark (set in 2020). The Titans have featured one of the league's worst passing attacks, with no player above 375 receiving yards yet. Burks (team-leading 359 yards in just eight games) has shown promise, but various issues have forced him to miss offseason time and game action this year. Coming off ACL surgery, Robert Woods (357 yards in 12 games) has not recaptured the form he showed with the Rams.
The Eagles are paying up for Brown, having authorized a four-year, $100MM extension that included a receiver-record $56MM fully guaranteed. The Titans' reboot at receiver did not precede other teams operating similarly, and Philly's $25MM-per-year Brown accord gave the Commanders, Seahawks and 49ers a road map. Terry McLaurin, D.K. Metcalf and Deebo Samuel all missed offseason time because of contract issues, but they ended up each signing three-year deals worth between $23.2MM and $24MM. Burks can be kept on a rookie deal through 2026, via the fifth-year option, but plenty will be on the former Arkansas standout's shoulders going forward.
Follow @PFRumors