2:45pm: In addition to Anarumo and Callahan, the Cardinals are set to meet with Giants OC Mike Kafka, reports ESPN's Field Yates (via Twitter). That makes Arizona the fourth team to show interest in him, a testament to how quickly he has risen up the ranks in league circles despite his relative lack of experience. The 35-year-old's time as a coordinator began this past season, his first with the Giants. His success in leading the team to the divisional round to the playoffs may not be enough to land him a HC gig this year, but it will keep him squarely on the radar for years to come. Aaron Wilson of KPRC2 tweets that Kafka's interview will take place tomorrow.
12:08pm: The Bengals' success in 2022 led to increasing calls for each of the team's top assistants to receive head coaching interest. One day after their loss in the AFC title game, both of Zac Taylor's most well-respected lieutenants have received requests for interviews.
The Cardinals are seeking an interview with both defensive coordinator Lou Anarumo and offensive coordinator Brian Callahan (Twitter links via Peter Schrager and Tom Pelissero of NFL Network). The former began his NFL coaching career in 2012 as a DBs coach with the Dolphins. He held that role throughout his six-year tenure there, operating as interim DC in 2015.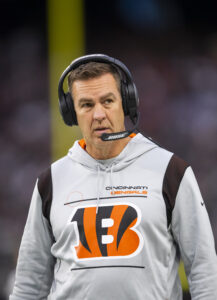 That led him to the Giants for a single season, then his first full-time coordinator gig with the Bengals in 2019. Like Taylor's rookie campaign as a bench boss, that season saw the team put up underwhelming numbers. However, Cincinnati's defense showed improvement from one year to the next in terms of both yards and points allowed. In 2022, the Bengals ranked 16th and sixth, respectively, in those categories.
Given their continued improvement under Anarumo, eyebrows were raised in the early part of this year's head coaching cycle that no interest was shown in him. Teams have, traditionally, slanted towards offensive candidates though a number of highly-regarded defensive assistants have represented exceptions to that general rule. Anarumo could become the latest such example, as the Cardinals look for a significant step forward defensively in 2023 and beyond.
Callahan, likewise, has flown under the radar relative to several other candidates with an offensive background. The 38-year-old was installed as Cincinnati's OC as part of Taylor's initial staff in 2019, following time spent as an assistant with the Broncos, Lions and Raiders. His first coordinator role has been marked by a slow start in terms of production, but a sharp turnaround in recent years with the Bengals assembling one of the top offenses in the league.
Callahan has seen his unit deliver top-10 scoring performances for each of the past two seasons; the Bengals also had an elite showing in terms of yardage in 2022, ranking eighth in that department. Callahan has helped guide the development of the team's young nucleus on offense, a group led by quarterback Joe Burrow, wideouts Ja'Marr Chase, Tee Higgins and Tyler Boyd, and running back Joe Mixon. Their shared success earned Callahan a HC interview with the Colts earlier this month.
It was reported yesterday that the Cardinals are narrowing their list of candidates for second interviews in the event Sean Payton is not acquired. That makes the inclusion of Anarumo and Callahan somewhat surprising, given how late in the process the team appears to be. Nevertheless, the pair are free to interview with Arizona – or any other interested team – at any time.
Here is an updated look at the Cardinals' HC search:
Lou Anarumo, defensive coordinator (Bengals): interview requested
Brian Callahan, offensive coordinator (Bengals): interview requested
Ejiro Evero, defensive coordinator (Broncos): Interviewed; potential finalist
Brian Flores, linebackers coach (Steelers): Interviewed 1/23; favorite?; potential finalist
Aaron Glenn, defensive coordinator (Lions): Interviewed 1/21; potential finalist
Vance Joseph, defensive coordinator (Cardinals): Interviewed 1/18
Mike Kafka, offensive coordinator (Giants): to interview 1/31
Dan Quinn, defensive coordinator (Cowboys): Conducted second interview 1/25; to stay with Cowboys
Sean Payton, former head coach (Saints): Interviewed 1/26
Frank Reich, former head coach (Colts): Interviewed 1/17, hired by Panthers
DeMeco Ryans, defensive coordinator (49ers): Interview cancelled, prefers Texans' job
Follow @PFRumors