The Colts' list of head coaching candidates continues to grow. The team submitted three interview requests on Monday, beginning with one for Giants offensive coordinator Mike Kafka (Twitter link via NFL Network's Tom Pelissero).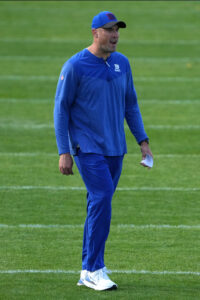 Kafka continues to draw considerable interest in this year's coaching cycle. The 35-year-old has also received interview requests from the Panthers and Texans, teams looking to add a bench boss with experience on the offensive side of the ball. Kafka is in the midst of his first season as an OC, but his work to date has quickly boosted his coaching stock.
After leaving the Chiefs to join Brian Daboll in New York, Kafka was surprisingly given the keys to the Giants' offense at the start of the year. That decision certainly paid off, as the team is bound for the Divisional Round of the playoffs in no small part due to their play on that side of the ball. A resurgent Saquon Barkley has powered the team's ground game, while quarterback Daniel Jones has erased (at least most) doubts regarding his potential as a franchise signal-caller. To little surprise, then, Kafka is firmly on several teams' radars as they look for similar improvement in 2023.
The Giants' other coordinator, Don 'Wink' Martindale, is also a target of the Colts. Indianapolis placed an interview request with him, Jonathan Jones of CBS Sports tweets. This marks the first such request for the 59-year-old this year, though he has been interviewed for HC vacancies in years past. His first season with the Giants has seen the team put up average numbers at best in several categories, but the unit – much like the offense – has overperformed relative to expectations in what was expected to be a rebuilding year. One of the most highly-respected defensive coaches in the league, Martindale has nearly two decades of experience on NFL sidelines.
Lastly, Indianapolis is seeking a meeting with 49ers DC DeMeco Ryans, per ESPN's Adam Schefter (Twitter link). Another hugely popular name during the 2023 cycle, Ryans has a busy week ahead, with several interviews already lined up for this week prior to today's request from the Colts. He will meet with interested teams in the build-up to San Francisco's playoff game this Sunday, a notably different setup than that of Kafka and Martindale, who are expected to hold off on interviews this week (Twitter link via Ryan Dunleavy of the New York Post).
With three new names on their list, here is an updated breakdown of the Colts' HC search:
Eric Bieniemy, offensive coordinator (Chiefs): Interviewed 1/12
Ejiro Evero, defensive coordinator (Broncos): Interviewed 1/12
Aaron Glenn, defensive coordinator (Lions): To interview 1/14
Jim Harbaugh, head coach (Michigan): Mentioned as candidate
Ben Johnson, offensive coordinator (Lions): Interviewed 1/13
Mike Kafka, offensive coordinator (Giants): Interview requested
Don Martindale, defensive coordinator (Giants): Interview requested
Raheem Morris, defensive coordinator (Rams): Interviewed 1/13
DeMeco Ryans, defensive coordinator (49ers): Interview requested
Jeff Saturday, interim head coach (Colts): Interview expected
Shane Steichen, offensive coordinator (Eagles): Interviewed 1/14
Bubba Ventrone, special teams coordinator (Colts): Interviewed 1/11
Follow @PFRumors