The Rams are no longer awaiting word on Sean McVay's future. After rumblings he was going to leave after six seasons surfaced, McVay is shooting that talk down. He will come back.
McVay informed members of the Rams organization he plans to stay in place as the team's head coach, Dianna Russini of ESPN.com reports (on Twitter). The team gave McVay space to make his decision, and he took a few days. Despite the Rams' 5-12 finish and a run of injuries gutting their depth chart this season, the Super Bowl-winning HC will attempt to pick up the pieces in 2023.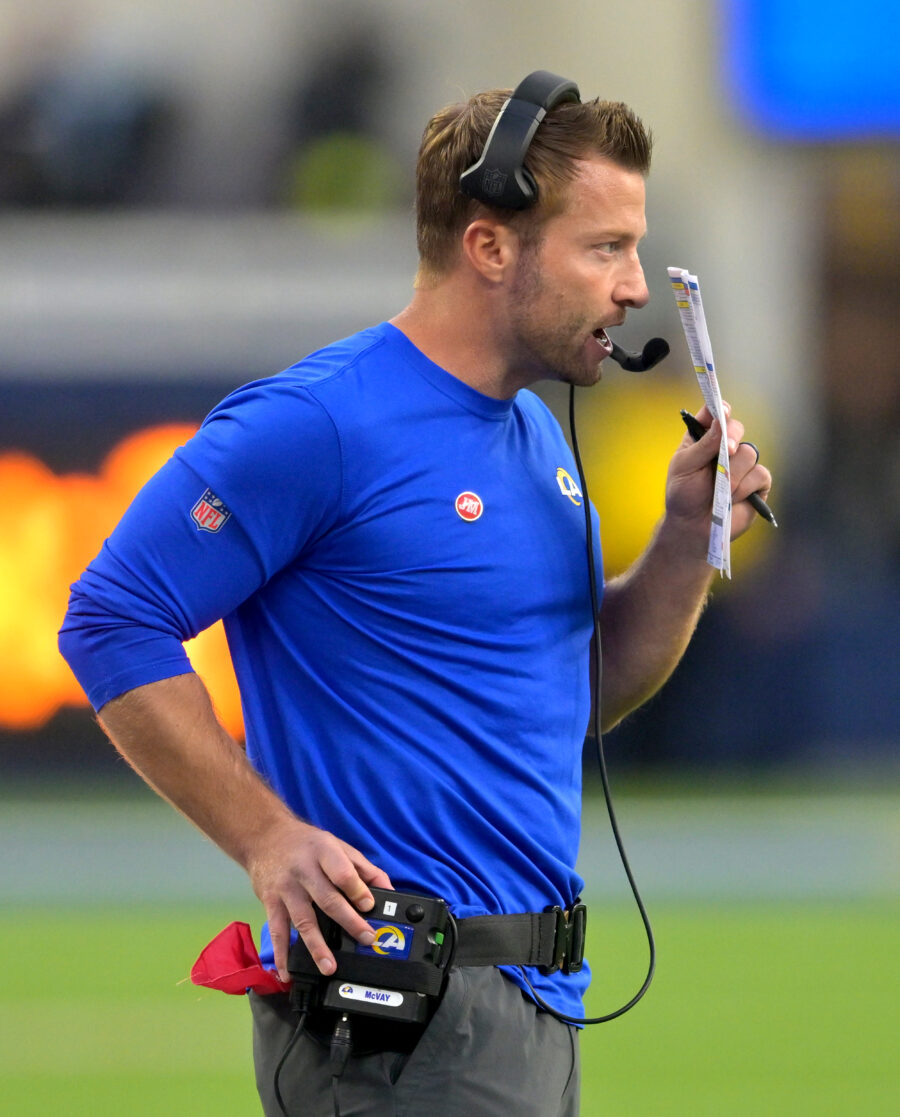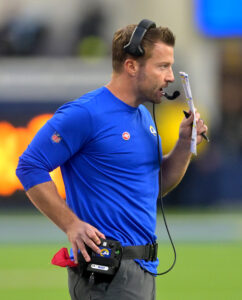 Rams COO Kevin Demoff said the team had a contingency plan, with the Los Angeles Times' Gary Klein indicating defensive coordinator Raheem Morris and tight ends coach Thomas Brown almost certainly resided as McVay fallback options. Both coaches are up for other positions, but each could also return as top McVay lieutenants next season. McVay is considering staff changes, Ian Rapoport and Mike Garafolo add (via Twitter).
Still the youngest head coach in the NFL, McVay has received extensive interest from networks for prime analyst roles. Even part-time work would have satisfied certain networks, giving McVay a lucrative out from his Rams post. The wunderkind coach confirmed he is interested in pursuing a TV career at some point. Amazon and Fox wooed him last year, but he turned each down and signed an extension that made him one of the league's highest-paid coaches. It appears the 36-year-old leader will stay on that contract and attempt a Rams reload.
A Sunday report pointed to McVay being likelier to step away, though The Athletic's Jourdan Rodrigue indicated some among the Rams believed he would ultimately come back (Twitter link). The Rams sent out an ominous message earlier this week, letting their assistants know lateral moves to other teams, as McVay pondered his future, would not be blocked. While it does sound like staff changes are coming — one we know will happen is at the offensive coordinator post, after Liam Coen returned to Kentucky — several key Rams staffers will likely be back.
McVay's arrival in Los Angeles turned the Rams from the league's worst passing offense to the NFL's top scoring team, resulting in a 2017 playoff berth and Coach of the Year honors. Proving to be one of the modern game's premier offensive minds, McVay accomplished that feat at 31, led the Rams to the Super Bowl at 32 and won it at 35, putting himself on a trajectory to become one of the game's all-time greats — should he choose to stick around long enough to bolster his resume. The Rams are 60-38 under McVay, but they did just complete the worst Super Bowl title defense in history.
Last year, the Rams extended Matthew Stafford, Aaron Donald and Cooper Kupp. By December, none of those stars were available. The 2022 season flipped the Rams' injury fortune, with offensive line setbacks also crushing the team. L.A. started four quarterbacks, including waiver claim Baker Mayfield. Stafford, 35 in February, said he has no plans to retire. The Rams prioritized a healthy Stafford offseason — after 2022's featured nagging elbow trouble — and used Mayfield down the stretch. Donald, who joined Kupp as the drivers of the Rams' Super Bowl LVI win last year, also made it clear McVay played a major role in his decision not to retire last year.
The Rams will face familiar problems in 2023: no first-round pick (they do have a second-rounder this year) and a cap-space figure projected to be near the bottom of the league. These issues have not deterred the McVay-Les Snead regime from continually fielding strong teams, but 2023 — when Kupp will join Donald and Stafford as over-30 standouts — may be more challenging.
McVay leaving the Rams could have brought an organization-altering change, considering the value he has presented the team over the past six years. Checking this box will be the most important, and the Rams can now move on to staff and roster matters as they attempt to assemble a fifth playoff team in the McVay era.
Follow @PFRumors