With their Jonathan Taylor-less backfield still in flux due to injuries, the Colts remain interested in a free agent addition at the running back spot. As a result, they are in talks with two of the top options still available.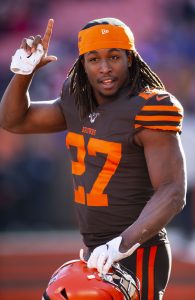 Indianapolis has communicated with both Kareem Hunt and Leonard Fournette, reports ESPN's Jeremy Fowler. The former met with the Colts last month as part of his late-offseason free agent tour, though no deal materialized. Hunt also drew interest from the Saints and Vikings, but they too elected not to sign him in advance of the regular season.
The former Chief and Brown was reported to have received four offers around the time of final roster cuts, but he has remained patient on the open market. Hunt would have a path to immediate playing time with the Colts for the time being, giving the absence of Taylor until at least Week 5. That is the earliest point at which the 2021 rushing champion can suit up in Indianapolis, though a trade sending him elsewhere is still in the cards. A lead role will be unlikely for Hunt in 2023, however, barring further injury developments around the league.
The same holds true for Fournette, whose release request was granted by the Buccaneers in February. The 28-year-old lost his starting role to Rachaad White in the 2022 campaign, and in the wake of Tom Brady's retirement, he favored a fresh start. Not much in the way of interest was shown in him through the offseason, however, with the Patriots hosting him on a workout but coming away unimpressed with his conditioning. It will be interesting to see if the Colts' interest rises to the point of bringing him in for a free agent visit in the near future.
Indianapolis lost another member of its backfield in Week 1 with Evan Hull suffering a knee injury. He is now on IR and will thus miss at least the next four weeks of the season. The fifth-round rookie's absence adds to Taylor's stay on the PUP list, and questions remain regarding when Zack Moss will be able to suit up after recovering from a broken arm. The Colts worked out Darrell Henderson earlier this week, so Hunt and Fournette will have competition for a roster spot if they match the team's interest in a potential deal. In any case, a move at the RB spot could be coming soon in Indianapolis.
Follow @PFRumors