Earlier this week it was reported former Jaguars linebacker Blair Brown was arrested on charges of domestic violence. He is being accused of pointing a gun at a women and threatening to kill her, ESPN's Michael DiRocco writes.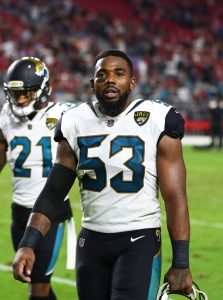 In the report from the Jacksonville Sheriff's Office, the woman said Brown pushed her to the ground, kicked her in the abdomen and punched her in the face during an argument in late April. A warrant was issued on May 23 for his arrest and he turned himself into the sheriff's office on Wednesday.
The argument reportedly started at a local bar and continued once they arrived home separately. After kicking and punching her, Brown, according to the report, removed two guns from a safe in the garage before she locked the door behind him. Brown later threatened to kill her and another person in the house.
The other person in the house said they did not see any physical altercation because they were in another room, but later saw the woman with blood on her mouth and a cut on Brown's hand. The witness did not see Brown point the gun at the victor and did not hear him say he was going to kill her. That person did say, Brown responded with, "I wish I could," when asked if he was going to kill her.
Earlier this month, the Jaguars released Brown, who was drafted by the team in the fifth round in 2017. In two years with the team, the Ohio University product appeared in 28 games, starting two, and registered 12 tackles and 0.5 sack.
Photo courtesy of USA Today Sports Images.