Once again, wide receiver Brandin Cooks is on the move. Last week, the Rams shipped Cooks the Texans, marking the third time he's been traded since entering the league in 2014. It's one of the most curious cases in NFL history – Cooks has four 1,000-yard seasons to his credit, yet he's been passed around at an unprecedented pace. As Mike Garafolo of NFL.com (Twitter link) notes, running back Eric Dickerson is the only player on record to have been traded more than Cooks. The longtime Rams running back was dealt four times over the course of his career, though two of those trades came in his twilight seasons. Still only 26, Cooks has time to tie – and perhaps beat – the bizarre record.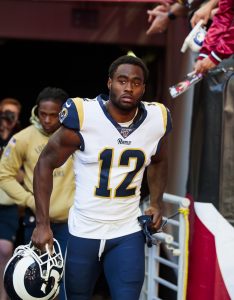 The Texans hope that won't be the case. After trading DeAndre Hopkins to the Cardinals in a stunning blockbuster, they hope that Cooks will do his part to fill the void and stay for a while. Many, including ESPN.com's Bill Barnwell, are skeptical. The Texans lost a bonafide superstar in Hopkins in exchange for a package headlined by running back David Johnson and a 2020 second-round pick. To land Cooks (and a 2022 fourth-round pick), they sacrificed a lesser 2020 second-rounder. Putting picks and contractual matters aside, they effectively swapped one of the game's best receivers for two players with major medical red flags. For Cooks, there's major concern over his concussion history.
There are arguments to be made for the Texans' end of the deal. Cooks has age on his side and an impressive resume of his own. The Texans, in theory, could have used the No. 57 pick on one of this year's ultra-promising wide receivers, but Cooks can be expected to outperform the rookies in the near-term. In short, the Texans unquestionably needed to replace D-Hop after sending him to Arizona. That won't stop people from scrutinizing that head-scratching trade, but rocket ships don't have rear views, and nothing short of a thoroughly failed Johnson physical is going to bring Hopkins back to Houston.
It's also worth noting that the Rams are eating much of the up-front cost of Cooks' contract, including his $4MM bonus for 2020. While the Texans are slated to pay Cooks $47MM over the next four seasons, only $8MM of that sum is guaranteed.
How do you grade the trade from the Texans' perspective? Cast your vote below (link for app users) and tell us more about your report card in the comment section.
Photo courtesy of USA Today Sports Images.