Daryl Washington has been lobbying hard to sign with the Cowboys, but it's just not happening. The Cowboys have no interest in signing the troubled veteran and are happy with their current group of linebackers as-is, Clarence Hill of the Dallas Morning News (on Twitter) hears.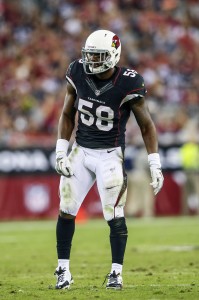 Earlier this summer, Washington detailed his vision for a comeback which started with joining the Cowboys and ended with a Hall of Fame induction. The Cowboys have a reputation for rolling the dice on players with checkered backgrounds, but the decision makers in Dallas do not feel that Washington's promise offsets the potential headaches.
The linebacker was a Pro Bowler in 2012 after recording an eye-popping 134 total tackles with 9.0 sacks. He was productive again in 2013, but he has now been out of the game for three straight NFL seasons thanks to repeated violations of the substance abuse policy.
At this best, Washington was among the league's top linebackers. Today, it's hard to see him getting back into the league considering his age, rust, PED history, and alleged history with domestic violence.
Photo courtesy of USA Today Sports Images.