It's free agency week! This year, thanks to the salary cap increase, the dollars will be flying and players will make more than you ever could have expected. Our lists for offense and defense rank free agents based on overall ability, but our Top 50 ranks players based on earning power. Here, you'll get a good sense of what the market will be like this week and who the big fish are.
The league's "legal tampering" window will open on Tuesday at 11:00am CT. Technically, teams and players aren't permitted to finalize agreements on contracts during that legal tampering window, but that's often treated as a guideline rather than a hard and fast rule. We will almost certainly see handshake agreements go down on Tuesday and Wednesday before they become official on Thursday, the technical beginning of free agency.
Our list of 2017's top 50 free agents doesn't include restricted free agents, or franchise tagged players, since they're effectively restricted free agents as well.
With those caveats out of the way, let's dive right in! Here are Pro Football Rumors' top 50 NFL free agents for 2017, along with a few predictions on how much they might earn and what teams could be in the mix to sign them: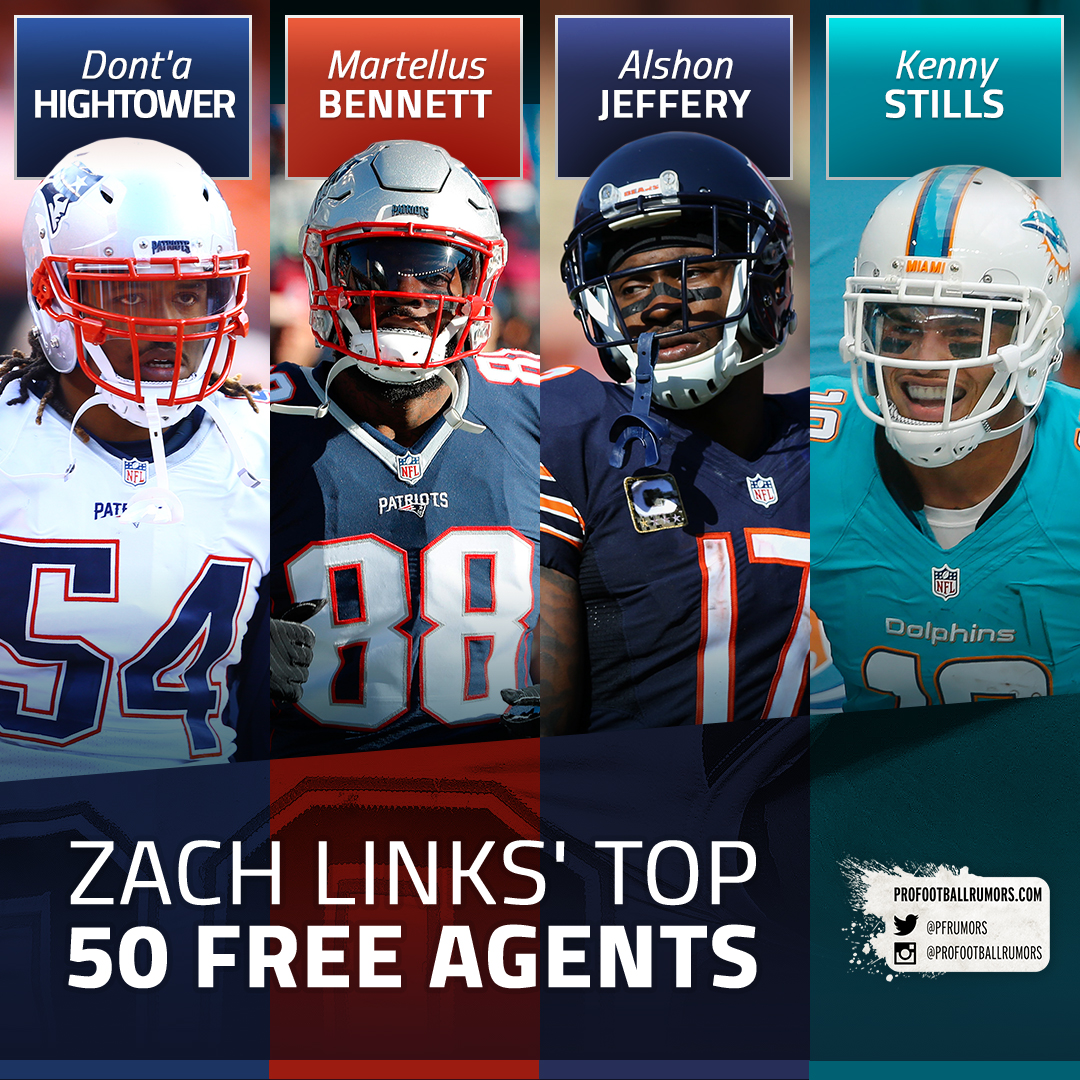 1. A.J. Bouye, CB (Texans): Bouye is an overnight sensation, going from unknown to elite talent in the blink of an eye. No one knows exactly what to make of Bouye, but his upside is too much for teams to pass up. The Texans declined to use the franchise tag on the 25-year-old (26 in August), but they're still hoping to get a deal done this week. The Jets are said to have interest, but it's not clear if they'll have the room to get something done. Cornerback-needy teams like the Panthers, Saints, Jaguars, Titans, Bears, and Eagles can be expected to at least kick the tires on this year's top player in the secondary. Could something like Janoris Jenkins' five year, $62.5MM contract ($28.8MM fully guaranteed) from last year be within reach? Jenkins had a longer history of success than Bouye, but consider these facts: Bouye nearly two years younger than Jenkins was at time of signing and the salary cap has risen by about $12MM.
Signed with Jaguars for five years, $67.5MM.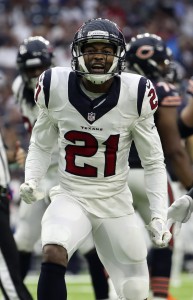 2. Alshon Jeffery, WR (Bears): He was hurt for most of 2015 and he slumped along with the entire Bears offense in 2016, but his natural ability is still evident and he is a legitimate No. 1 wide receiver. At one point, it seemed like Jeffery could wind up as the league's highest-paid wide receiver. That won't be the case, but he will likely get more cash than any other wide receiver in this year's class. The Eagles and Titans have been hot on his tail for some time now. The 49ers could also get involved and a return to the Bears cannot be ruled out either. Ultimately, Jeffery should wind up fetching at least $10MM per year and perhaps as much as $12MM per year on his next deal.
Signed with Eagles for one year, $9.5MM.
3. Kenny Stills, WR (Dolphins): Jeffery isn't the only wide receiver who could fetch $12MM per year. Stills isn't necessarily the best wide receiver on his own team, but he is just on the cusp of his 25th birthday and his ability to stretch the field is tantalizing. It doesn't sound like the Dolphins are ready to be the highest bidder for his services and it's not hard to imagine a team like the Eagles landing him. Naturally, there's quite a bit of overlap between the potential suitors for Jeffery and Stills: the Eagles, Titans, Bears, and 49ers will probably come calling. The Rams may not have enough room to squeeze in Stills, but they could certainly use a playmaker like him if they do not re-sign Kenny Britt. Stills reportedly likes the West Coast (who doesn't?) so the Niners and Rams could have a leg up on the others if the bidding is close.
Re-signed with Dolphins for four years, $32MM.
4. Dont'a Hightower, LB (Patriots): The market is capped for non-rush linebackers, but Hightower is pretty much the best at what he does and is also lauded for his intangibles. The Patriots have always embraced the "next man up" philosophy, so it is possible they will allow him to go elsewhere. The Dolphins have been frequently connected to Hightower, but that might be too ambitious for a team that has multiple major needs to address. The Colts might also make sense, but the price might be too rich for their blood. A Patriots return appears to be the most likely outcome, but anything is possible.
Re-signed with Patriots for four years, $35.5MM. 
5. Kevin Zeitler, G (Bengals): Zeitler has age on his side and he's one of the safest free agents in the top ten after three consecutive years of dominance. Interior offensive linemen don't get as much love as their counterparts on the outside, but they are still incredibly vital and Zeitler's next contract will reflect that. If he doesn't circle back to the Bengals, the Jaguars, Cardinals, Packers, and Seahawks all make varying degrees of sense for Zeitler. From a football standpoint, you can add the Jets to that group too, but I'm not sure they can meet a ~$12MM/year asking price.
Signed with Browns for five years, $60MM.
6. Logan Ryan, CB (Patriots): There are bigger names available at the cornerback position, but Ryan slots ahead of many of them after a career year. It also doesn't hurt that this fresh-faced Super Bowl champ only just turned 26 in February. If the Patriots don't tie him down, Ryan's earning power could conceivably vault him past Trumaine Johnson in terms of guaranteed cash. The Jaguars and Titans would be wise to zero in on Ryan if they can't land Bouye and it's possible that some of their evaluators might even prefer Ryan over the Houston standout. Ryan's next deal will probably pay him eight figures per year and it should be a lengthy pact.
Signed with Titans for three years, $30MM.
7. Terrelle Pryor, WR (Browns): There is strong mutual interest in a new deal between Pryor and the Browns. Still, the Browns passed on the opportunity to franchise tag the Ohio State product and he now appears poised to test the open market. With pretty much just one year to show, how will Pryor fare in free agency? His next deal should pay him at least $10MM/year and he could get up to $12MM/year. In addition to the Browns, the usual suspects for this year's high-end WRs will explore signing Pryor (say it with me): Eagles, Titans, and 49ers. There's conflicting word about whether the Steelers will get involved. The Giants are known to have interest, but I don't think they'll be splurging on free agents like they did one year ago.
Signed with Redskins for one year, $6MM.
8 .Ricky Wagner, OT (Ravens): There's already talk of Wagner fetching around $10MM/year and it's not like this year's free agent market is flush with young, quality tackles. When you also consider the lack of quality tackles in the draft, it's apparent that Wagner is about to get PAID, in all caps.Believe it or not, $10MM/year might be his floor. When all is said and done, he'll be the league's biggest earner at right tackle. The Bears are particularly interested in Wagner, so he could go from the AFC North to the NFC North this week.
Signed with Lions for five years, $47.5MM.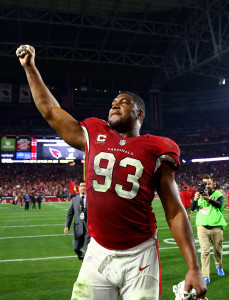 9. Calais Campbell, DL (Cardinals): Campbell was supposed to be an afterthought in Arizona after the addition of Chandler Jones. Perhaps motivated by a perceived slight, Campbell turned in a stellar year. Now, the Cardinals would very much like to keep him, but they can only go so far as they back up the Brinks truck for Jones and look into retaining other key free agents. If Jones does not agree to a cap-smoothing long-term deal between now and March 9th, the odds of Campbell leaving increase. The Jaguars are said to be a leading contender for Campbell while the Titans, Broncos, Colts, and Bears could also use a force like him. His age (31 in September) gives him a bit of a ceiling in terms of overall compensation, but he should still do nicely this month.
Signed with Jaguars for four years, $60MM.
10. Stephon Gilmore, CB (Bills): In terms of pure talent, Gilmore might be the best cornerback available. Trouble is, no one knows what to make of him after a down 2016. Some have openly theorized that Gilmore was playing it safe to avoid injury in his pivotal contract year. It's also possible that Buffalo's injuries in the front seven put undue stress on the secondary. The Bears are reportedly high on Gilmore and he may represent a cheaper option than Bouye or Ryan. A Bills return would also make sense here.
Signed with Patriots for five years, $65MM.