James Laurinaitis is calling it a career. The linebacker announced via social media that he will retire instead of seeking an NFL home for the 2017 season.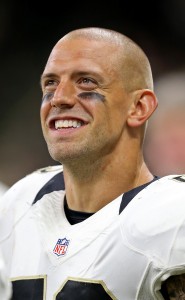 "The thing I'm going to miss the most is the locker room," Laurinaitis wrote. "The conversations and relationships I built with all that I've battled with will be my favorite memories. Players, coaches, equipment staff, medical staff, community outreach, marketing, you name it, the people I've met through this game is what I'll take with me. I've been blessed way more through football than I could've ever imagined."
Laurinaitis was with the Rams for the first seven years of his career but the team left him behind before playing its first game in Los Angeles. Prior to the 2016 season, Laurinaitis hooked on with the Saints, but things did not go according to plan. After six games, the 30-year-old was placed on IR just as rookie Sheldon Rankins was designated for return from IR. The move meant that Laurinaitis could not take the field for the Saints again in 2016.
As a courtesy, New Orleans granted him his release, but he was unable to find work. Late-season auditions with the Lions and Chiefs did not result in an offer from either squad.
Laurinaitis will be best remembered for his many years as a starter in St. Louis. From 2009 through 2015, he was first string in every possible regular season game. The former second round pick had 16.5 career sacks and 870 total tackles.
Photo courtesy of USA Today Sports Images.