Due to the ongoing pandemic, Bengals quarterback Joe Burrow has yet to put pen to paper on his rookie contract. In an interview on the Pardon My Take podcast, the No. 1 overall pick indicated that the deal might not be inked anytime soon.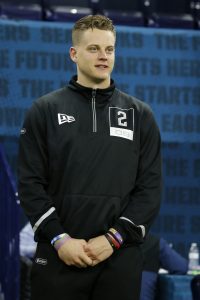 [RELATED: Panthers Sign Derrick Brown]
"We're just waiting to see what happens over the next three months because we really don't know," Burrow said (via ESPN.com's Ben Baby).
Most of this year's 250+ rookies have yet to sign their deals, so Burrow's situation is not unique. However, it could be indicative of a much larger issue. Some executives and agents have wondered whether it'll take longer for top draft picks to sign this year, since teams are facing potentially enormous revenue losses.
Those league officials believe that the deals will be completed, eventually, but cash flow could be a concern for clubs. A season without fans would mean zero gate attendance revenue, a shortened season would mean significantly less dollars coming in, and a cancelled season would be disastrous, from a financial standpoint. With that in mind, teams may be looking to hold on to the allocated signing bonus money a little bit longer.
In the case of Burrow, the LSU product is due a ~$24MM bonus. After that, the bonus figures decrease pick-by-pick, in accordance with each player's slot. New Redskins edge rusher Chase Young (No. 2 overall) is set to collect a $22.7MM bonus and Lions cornerback Jeff Okudah (N0. 3) is in line for $21.9MM. The figure decreases the further you move down the board, though every player from Nos. 1-11 is ticketed for an eight-figure lump sum bonus.
Meanwhile, like all of us, Burrow is eager for football – and life in general – to resume normalcy:
"Instead of talking, we can get back on the field. Hopefully soon."
Photo courtesy of USA Today Sports Images.