The Jets watched the division-rival Patriots embark on an uncharacteristic spending spree this month, and at least one of New England's shiny new toys was a New York target. Per Jeremy Fowler of ESPN.com (via ESPN colleague Rich Cimini), the Jets made a push for former Titans tight end Jonnu Smith, who wound up signing a whopping four-year, $50MM deal with the Pats.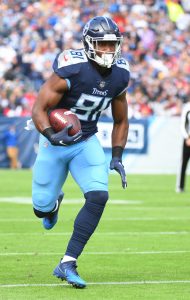 Jets GM Joe Douglas has shown restraint when it comes to handing out big-money deals to FAs. He has established a pattern of sticking to his price for a particular player, and given that Smith's deal was larger than most in the industry expected, it's not terribly surprising that Douglas did not outbid Bill Belichick for the 25-year-old TE.
Douglas was able to add a couple of new receivers — Corey Davis and Keelan Cole — for whoever will be under center when Week 1 rolls around, but tight end is still a weak spot. Chris Herndon, who is entering the final year of his rookie deal, underperformed in 2020, and while the Jets did sign Tyler Kroft in free agency, he is hardly the playmaking talent that teams are looking for at the position these days. Plus, outside of Kyle Pitts, this year's rookie class of TEs is rather thin. And unless the Jets elect to keep Sam Darnold and use the No. 2 overall pick on Pitts — or a lower selection if they trade down a couple of spots — it will be difficult to find an upgrade in the draft.
Still, there is encouraging news for Jets fans. According to Cimini, new head coach Robert Saleh has made his club a much more attractive destination for free agents, who used to choose Gang Green simply when the team overpaid.
In speaking about his choice to join the Jets, Davis said, "[i]t starts with Coach Saleh. He's the right guy to come in here and turn things around. That's what I believe. That's why I came here. I believe his message and I believe what he brings to the table. He brings great energy, you can tell. It'll be great to play for a guy like that."
Money will still be the deciding factor in most cases, but having a charismatic HC who can connect with players will only help the Jets' cause when it comes to attracting outside talent.
Photo courtesy of USA Today Sports Images.