Our long national nightmare is over. After months of speculation, offers, negotiations, denials, stories, and tweets, Ryan Fitzpatrick is — as we all expected — headed back to the Jets, having agreed to a one-year contract worth a fully guaranteed $12MM. Because of New York's tight cap space situation, the pact contains a void year in 2017 that will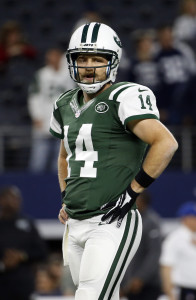 help spread out the cap charge. Gang Green reportedly set a Friday night deadline for talks to end, which may have helped spur a resolution. Controversial defensive end Greg Hardy is now the only member of PFR's top 50 free agents list that remains unsigned.
Another quarterback hits the market. The Nick Foles deliberations never quite reached Fitzpatrick levels, but it was readily apparent that the veteran quarterback was never going to head into the regular season with the Rams. Los Angeles granted Foles his release this week after he agreed to lower his 2016 guarantee, as the club opted to roll with Jared Goff, Case Keenum, and Sean Mannion. As many as 10 teams, including the Vikings and Cowboys, have expressed some level of interest in Foles.
Extensions galore. With free agency and the draft complete, clubs have turned their extensions to signing their incumbent talent to new contracts. Two members of the 2013 draft class — first overall pick Eric Fisher (link) and second-round corner Darius Slay (link) — landed large deals, while veterans such as Darren Sproles (link), Kurt Coleman (link), and Willie Young (link) all signed more modest pacts.
Three notables get reinstated. Browns wide receiver Josh Gordon is expected to hit the field for the first time since 2014, as the NFL granted him conditional reinstatement (but also handed him a four-game suspension). Former No. 3 overall pick Dion Jordan, meanwhile, will be back with the Dolphins, although he was placed on the non-football injury list earlier today. And 49ers tackle Anthony Davis, who took the 2015 season off on his own accord, was also reinstated off the reserve list.
Veterans find landing spots. After sitting on the free agent market for several months, wide receiver Anquan Boldin finally found a new destination, agreeing to a one-year pact with the Lions. Boldin wasn't the only veteran pass-catcher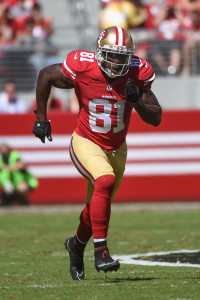 to ink
a deal, as Andre Johnson signed with the Titans and Hakeem Nicks latched on with the Saints. On defense, the Bears landed slot corner Brandon Boykin, while two former Chargers linebackers — Donald Butler (link) and Kavell Conner (link) — signed with the Cardinals and Ravens, respectively.
Leadership gets extended. A number of clubs opted to lock in their executive and head coaches for years to come, hoping that continuity will help maintain success. The Seahawks reached new deals with both general manager John Schneider (through 2021) and head coach Pete Carroll (through 2019), while another NFC contender, the Vikings, extended head coach Mike Zimmer. Meanwhile, two AFC clubs on the upswing, the Raiders and the Texans, each signed their general managers to long-term contracts, reaching new deals with Reggie McKenzie (link) and Rick Smith (link), respectively.
Pre-camp retirements pepper the news. After presumably spending the past few months attempting to find a new home, several veterans decided to hang up their cleats before training camp begins. Defensive tackle Kevin Williams probably posted the best career of the bunch, but three other former Vikings — tackle Phil Loadholt (link), receiver Greg Jennings (link), and defensive end Corey Wootton (link) — also announced their retirements, while former Falcons/Panthers safety Charles Godfrey decided to call it quits, as well.
Photos courtesy of USA Today Sports Images.
Follow @PFRumors