The Cowboys entered the 2015 season with championship aspirations, but ruinous injuries to franchise cornerstones Tony Romo and Dez Bryant helped torpedo their hopes and send them to a 4-12 finish. With Romo and Bryant back, the Cowboys expect to rebound from last year's fourth-worst showing – one in which they went 2-6 in one-score games – and it looks as though they'll have to rely heavily on their star quarterback and receiver (and rookie running back) in order to climb back atop what should be a wide-open NFC East.
Notable signings:
Although it's obviously a big-market franchise, Dallas took a rather modest approach to free agency. Financially speaking,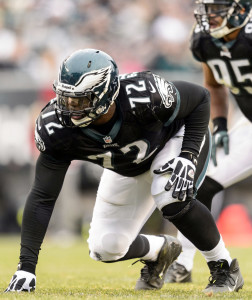 its most significant transaction was to pilfer defensive lineman Cedric Thornton from division-rival Philadelphia for $17MM over four years, including $6MM in guarantees. Thornton, 28, started in every one of his appearances with the Eagles from 2013-15 (45 in total) and mostly served as an end in their 3-4 alignment. He'll switch to tackle in the Cowboys' 4-3, which he played in sparingly as a rookie with the Eagles in 2012. The 309-pound Thornton has a mere four sacks on his resume, though he does have a reputation as a quality run defender. Pro Football Focus ranked Thornton just outside the top 30 of interior defenders against the run last season (and a far better eighth among 3-4 DEs in 2014), so he's primed to aid a Cowboys defense that allowed the 19th-highest yards-per-carry average in the league and had the fourth-worst DVOA versus rushing attacks in 2015. Now that he's out of the shadow of Fletcher Cox and Bennie Logan, Thornton should experience an uptick in playing time over the 40.6 percent of snaps he appeared in last year. He figures to start alongside Tyrone Crawford on the Cowboys' interior.
After Thornton, the largest monetary commitment the Cowboys made during the winter was to defensive end Benson Mayowa, a restricted free agent they pried out of Oakland with a three-year, $8.25MM offer sheet and $3.3MM in guarantees. The Raiders deemed the 24-year-old inessential to their cause when they declined to match the Cowboys' offer to Mayowa, who has only made three starts in his NFL career. Mayowa amassed a combined 30 appearances for the Seahawks and Raiders from 2013-15 and recorded 16 tackles, a sack and two fumble recoveries last season. Despite his lack of experience and relative anonymity, the Cowboys are betting on a noteworthy edge-rushing future from Mayowa, as chief operating officer Stephen Jones said upon signing him. Considering the Cowboys ranked 25th in the league in sacks last year (31) and have since opted against re-signing pass-rushing threat Greg Hardy and fellow end Jeremy Mincey, and have lost Demarcus Lawrence and Randy Gregory to quarter-season suspensions, they'll need a Mayowa breakout sooner than later.
Joining Gregory and Lawrence on the suspended list is middle linebacker Rolando McClain, whom the team brought back for a third year at a palatable cost ($4MM total, $500K guaranteed). Four months later, the league banned McClain for 10 games thanks to another violation of its substance abuse policy. McClain, 26, will sit for 10 games this year after an earlier suspension kept him out of four contests last season.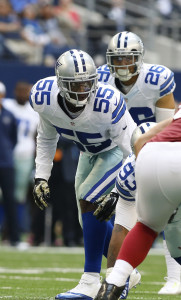 McClain clearly brings plenty of baggage, but his loss should be a damaging one for Dallas on the field after he played in 60.4 percent of its defensive snaps last season, piled up 80 tackles, two sacks and an interception, and graded as PFF's 28th-best linebacker among 97 qualifiers. McClain's suspension this late in the game no doubt puts the Cowboys behind the 8-ball, as free agency isn't exactly teeming with high-end replacements. PFR's Dallas Robinson ran down several available options in the wake of McClain's suspension, with ex-Cowboy Justin Durant among them. The Cowboys have since contacted Durant about a reunion, though no deal has materialized yet and a source informed Robinson that they're content with their McClain-less linebacker corps.
If Dallas doesn't sign anyone, the in-house favorite to replace McClain is Anthony Hitchens, who finished third among Cowboys linebackers in snap percentage last year (50.9) while playing on the inside and outside. Hitchens didn't draw praise from PFF, though, which rated him as the league's 69th overall LB. It was only his second season, however, so there's still room for growth from the 2014 fourth-round pick. Regardless, as Robinson noted, Hitchens was already on track to start prior to McClain's suspension, so the latter's absence could force Kyle Wilber into a top role on the strong side. Wilber took part in a paltry 21.2 percent of defensive snaps for the club last season and accumulated 24 tackles, and the Cowboys were encouraged enough to retain him on a two-year, $3.25MM deal.
Continue reading about the Cowboy's offseason…
The Cowboys' other prominent defensive move in free agency was to re-sign cornerback Morris Claiborne to a one-year, $3MM pact after he appeared in 62.7 percent of their snaps in 2015. The sixth overall pick in 2012, Claiborne hasn't lived up to his draft billing since a promising rookie season. He tallied only 21 starts over the past four seasons because of injuries and subpar play, though he did start in all 11 of his appearances last year. The LSU product failed to grab an interception for the first time in his career, however, and ranked 104th among 111 qualifying corners at PFF.
Aside from re-up Claiborne and hope Orlando Scandrick bounces back from a torn ACL and MCL that sidelined him for 2015, the Cowboys did little to address their pass defense, which ended last season 31st in INTs (eight), 23rd in opposing yards per attempt (7.6), 20th in passer rating allowed (94.2) and 17th in DVOA.
In terms of offensive name recognition, the Cowboys' only somewhat high-profile pickup was ex-Redskins running back Alfred Morris, who accepted a short-term offer in free agency from his former rivals. Morris was a workhorse in Washington, where he accrued 1,078 carries in his first four seasons (and 200-plus each year), but his yards per carry dropped precipitously each campaign and he found the end zone only once in 2015. Morris looked like a decent bet to pick up a solid chunk of touches in Dallas before it spent the fourth overall pick in the draft on Ezekiel Elliott, who will be the bell cow. With Darren McFadden and Lance Dunbar also in the mix behind Elliott, touches figure to be scarce for Morris.
The Cowboys made a more substantial multiyear commitment to tight end James Hanna than any other offensive free agent during the offseason, awarding him a three-year, $8.25MM contract and $2.25MM in guarantees. The 26-year-old has acquitted himself nicely as depth behind starter Jason Witten, catching the occasional pass and acting primarily as a blocker. Hanna, who has 33 career receptions, drew interest from outside of Dallas in free agency, but he elected to stay in the fold behind Witten and alongside Gavin Escobar.
Finally, there's the matter of offensive guard Ronald Leary, to whom the Cowboys assigned a second-round tender (worth $2.553MM) as a restricted free agent. Leary requested a trade in the spring after losing his job to La'el Collins last season, but the club is fine with retaining him as depth. Leary, whom the Cowboys signed as an undrafted free agent in 2012, has started in all 35 of his pro appearances – including four in 2015 – but with Collins and two-time Pro Bowler Zack Martin entrenched at the guard spots, he's now a reserve.
Notable losses:
From solely a production standpoint, Hardy's exit will leave a void in Dallas. Hardy wasn't the dominant entity with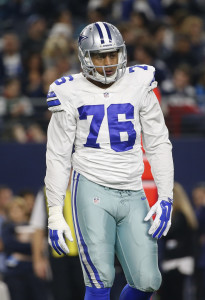 the Cowboys that he was in prior years with the Panthers, but he was still one of the few bright spots for a mostly underwhelming defense. Hardy, PFF's 28th overall edge rusher in 2015, finished second on the Cowboys in sacks (six) and third among their D-linemen in snap percentage (56.3) during his 12-game stint in their uniform. However, Hardy's highly problematic off-field behavior made him a PR nightmare and overshadowed his gridiron output. With that in mind, head coach Jason Garrett and his staff are probably glad Hardy's gone. But whether they'll effectively replace him between the lines is another matter, especially with Lawrence and Gregory set to miss four games apiece.
Along with Hardy, the Cowboys have seemingly waved goodbye to Mincey, who was on the field for 35.9 percent of their defensive plays last year. Mincey remains a free agent after failing to collect a sack in 2015, which was particularly unexpected after he notched six the previous season. Given the Cowboys' dearth of pass rushers, it doesn't speak well for what the 33-year-old Mincey has left in the proverbial tank that they haven't re-signed him on a cheap deal. No Mincey, Hardy, Lawrence or Gregory (temporarily in the latter two cases, of course) leaves Dallas with Mayowa, Ryan Russell, David Irving and fourth-rounder Charles Tapper as its top four ends going into training camp. There's little track record to speak of with anyone in that quartet.
The third relied-on member of the Cowboys' 2015 D-line who's now without work is tackle Nick Hayden, who participated in 55 percent of their defensive snaps, appeared in 16 games and made 15 starts. Hayden, 30, started in 47 of a possible 48 regular-season games during his three years with the Cowboys, and he has a fan in defensive coordinator Rod Marinelli, but the club hasn't shown interest in re-signing him after upgrading with Thornton and using a third-round choice on Maliek Collins. Hayden's durability was on display yet again last season, as mentioned, but he ranked just 115th out of 123 qualifying interior defenders at PFF for his performance.
Given what he displayed last year in relief of Romo, Cowboys fans are surely pleased the team didn't re-sign Matt Cassel. Collarbone issues kept Romo out of action for all but four games last season, leading Cassel – whom the Cowboys acquired from Buffalo in late September – to receive the lion's share of time under center. The Cassel era was an unmitigated disaster for Dallas, which went 1-6 in his starts as he completed 58 percent of passes, averaged 6.2 yards per attempt and threw five touchdowns against seven interceptions in parts of nine games. Kellen Moore, who grabbed the reins from Cassel in the final weeks of the season, is now the full-time No. 2. But it's debatable whether Moore is the best choice for a squad whose backup QB situation factored heavily into its demise in 2015.
Draft picks: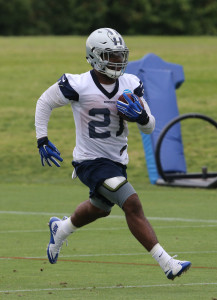 With so many defensive questions entering the draft, ex-Florida State cornerback Jalen Ramsey looked like a strong bet to end up with the Cowboys in the first round. They ultimately left Ramsey on the board at No. 4 overall, though, and swung for the fences on offense by selecting Elliott, a soon-to-be 21-year-old wunderkind who's fresh off back-to-back 1,800-yard seasons at Ohio State. The newly popular school of thought, however, is that running backs shouldn't go that high in the draft; that's especially true for the Cowboys, who don't need an all-world talent behind their dominant line. After losing 2014 Offensive Player of the Year DeMarco Murray to a payday in Philadelphia, the Cowboys put together a spartan group that finished ninth in the league in rushing and fifth in per-carry average last season. That was without any threat of a passing attack, by the way, making the work of their linemen and McFadden all the more worthy of praise. Nevertheless, the Cowboys should now have their long-term backfield solution in Elliott, who, if he pans out, will make life easier on Romo as he advances into his late 30s.
Having secured Elliott, the Cowboys added another household name, Jaylon Smith, with their second-round pick. Dallas is prepared to go without Smith this season as a result of the torn ACL and MCL he suffered in a New Year's Day Fiesta Bowl tilt against Elliott's Buckeyes. Prior to both that and the diagnosis of a nerve issue in Smith's ankle, the expectation was that he'd come off the board somewhere in the top 10 of the draft. Considering his upside, the Cowboys couldn't pass on Smith as a long-term investment at No. 34, though multiple teams gave him a failing grade during his physical at the combine and then removed him from their draft boards. Cowboys team doctor Dan Cooper performed Smith's surgery, however, so the club likely had unique insight into his injury entering the draft. That doesn't make going a year without any contributions from your second-rounder easy to swallow, though, particularly for a team with clear weaknesses on defense.
The injury bug has also bit the aforementioned Collins, a third-rounder, in recent months. The broken foot Collins suffered during the spring isn't anywhere near as serious as Smith's situation, fortunately, and Garrett expects the ex-Nebraska Cornhusker back by camp. Once healthy, the 67th overall pick should team with Terrell McClain to provide interior depth behind Thornton and Crawford.

The Cowboys' flashiest selection in the latter half of the draft was dual-threat quarterback Dak Prescott, who totaled 114 touchdowns (70 passing, 41 rushing, three receiving) during his four-year career at Mississippi State. While Moore is currently Dallas' top option behind Romo, the raw Prescott could eventually push for the role. "I don't want to write a check with my mouth that he has to cover here, but (Prescott) has it," owner Jerry Jones said of the 6-foot-2, 230-pounder after the draft.
Extensions and Restructures:
In order to clear cap space, Dallas made changes to three key veterans' contracts. In the case of Tyron Smith, who has earned three straight Pro Bowl nods at left tackle, the Cowboys converted $9MM of his $10MM base salary for 2016 into a signing bonus. Rather than counting solely against this year's cap, that $9MM bonus will now be prorated over five seasons, counting for $1.8MM annually from 2016-2020. By doing that, the Cowboys freed up $7.2MM in space for this year and added $1.8MM to the cap each season from 2017-20.
Crawford, meanwhile, was set to pocket a fully guaranteed $6.75MM base salary in 2016 after inking a contract extension last September. Dallas instead reduced his salary to $1.25MM and converted $5.5MM into a signing bonus. The team gave Crawford that bonus immediately, but it will be spread out on its cap for the next five seasons at $1.1MM per annum. While the restructuring cut Crawford's 2016 cap number from $8.75MM to $4.35MM, it increased his cap charges from 2017-20. Crawford will count for at least $9MM annually against the Cowboys' cap, including $10.35MM in 2017.
Brandon Carr's future with the Cowboys hung in the balance after last season, his fourth with the franchise, but the starting corner stuck around once he agreed to a pay reduction. Carr, who has now gone back-to-back seasons without an interception, will earn $6MM this year instead of his originally scheduled $9.1MM. His cap number dropped, too, from $13.8MM to a still-high $10.22MM. Carr's contract also includes a voidable 2017, so this could be his last year in Dallas.
Other:
Travis Frederick has emerged as a premier center since the Cowboys drafted him 31st overall in 2013, making it no surprise that they exercised his $8.821MM fifth-year option for 2017. Frederick, who has started 48 straight regular-season games in Dallas and has made back-to-back Pro Bowl trips, seems likely to land a long-term extension sometime soon.
Top 10 cap hits for 2016:
Led by Romo, Bryant, Elliott and a stellar offensive line, the Cowboys are unlikely to have much difficulty scoring points this year. The problem is that their defense looks primed to give up plenty, too, as the front office failed to make enough immediate improvements on that side of the ball. The suspensions to McClain, Lawrence and Gregory should only exasperate the already unenviable situation in which Marinelli found himself.
Contract information from Over the Cap, Spotrac, and Roster Resource was used in the creation of this post. Photos courtesy of USA Today Sports Images.

Follow @PFRumors