Down goes Romo. The Cowboys are dealing with another injury to quarterback Tony Romo, as the veteran signal-caller suffered a broken bone in his back and is expected to miss 6-10 weeks. Rookie QB/preseason legend Dak Prescott is now set to take over for Dallas, although the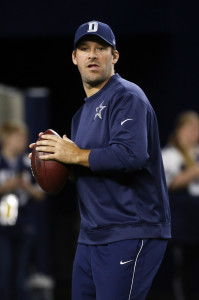 Cowboys are looking to acquire a veteran backup (2015 UDFA Jameil Showers is the club's No. 2 at present). While Romo should be able to return this season, this latest injury could have an effect on Romo's future in Dallas.
Trades, trades, trades! We'll never see the amount of trades in the NFL that we see in MLB, but you wouldn't know that if you followed the league this week. The Patriots were involved in two deals, as they shipped center Bryan Stork to the Redskins before picking up former sixth overall pick Barkevious Mingo from the Browns. The 49ers, too, completed multiple trades, as they sent cornerback Kenneth Acker to the Chiefs, then acquired receiver Jeremy Kerley from the Lions in exchange for offensive lineman Brandon Thomas. Meanwhile, clubs are inquiring on wide receiver Josh Gordon, but the Browns aren't inclined to trade him.
Bosa vs. Chargers turns ugly. It's nearly September and No. 3 overall pick Joey Bosa still hasn't hammered out a deal with the Chargers, so San Diego took the unprecedented step of issuing an accusatory public statement on the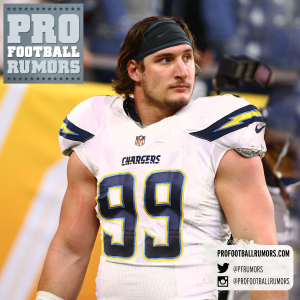 situation. Bosa's agent predictably retaliated, while Chargers owner Dean Spanos called Bosa's holdout "absolutely asinine." Meanwhile, rival GMs are reportedly "laughing" at San Diego's handling of the situation, as execs believe the club has essentially thrown its first-round pick's rookie season down the drain.
No quarter for Mark Sanchez. Although it isn't yet official, Trevor Siemian looks like the Broncos' Week 1 starter at quarterback, meaning Sanchez's role with the club is unclear. Denver has yet to ask him to take a pay cut, but that option has been bandied about, and there's virtually no way Sanchez can stay on the roster at his current salary. A trade remains a possibility, but it's likely that Sanchez is released in the coming days.
A flurry of transactions. Teams have until 3pm CT on Tuesday to reduce their roster to 75 players, and many club got a head start today. Rueben Randle, Chris Givens, Erik Pears, and Ropati Pitoitua were among the veterans cut today, and there will be more in the coming days and weeks. You can follow all the latest news by bookmarking PFR's Transactions Page.
Photos courtesy of USA Today Sports Images.
Follow @PFRumors