The Texans' blueprint this offseason obvious to everyone as they devoted a full-force effort on multiple fronts to fix their offense. After a defensive-powered season ended with a 30-0 shutout in the wild-card round, Houston will deploy a starkly different starting offense.
For most of this century, teams with elite quarterbacks or those equipped with dominant defenses advanced to Super Bowls. There aren't many exceptions in the modern game. The 2012 Ravens are one, but they were riding a hot streak from Joe Flacco who was playing some of his best football. The 2016 Texans are banking on another fifth-year passer, but Flacco and Brock Osweiler's careers aren't exactly comparable. Houston bet big on the longtime backup who was at times effective in his audition last season.
Although they employ one of the NFL's premier players in J.J. Watt, the Texans' chances will hinge largely on the 6'7″ Osweiler building on his brief success. Last year's No. 3-ranked defense lifted the team about as far as it could. This offseason, management made a point to provide as much help as possible.
Notable signings:
Midway through 2014, it looked like Peyton Manning was going to play out the five-year contract he signed with the Broncos in 2012, thus giving his lanky backup no realistic opportunity impress potential buyers as a free agent. But the future Hall of Fame quarterback experienced a quick decline that forced the Broncos to retool their offense that season, and his freefall continued in 2015 prior to Manning injuring his foot. Osweiler stepped in and kept his previous defensive-fueled team afloat, altering his career in the process.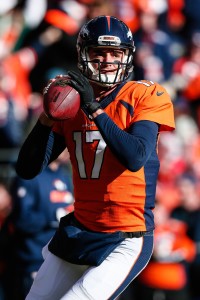 The seven-game work sample Osweiler offered included mixed reviews. He showcased some ability despite no previous experience in an important game situation, leading the Broncos to a 4-2 record in games he played throughout. The former second-round pick drove the team to pivotal victories over the Patriots and Bengals to help the Broncos secure home-field advantage. He finished with 10 touchdown passes, six interceptions and 245.9 passing yards per game. Denver's offense also sputtered for several entire halves under Osweiler's guidance, leading to two December losses and increasing the defense's burden. What happened during the final stretch of offensive futility under the 25-year-old Osweiler may have changed the long-term outlook for two franchises.
Benched for Manning early in the third quarter of the Broncos' Week 17 game after a spate of turnovers that mostly were hard to pin on him, Osweiler either was merely miffed at the idea of being replaced after guiding Denver back to the precipice of home-field advantage. Or he saw Gary Kubiak's decision as evidence he didn't want to return to the team. His agreement with Houston came after Denver offered him $16MM per year to continue in a system in which he showed promise. Osweiler has attributed the surprising exit to wanting to start something with the Texans, who are placing immense faith in the Arizona State product whose career began with a longer backup stint than Aaron Rodgers'.
The Texans are committed to Osweiler for the next two seasons at least. This experiment failing can reasonably result in a divorce in 2018, when just $6MM in dead money would be attached to an Osweiler release. But the Texans spent plenty in offseason capital to give their quarterback weaponry after deploying an offense without much in the way of options beyond DeAndre Hopkins last season.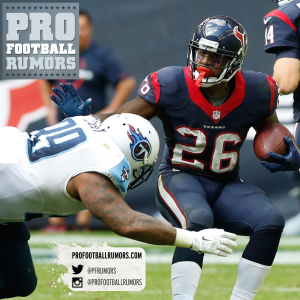 Houston moved quickly to replace Arian Foster, signing Miller on Day 1 of free agency. Unlike the new franchise quarterback, the Texans' cornerstone ball-carrier's ability can be judged based on full-season bodies of work. Miller posted back-to-back slates of at least 1,200 yards from scrimmage. Among backs who received at least 400 carries in 2014-15, Miller's 4.8 yards per tote rank as the league's top mark in a sub-category basically exclusive to starting backs. As a receiver, Miller caught 47 passes for nearly 400 yards last season, so he's no slouch as an outlet option, either.
Miller played 16 games in each of the Dolphins' past three regular seasons, but 2014's 210 carries represent the former fourth-round pick's career high. He stands to have plenty of opportunities in Houston, which looks to have signed a 25-year-old runner with upside thanks to his age and a lack of usage typical of a three-year starter. By this measure, Miller's $6.5MM AAV (sixth among running backs) accord looks to be a good value bet. He'll be a key part in helping Osweiler assimilate in south Texas.
The other key piece on the free agency side of the offense-enhancement blueprint, Allen possesses the starting experience closer to Miller but a track record more in line with Osweiler's. Excepting a 2014 season during which he missed the Chiefs' final 15 games, Allen was a primary starter in Kansas City after arriving as Scott Pioli's final second-round selection in 2012. He started 13 games as a rookie and 14 a year later, but in neither season was he considered an above-average guard. Conveniently for his value and the sake of the Chiefs' reeling line last year, Allen strung together his best season in 2015.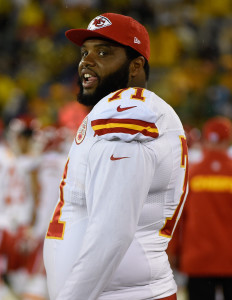 Previously relocated to right tackle in 2014 prior to his season-ending elbow malady, Allen began his '15 campaign on the right edge before Ben Grubbs' career-ending neck injury moved him back inside. At left guard, Allen became Kansas City's best lineman, helping the Chiefs adjust to life without Jamaal Charles. But the 6-foot-4 blocker saw a preseason knee injury limit him to 12 games (eight starts) last season. Nonetheless, the Texans needed a guard with Brandon Brooks in the process of signing with the Eagles, and they made Allen the league's sixth-highest-paid guard on a per-year basis.
Allen's $7MM average — which ended up being $1MM less per season than Brooks received from Philadelphia — makes him the Texans' third $5MM-per-year blocker. He'll join tackles Duane Brown and Derek Newton as veteran presences expected to open lanes for Miller, only Allen will now have to live up to a deal signed on the strength of barely a half-season's worth of upper-echelon work. Like Osweiler, Allen showcased potential at the right time.
Houston spent less extravagantly to fortify its swing spots but kept Clark and brought in Bergstrom on notable veteran deals. A 2015 trade acquisition from the Broncos, Clark looks like the Texans' swing tackle, with former Raider Bergstrom settling in as the interior roving backup. Clark could be called to action in a key capacity, however, as Brown remains on the Active/PUP list.
Clark operated in this capacity for the 2013 Broncos, starting the team's final 17 games after left-edge bastion Ryan Clady went down that September. He performed adequately that year but couldn't hold the right tackle job in 2014, helping green-light a trade to Houston. Last season, Clark performed better as a run-blocker than in pass protection during his four games as a starter.
Bergstrom suffered a significant foot injury in 2013 and did not play in '13 or '14. A former Raiders third-rounder, he returned as a sub for Rodney Hudson in three starts last season. He could also serve as a possible starting center given the team's recent trouble at that spot. Nick Martin's season-ending ankle injury appears to have opened the door for 2015 UDFA Greg Mancz. But the second-year player faltering could move Bergstrom into a position to play with the first unit.
Regardless of whether or not Bergstrom or Clark ascend into the starting lineup, Houston's now paying five linemen at least $2.5MM per year. Martin's injury would have set several teams back worse.
Notable losses:
The makeover of the Texans' offense meant parting with the player most associated with it during the decade. While Duane Brown has enjoyed a longer stint in Houston and Andre Johnson was still a top-flight target for a few years during the 2010s, Foster buoyed this run-centric attack for years. His Texans tenure, one that concluded because of injuries, broke down into two parts: the three-year stretch from 2010-12 when he profiled as one of the league's best, and the past three years defined mostly by injuries.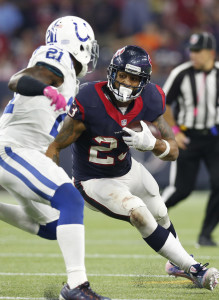 The outspoken former UDFA won the 2010 rushing title and earned Pro Bowl berths during each season he suited up for at least 13 games, with 2014 being the last such instance. Foster totaled at least 1,550 yards from scrimmage in all four of those campaigns; his 2,220 in '10 ranked as a top-20 all-time mark. However, the 30-year-old's Achilles tear last season limited him to four games and put his viability as a player going forward in doubt until training camp. The Texans will incur a $2.3MM dead-money charge in 2016 after cutting their franchise rushing leader.
For the third straight offseason, the Texans parted with the previous year's starting quarterback. Though Hoyer didn't enjoy the kind of highs either Matt Schaub or Ryan Fitzpatrick have in their respective careers, he was the only one in this group to be jettisoned a year after leading the Texans to the playoffs. Houston traded Schaub to the Raiders after benching him midway through a 2-14 season in 2013 and moved Fitzpatrick in a trade to the Jets after he went 6-6 for the '14 Texans. Enduring a strange yo-yo pattern with the since-cut Ryan Mallett early last year, Hoyer guided a depleted Texans team to an AFC South title, going 5-4 as a starter.
Hoyer's 19-to-7 touchdown pass-to-interception ratio helped Houston into the playoffs, albeit in a down year for the division, but the 30-year-old journeyman became expendable after Osweiler's arrival. His ignominious finish to the season — the five-turnover catastrophe that aided the Chiefs to their first playoff win in 22 years — helped streamline the Texans' search for their first long-term option under center since Schaub.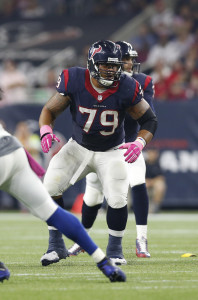 Brooks and Jones departed after four years with the team. Each starting a similar amount of games during their years with Houston, the interior-line tandem received disparate commitments from their second NFL employers after negotiations with the Texans didn't lead to re-ups. Brooks is now a top-five-compensated guard, while Jones signed for four years and $17.5MM with the Titans.
One of the game's biggest guards, Brooks will join an Eagles team that also was connected to Allen due presumably to Doug Pederson's presence. Brooks did not play up to his capabilities last season, ranking as a substandard run-blocker in the opinion of Pro Football Focus. But his pass-protecting savvy remained, and with Brooks exhibiting road-grading ability in recent years, it's not surprising he received a big commitment in free agency. Jones graded as PFF's No. 18 center last season, with the analytics site also preferring the ex-fourth-rounder's pass blocking over his ability to clear lanes for Foster or his understudies.
Neither Graham nor Moore proved to be good fits with Bill O'Brien, with their respective releases leaving three years total on the table. Although Houston's cap sheet looks pretty clean when it comes to dead money, Moore and Graham combine for $2.75MM of the $5.6MM in payments due to non-roster players.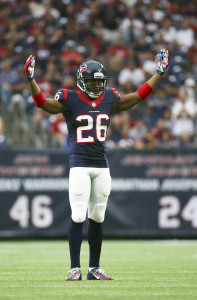 The Texans initially signed Moore to a mid-level accord at three years and $12MM but benched the free safety after six games last season. He'd rated as plus cover man in 2014 with the Broncos, leading to the Texans deal, but did not excel after leaving Colorado. The ill-fated pact ceasing after one season led Houston to turn to the lesser-known Andre Hal at free safety.
Having signed a three-year deal just after O'Brien took over in 2014, Graham did not prove to fit this offense. After catching 49 passes for 545 yards and five touchdowns in relief of Owen Daniels in 2013, Graham played sparingly the past two years and snared just 22 passes for 227 since re-signing. Houston's offensive transformation did not include bringing in help at tight end, so C.J. Fiedorowicz and Ryan Griffin will continue to share duties here.
Crick joined the parade of exiting 2012 Texans draftees after underwhelming opposite J.J. Watt. The run-stopping defensive end will attempt to recapture the form the Gary Kubiak– and Wade Phillips-led coaching staff initially saw in him.
Trades:
Extensions and Restructures:
Draft picks:
The Texans entered the draft with a similar issue that's plagued them for most of their existence: the lack of a No. 2 wide receiver. Andre Johnson's prime mostly went by without this luxury, although Kevin Walter did put together two solid years in the late 2000s, until DeAndre Hopkins arrived. Only the two best wideouts in team history didn't see their timelines intersect for long, with Johnson slowing down considerably by 2014 as Hopkins was taking off. In 2015, Hopkins shouldered most of the receiving load, and Nate Washington's workmanlike effort notwithstanding, Rick Smith sought a long-term upgrade with which to equip his new quarterback.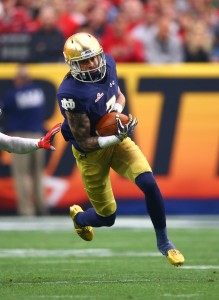 As examined by former NFL scout Dave-Te Thomas in PFR's Impact Rookies series, the Texans acquired another receiver who excels in jump-ball situations. They already employ maybe the league's premier playmaker by that measurement, and Fuller's 4.32-second 40-yard dash speed should help distract defenses from rolling coverage to Hopkins constantly. Fuller delivered dominant seasons in South Bend, Ind., hauling in 29 touchdown receptions in 2014-15 while amassing nearly 2,500 air yards in those seasons.
He'll be given every chance to ascend into a starting role opposite Hopkins, with Shorts and Jaelen Strong being the team's auxiliary incumbents. Fuller averaged 20.3 yards per reception with the Fighting Irish last season, duplicating his '14 sophomore success and showing the kind of consistency that's been largely lacking from Texans complementary cogs.
Fuller began the second full-speed-ahead approach to offensive improvement; three more offensive talents followed in an attempt to help a unit that finished 19th in total offense and 21st in scoring last season.
While Martin's injury hurts since he was going to be the Day 1 center, the Texans landed the intriguing Miller soon after that night. Despite one year of experience as a receiver with the Buckeyes, Miller is expected to be deployed quickly in Houston as the team's No. 1 slot receiver. At 6-2 and 215 pounds, Miller brings a different frame to the slot than most teams are going to feature. But his elusiveness should be on display, given the explosive plays he authored as a two-time Big Ten offensive player of the year.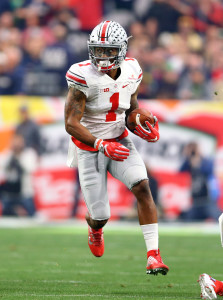 However, his accolades came at quarterback. Miller's pure receiving numbers — 25 receptions for 340 yards last season — leave some questions as to how he'll translate. Because it's far from automatic. That said, Miller got the jump on some other recent slot threats that worked as QBs exclusively in college, doing so by switching a year early to make room for Cardale Jones and J.T. Barrett. Julian Edelman and Antwaan Randle-El both worked as running quarterbacks until called upon to learn receiver in the pros. The switch has also created talented gadget players like Brad Smith or Josh Cribbs.
The Texans, though, did run some wildcat concepts last season, and although those plays were understandably a small section of the playbook, the team now has an ideal operator for this look. Miller opens up some possibilities. If nothing else, he adds depth to a receiving corps that's now packed equipped with high picks opposite Hopkins.
When they finally went defense, they chose the lesser-regarded former Mountaineers safety. Dillon obviously didn't tantalize scouts like Karl Joseph did, but he does boast some versatility. As Thomas notes, Joseph's knee injury forced Dillon to take on a bigger role. He accrued some free and strong safety seasoning in 2015, and coupled with the weakside linebacker reps he also received during his career at West Virginia, makes for an interesting package for a team that doesn't boast much in terms of safety investments.
Moore not panning out leaves the team bereft of established talent or high-ceiling prospects. Along with 2014 seventh-rounder Andre Hal — who's slated to start at free safety after intercepting a team-high four passes last season — castoffs Antonio Allen, Kurtis Drummond and Eddie Pleasant populate the safety contingent in Houston. It's by far the defense's thinnest position group and, even including tight end, probably the spot where the Texans are most vulnerable. It's arguable they should have paused a bit on the all-offense offseason to address this area, but the fact they didn't illuminates a path for Dillon.
Other:
Smith's tenure can be broken down in a few ways. The case for extending him hinged on the select playoff appearances the team has made now under two different coaching regimes, along with the caliber of talent his managerial tenure produced in the draft. Watt is already one of the greatest defensive players in NFL history. Few can match his impact on the league. Hopkins took the mantle from Andre Johnson as a true No. 1 wideout quickly. Although the Texans don't have an AFC championship game berth in 14 years, their run of dominant pass-catchers is hard to match. Bringing in Brown and Whitney Mercilus in the first round helped add impact players on the edges as well, aiding a team that hasn't featured quality quarterback play in years.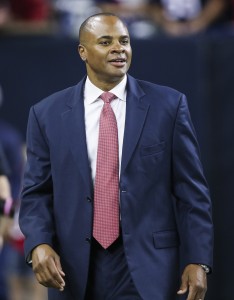 The lack of consistency in steering teams to the playoffs should count against Smith, given that it took the Texans until his sixth year — and the franchise's 10th — to secure their first playoff berth. Among NFL expansion franchises that spawned since the merger, that is the longest drought, eclipsing the Seahawks'. It's true the worst of those years came under Charlie Casserly in the early and mid-2000s, but Smith and Gary Kubiak tread water for a while. On the other hand, Houston was competing with one of the most consistent teams in NFL history, the Peyton Manning-era Colts, for several of those years. So, winning division titles was going to be difficult no matter who was making the personnel decisions.
Smith's tenure will largely be defined by what happens in the next few years after the signings the Texans made this offseason. It's arguable his leash shouldn't be as long as it is, but if the Brock Osweiler/Bill O'Brien era falters after the Kubiak/Matt Schaub stretch faded fast, Smith probably won't be around to tab another quarterback.
The option for Hopkins became elementary. He's an elite receiver. But the 24-year-old performer's mini-holdout did signal some potential acrimony ahead. It's not the Texans' fault the new rookie wage scale has become so team-friendly. Hopkins only became extension-eligible this year, and other teams waited longer to extend wideouts of his ilk. The Broncos and Cowboys respectively re-signed Demaryius Thomas and Dez Bryant entering their sixth years. The Bengals and Falcons signed off on respective payments for A.J. Green and Julio Jones in advance of their fifth seasons.
Hopkins has proven to be in their class, and the $2.43MM he's slated to earn in his fourth year represents a risk for the 2013 first-rounder. Players like T.Y. Hilton, Keenan Allen and Allen Hurns received eight-figure-per-year money and essentially benefited from not being first-rounders and thus residing as potential Year 5 UFAs instead of their teams holding value-suppressing fifth-year options. Hopkins has proven more than those pass-catchers, and having seen the Texans extend Watt before his fourth year, it's a dicey situation in which the team could find itself. It was somewhat surprising Hopkins' holdout ended so soon since the offense would not work well without him.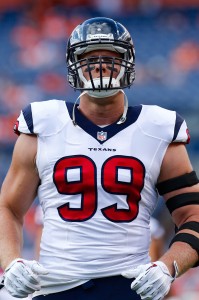 Watt's injury proved to be the other key takeaway from this summer. The Texans may need to show caution since Watt is more important to the Texans' defense than Hopkins is to the offense. Either's absence throws the team off axis right now. The 27-year-old superstar and four-time first-team All-Pro has never missed a game, working in Houston's favor, but summer back surgery does throw up a warning sign regardless of the player. Without Watt, Jadeveon Clowney would be called to action to finally determine how far he's come since injuries hijacked his trajectory.
That duo still hasn't flashed like most thought it would, although that's been mostly due to bad luck. The Texans still boasting a top-five defense regardless of the former No. 1 overall pick's slow start illustrates Watt's impact.
A cornerstone left tackle for years, Brown was non-committal Sunday on his status for the Texans' opener; Brown underwent surgery for a torn quadriceps tendon in January. This could lead to either Brown missing starts or landing on the Reserve/PUP list to start the season, putting Chris Clark in position to start Houston's first six games. Brown's played at least 14 games in seven of his eight seasons and would go a long way toward mobilizing the revamped offense.
He and Martin missing games together would make things difficult for Osweiler, who didn't show strong pocket presence last season, absorbing 23 sacks in less than a half-season's worth of work. It will be interesting to see how he handles opposing rushes in a new system. Martin's malady thrusts Greg Mancz to the forefront. The Mid-American Conference product played just three games last year in a reserve capacity. This could well be a problem spot, but the insurance addition of Tony Bergstrom looks prescient now.
Top 10 cap hits for 2016:
Given the investments Rick Smith and Co. made in the offense this year, the Texans will be one of the magnified teams in 2016. Even with Watt involved, they haven't usually garnered this kind of attention. Their peak period came when Peyton Manning and Tom Brady were still ruling the AFC. Now in a more wide-open landscape, the Texans should generate buzz based largely on how Osweiler functions.
This is one of the bigger dice rolls in memory, and how a quarterback with seven starts to his name performs will determine the fate of the franchise. After all, Watt earned defensive player of the year honors three times in four years — and had a strong MVP case in 2014 — but the Texans lost seven games in each of the past two campaigns, showing why they spent on a 25-year-old quarterback with an uncertain ceiling.
And 9-7 might not be enough to win this division this season. Andrew Luck was not playing well before he went down, but now that he's presumably healthy again, the Colts will be a factor, just as they were from 2012-14. The potential development of the Jaguars could loom as well despite that operation showing little thus far despite extensive offseason expenses. The reinforcements the Texans acquired will be needed even after last year's less diverse offense was enough to secure a January home date.
Houston fans will learn a lot about their team's place in the AFC hierarchy this season, because it's pretty hard to overstate what kind of pressure Osweiler will encounter based on the contract he signed. The Texans haven't devoted these kind of resources into locking in a quarterback since taking David Carr with their first-ever draft pick. This largely untouched defense has shown it can carry the team to a point, but this is a higher-variance team because of the bet it made on Osweiler. As they attempt to re-establish themselves as one of the AFC's best after such a bold step, the Texans will be one of the league's most interesting teams as a result.
Information from Over the Cap, Spotrac, and Roster Resource was used in the creation of this post. Photos courtesy of USA Today Sports Images.
Follow @PFRumors