In 2015, a locker room fight between Geno Smith and a reserve linebacker changed the entire course of the Jets' season. The skirmish left Smith with a broken jaw and left the door open for Ryan Fitzpatrick to show what he could do. Not only was Fitzpatrick a capable fill-in, he turned out to be one of the league's better quarterbacks last season.
How could the Jets and the Harvard grad ever top that kind of offseason drama? Well, they gave it their best shot this spring and summer.
Notable signings:
In the spring, the Jets tried to re-sign Fitzpatrick to a three-year deal in the $7MM/year range. That annual value was similar to the contracts signed by Robert Griffin III and Chase Daniel earlier this offseason. Of course, Fitzpatrick was significantly more productive in 2015 than those two have been in recent years. His camp argued that he was in line for about $14-15MM year, pointing out that Sam Bradford and Brock Osweiler received contracts in the neighborhood of $18MM annually, even though they also didn't achieve what Fitzpatrick did last year. The only trouble is, no other team appeared to show serious interest in him. Even the Broncos – who were left without a QB after one retired and one bolted – didn't seem very interested in Fitzpatrick.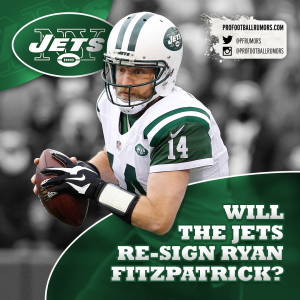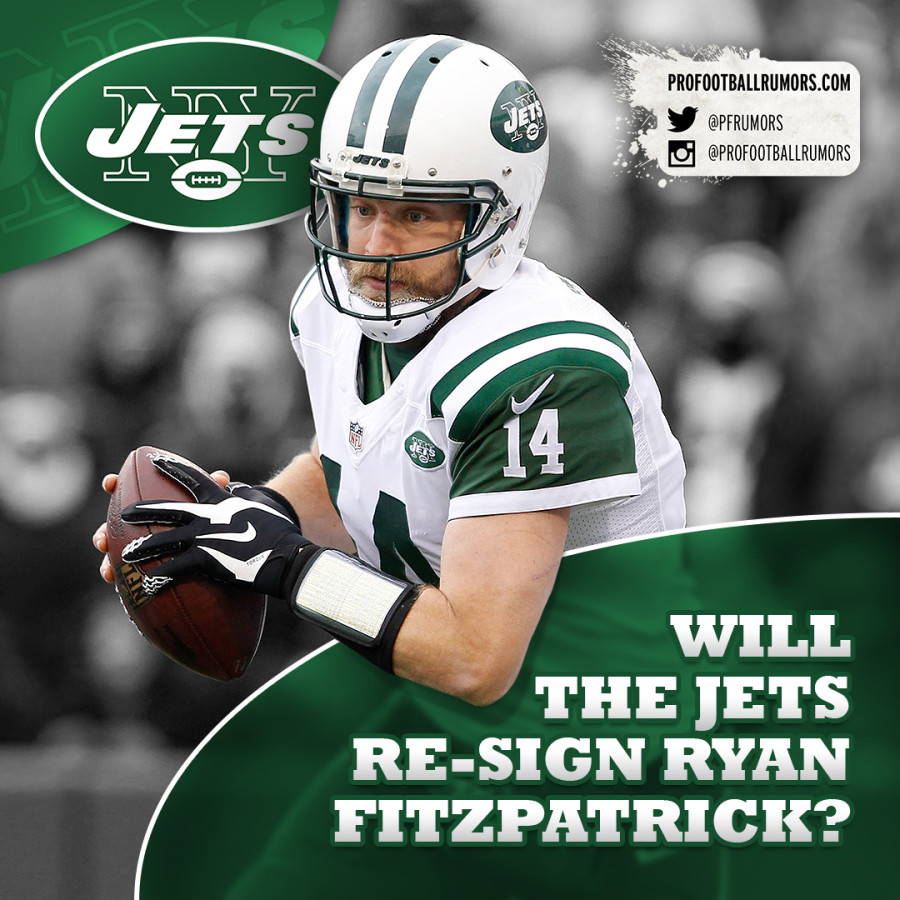 The standoff took a number of weird twists and turns. First, there was a report that Fitzpatrick would rather walk away from the sport altogether than pay on what he believed was an unsatisfactory contract. Then, there were rumblings that he would consider playing as a No. 2 quarterback elsewhere to spite the Jets. Both claims were likely floated out by Fitzpatrick's reps, but neither threat had much behind it.
Eventually, the Jets and Fitzpatrick came back to the negotiating table and shook hands on a one-year, fully guaranteed pact worth $12MM. Even though Fitzpatrick turns 34 in November, he should have the opportunity to cash in a multi-year deal next offseason if he is able to reprise his '15 performance. Many would say that Fitzpatrick won the stare down with the Jets, but both sides needed each other and it's hard to fault Gang Green for caving.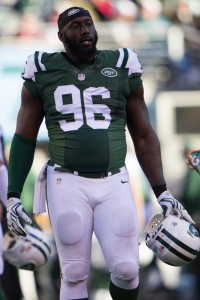 In all of the talk surrounding Fitzpatrick, defensive end Muhammad Wilkerson was almost an afterthought. Wilkerson, 27 in October, has established himself as one of the game's best young defensive ends. Unlike talented teammate Sheldon Richardson, he has stayed out of trouble off the field while he dominates on the field. Still, the Jets showed very little interest in re-signing him this offseason, choosing instead to employ the franchise tag.
"Do I feel that they want me back? As of right now, no. I don't feel like they want me," Wilkerson said. "I'm a talented guy. Everybody knows that. I feel like they're going to get the best they can out of me and just let me go. That's how I feel. Do I like that feeling? No. I'm a New Jersey guy, born and raised and would love to raise my family here."
Then, on the day of the franchise tag extension deadline, the Jets shocked the world when they announced that they had reached a five-year, $86MM deal with Wilkerson. So, what changed? It's possible that the Jets realized late in the game that they needed to hammer out a long-term deal in order to improve their cap situation in 2016. Whatever the reason, Jets fans rejoiced when Wilkerson was locked up for years to come. $37MM of Wilkerson's deal is fully guaranteed with $54MM coming to him over the next three years. That means that Wilkerson is getting paid major money, but the Jets can also cut bait with him prior to the 2018 season to get out of the other $17MM.
The Jets made a big splash in free agency when they signed running back Matt Forte. Numerous clubs were said to be interested in Forte after the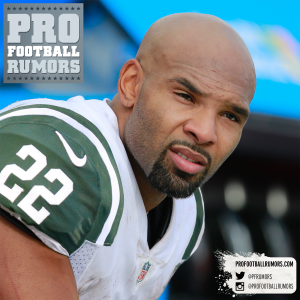 Bears informed him that he would not be re-signed after eight seasons in Chicago. Forte had a relatively down season in 2015, missing three games with injury and failing to top 1,000 yards rushing for the first time since 2011. But, he still managed almost 1,300 yards from scrimmage thanks to his receiving ability — he caught 44 passes out of the backfield for almost 400 yards. Some are skeptical about what Forte can do at his age (31 in December), but he has a lot more in the tank than LaDainian Tomlinson did when he joined up with the Jets as a free agent years ago.
Besides, the Jets still have Bilal Powell to help run the ball and ease Forte's workload. Powell averaged a career-high 4.5 yards per carry on 70 attempts last season and added a personal-best 47 receptions. The Jets did not want to let him linger on the free agent market and they wrapped him up on March 10th, keeping him away from interested clubs including the Cowboys, Ravens, Broncos, and rival Patriots.
Notable losses:
While the Jets locked up Wilkerson for years to come, they watched defensive tackle Damon Harrison go elsewhere. Well, he'll actually stay in the same building, just in different clothes. The Giants scooped up "Snacks" in March, giving him a five-year, $46.25MM deal. The Jets badly wanted to retain Harrison, but the bidding quickly got out of control with several teams interested in him. Harrison was ranked No. 8 on PFR's Top 50 NFL Free Agents list for this past offseason and the Jets will have to find a way to stuff the run without Harrison in the middle.
Before the Jets signed Forte, they saw Chris Ivory ink a free agent deal with the Jaguars. Ivory, to no one's surprise, had lots of suitors after him when the legal tampering period kicked off. But, to everyone's surprise, he landed in Jacksonville. Last year, Ivory topped 1,000 yards rushing for the first time in his six-year career. The powerful back averaged 4.3 yards per carry, scored 7 touchdowns, and even helped out in the passing game, posting 30 receptions. However, if all goes according to plan in New York, he won't necessarily be missed.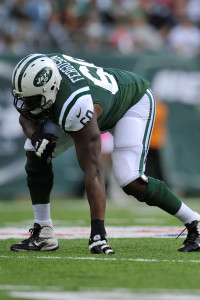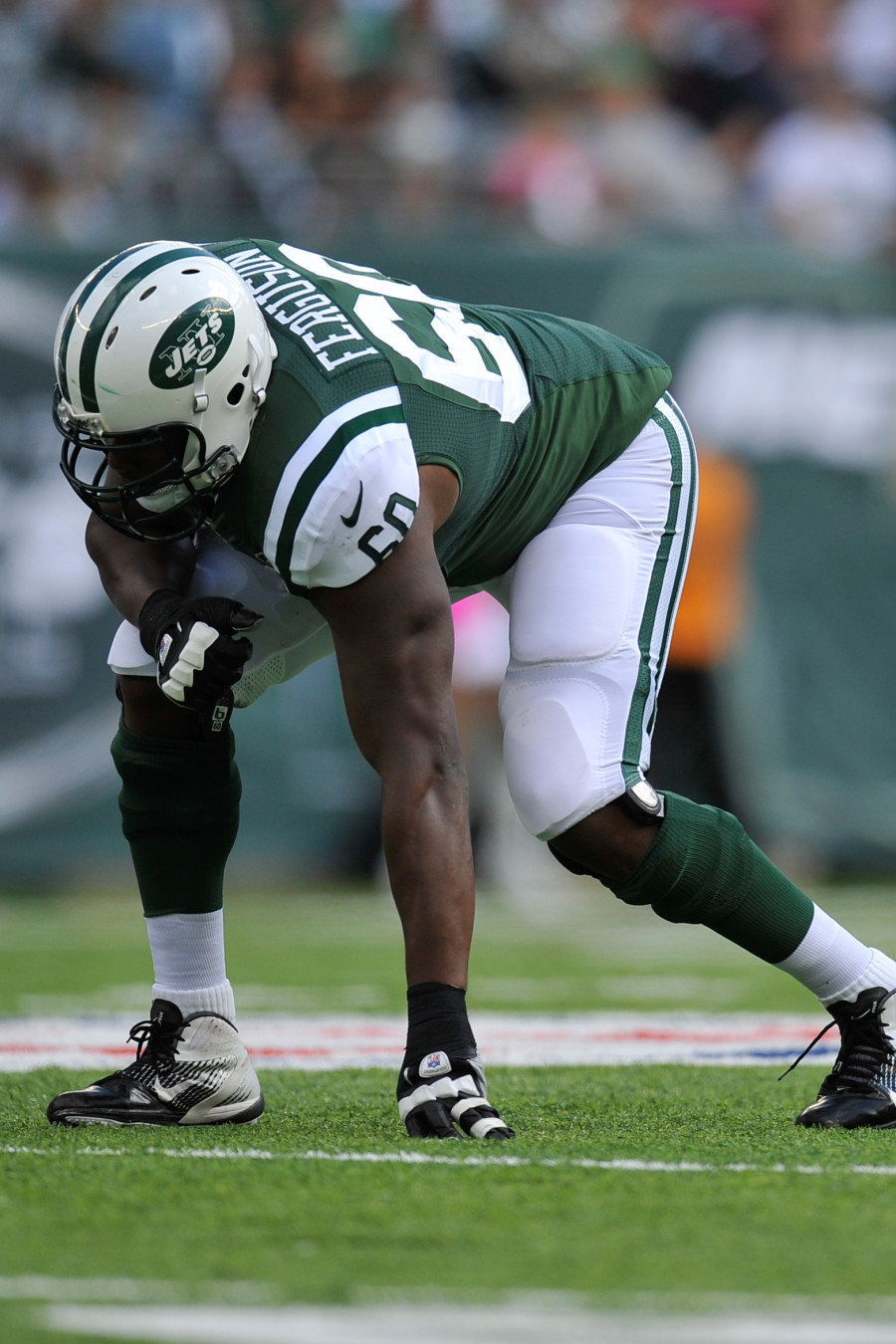 The Jets asked D'Brickashaw Ferguson recently to take a pay cut. Ferguson responded by making a decision that gave Gang Green plenty of cap room – he retired. The 32-year-old never missed a game during his ten-year career and he was reportedly healthy. Ultimately, Ferguson decided that he just wanted to do something other than play football for the first time in a long time. Ferguson had been slated to count for $14.107MM against the Jets' cap in 2016, which was somewhat problematic. Ferguson's decision to retire gave the Jets $9MM+ in cap savings, which they desperately needed.
New Jersey native Bon Jovi rhetorically asks, "Who says you can't go home?" Well, Antonio Cromartie did return to New Jersey to try and reprise some of his best seasons and the Jets even paired him up with old friend Darrelle Revis. Unfortunately, the reunion did not go as planned. In February, the Jets released Cro after he was ranked 86th out of 111 qualified cornerbacks by Pro Football Focus. Because Cromartie's pact was essentially a pay-as-you-go deal, it allowed the Jets to get out of it this year without taking on any dead money. In his first year, Cromartie earned a $5MM base salary and a $2MM roster bonus. For 2016, his $8MM base salary was fully non-guaranteed, so New York created $8MM in cap savings by releasing him.
Trades:
Acquired T Ryan Clady and a 2016 seventh-round pick (No. 235) from the Broncos in exchange for a 2016 fifth-round pick (No. 157).
Acquired a 2016 fifth-round pick (No. 158) from the Redskins in exchange for a 2017 fourth-round pick.
To replace Ferguson, the Jets got creative and scanned the trade market. In April, the Jets shipped a fifth-round pick to the Broncos in exchange for Ryan Clady and a seventh-round choice. While Ferguson famously missed only a single offensive snap during his time with the Jets, Clady doesn't have that same track record of durability. Injuries have marred the former first-round pick's career, as Clady played in only two games during the 2013 season before suffering a Lisfranc injury, and missed all of the 2015 campaign after tearing his ACL during OTAs. Aside from those seasons, however, Clady has been a 16-game starter in every season of his career.
Clady re-worked his sizable contract to help facilitate the deal and it's quite favorable for the Jets. Clady will have a one-year, $6MM deal ($3MM guaranteed) for 2016 which can max out at $7.5MM through incentives. That's a very fair price if Clady can stay on the field. Then, the Jets will then hold a $10MM option — which can max out at $13MM — for 2017.
The Jets ranked No. 3 in pass protection per Football Outsiders' metrics, but No. 26 in adjusted line yards. More specifically, Clady figures to be an improvement on Ferguson's 2015 production, as Ferguson ranked as just the 60th-best offensive tackle in the league among 77 qualifiers, per Pro Football Focus.
Draft picks:
At No. 20 overall, the Jets landed the player who was hailed as "the best defensive playmaker in the 2016 draft" by PFR's resident scouting guru Dave-Te Thomas. Some observers were down on the linebacker in 2015 with claims that he had regressed from how he played in 2014. However, Lee was quietly dealing with a lower leg injury that hampered him for much of the '15 season. Later on in the year, when he got healthy again, Lee proved himself to be one of the nation's top defensive talents. Lee's rookie negotiations took quite a while with the first-round pick only signing in late July. However, that's ancient history after Joey Bosa stole headlines in San Diego with his extended holdout.
The jury is still out on quarterback Christian Hackenberg and it may be a while before we can judge the second-round draft choice. The Jets are high on the Penn State product, but he will need lots of time to develop. Had the Jets moved up and selected someone like Carson Wentz, they might have been able to use the selection to apply additional pressure to Fitzpatrick. When the Jets took Hackenberg, it was widely understood that it had no bearing on their current QB situation. Now, it will be interesting to see how the Jets deal with their four quarterbacks in Fitzpatrick, Hackenberg, Petty, and Geno Smith. Common sense dictates that the team will have to shed either Petty or Smith, but some have speculated that the Jets could carry all four QBs on the roster. Petty has drawn solid reviews this offseason, so it may prove difficult to sneak him on the taxi squad.
Jenkins and Shell could both be important players for the Jets in 2016, Thomas tells PFR. For what it's worth, he's not a huge fan of Hackenberg.
Extensions and Restructures:
Other:
In May, the Jets made the no-brainer decision to exercise Sheldon Richardson's 2017 option. Richardson, despite all of the off-the-field headaches, has been one of the Jets' best defensive players since entering the NFL in 2013. Richardson is slated to earn $8MM+ in '17 but, if he plays his cards right, he'll have a much more lucrative deal signed before that comes into effect. The defensive lineman was issued a one-game suspension for violating the league's personal-conduct policy, but he'll be on the field for Gang Green in Week 2 to face the Bills and old friend Rex Ryan.
Just as the decision to exercise Richardson's 2017 option was easy, so was the call to decline Dee Milliner's. The Jets have not ruled out keeping the cornerback beyond 2016, but he'll have to show them something if he wants a future in green.
Top 10 cap hits for 2016:
The Jets dominated headlines in New York with their Fitzpatrick drama, but their offseason as a whole was somewhat uneventful, save for the Forte signing. After finishing 10-6 last year and falling short of the playoffs, the Jets are looking to take the next step forward in 2016. Under Todd Bowles, this defense-driven team can contend, but a lot will ride on a second dose of Fitzmagic.
Information from Over the Cap, Spotrac, and Roster Resource was used in the creation of this post. Photos courtesy of USA Today Sports Images.
Follow @PFRumors