Earlier this year, defensive end Carlos Dunlap opted to skip the Bengals' organized team activities. The decision to work out on his own in Florida cost him $300K in bonuses, but it may have helped him ramp up pressure on the team as he pushes for a new deal. For his part, Dunlap claims his decision was made for football reasons.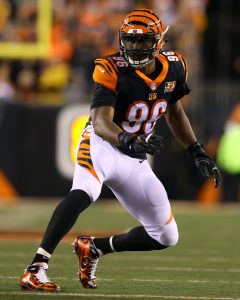 [RELATED:Tyler Kroft Seeking Contract Extension]
"All the comments and everything talking about the reasons for me not being here obviously hit home a little bit because they painted me to be a selfish guy, which was not my objective," Dunlap said. "My goal was to make sure I was in the best shape for when football starts so that I can be there for my team for the long haul."
Either way, it's clear that Dunlap wants to stay with the Bengals beyond 2018 on a new and improved deal. The Bengals also want to keep him for the long haul, but only at the right price.
Dunlap is entering the final year of the six-year, $40MM extension he signed in 2013. The 29-year-old will earn a base salary of $7MM, which is well below his true value.
Extending Dunlap is a pricey proposition and the decision is complicated by the club's other extension candidates. Fellow defensive lineman Geno Atkins is entering the final year of his contract and a new pact may call for upwards of $12MM per year. Cornerback Darqueze Dennard is coming off of a career year and the Bengals would like to keep him, despite the presence of Dre Kirkpatrick and William Jackson III. There's also a trio of tight ends to consider in Tyler Kroft, Tyler Eifert, and C.J. Uzomah, and the team may want to leave some money in the coffers to re-sign defensive end Michael Johnson after the 2018 season.
The Bengals have also invested heavily in defensive ends in recent drafts by adding Carl Lawson, Jordan Willis, and Sam Hubbard. In theory, they can part with Dunlap if the price gets too high if they are confident in their your DE group.
Still, Dunlap has been tremendous in Cincinnati, particularly in the second half of games. The advanced metrics at Pro Football Focus have routinely rated him as a top-30 edge defender over the past seven seasons and he has been equally strong against the pass and the run. Even if the youngsters could do an admirably job in his stead, losing Dunlap would hurt the team's front seven.
Dunlap is well aware of the riches that could await him in free agency as the edge defender market continues to rise sharply. In theory, Dunlap could parlay a big 2018 season into a $15MM/year deal, but he would be taking a risk if he cannot turn in another quality season for the Bengals. A new deal would give him financial security and, depending on the length of the deal, give him an opportunity to retire with the only club he's ever known.
There are a lot of mouths to feed in Cincinnati, but Johnson's expiring $6.1MM contract should provide the team enough room to get a deal done. If Dunlap is willing to sacrifice some upside in order to remain with the Bengals, the two sides could find a midpoint with a four-year extension in the range of $50MM. Alternatively, a shorter extension could make sense for the two sides. An additional three years added to Dunlap's contract would allow him to hit the open market again at the age of 32 and give the Bengals some wiggle room should they look to hang on to their trio of younger defensive ends.
Photo courtesy of USA Today Sports Images.
Follow @PFRumors