The Panthers were prepared to part with their current starting quarterback and their No. 8 overall pick for Matthew Stafford, and owner David Tepper appears prepared to approve a guns-blazing push for Deshaun Watson.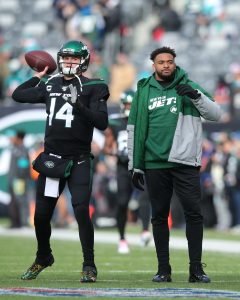 Carolina is believed to be in on a few quarterbacks in this complex offseason at the position, according to The Athletic (subscription required), but the team was not viewed as a serious Carson Wentz suitor. Taking it a step further, Sirius XM Radio's Adam Caplan tweets the Panthers were not interested in the former Eagles passer.
Teddy Bridgewater, offered to the Lions in the Panthers' Stafford proposal, may not be long for his role as Carolina's QB1. But the Panthers sat out the Wentz process, joining the Patriots and Broncos — who were also in the mix for Stafford, though the QB did not want to be dealt to New England — in that regard. This led to the Eagles shipping Wentz to the Colts. Philadelphia's initial ask of a Stafford-type haul for Wentz induced multiple teams to bow out of the pursuit early.
As for the Panthers' next move, it might not be a trade for Sam Darnold. They do not appear especially high on the Jets quarterback, according to The Athletic, and a growing sense has emerged that Bridgewater may be back at the controls for the 2021 Panthers. Armed with the draft's No. 2 overall pick, the Jets are mulling a Darnold decision. Multiple teams have inquired on Darnold thus far. Their choice could impact the Panthers, who may be out of position — barring a trade-up maneuver — to snag one of the top three QBs in this draft.
Returning OC Joe Brady remains confident in Bridgewater, per The Athletic. Bridgewater signed a three-year, $63MM deal last March. However, Tepper is said to be hoping the team finds an upgrade — even if Watson cannot be pried from the Texans.
Photo courtesy of USA Today Sports Images.
Follow @PFRumors