The Raiders' first playoff berth in five years and second since 2002 included a minus-65 point differential and a 21st-place DVOA ranking. The Broncos and Chargers then loaded up their rosters in the offseason, with the likes of Russell Wilson, Khalil Mack and J.C. Jackson entering the AFC West. Along with the Chiefs, who were largely responsible for the Raiders' historically bad (for a playoff entrant) point differential, the other two Raider rivals' reloads increase the degree of difficulty for the Silver and Black in 2022.
But Las Vegas' offseason did not signal a short-term step back as part of a bigger-picture plan. The Raiders' moves indicate their new regime believes this is a team on the cusp. Davante Adams and Chandler Jones trekking to Vegas rounds out what figures to be one of the more fascinating divisional races in modern NFL history. The Raiders will enter that derby with more preseason hype than they've received in nearly 20 years.
Trades:
The Deshaun Watson trade doubled as the offseason's highest-profile move, aided by the many controversies it spurred. But the Raiders' decision to reunite Adams and Derek Carr produced the biggest fallout. The ex-Packers All-Pro's $28MM-per-year contract is a somewhat deceiving deal that includes two whopping salaries ($35.6MM and $35.7MM) in its final two years to move the AAV past DeAndre Hopkins' previous high-water mark. The extension still calls for nearly $66MM to be guaranteed by March 2023, and Green Bay's tag-and-trade maneuver triggered a receiver-market earthquake.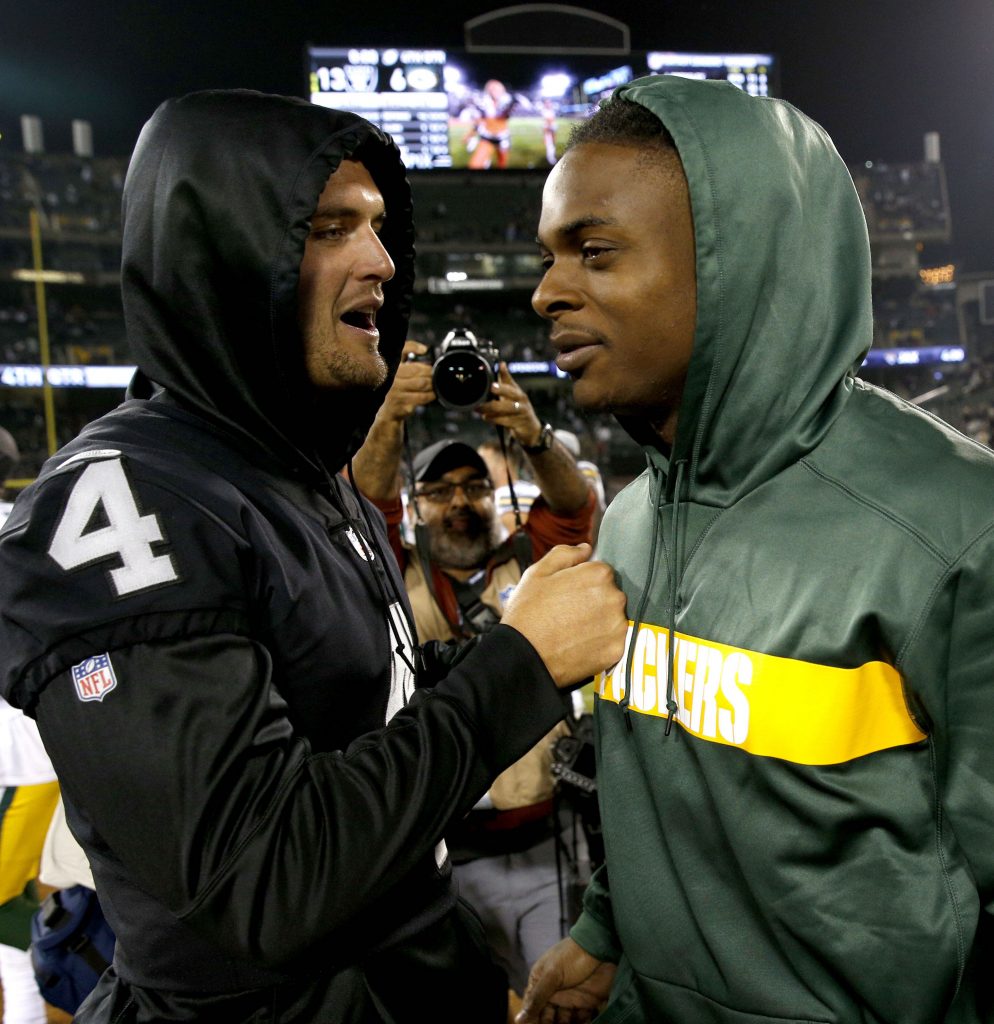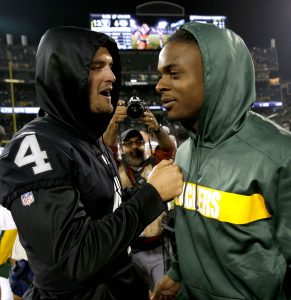 Most notably, the Raiders' decision led Tyreek Hill out of the AFC West. The Chiefs' unrivaled speed threat raised his asking price following the Adams accord. Rookie Raiders GM Dave Ziegler could deserve gamesmanship points for that ancillary consequence, with Hill leaving Kansas City for Miami less than a week later. On the field, Adams will be the best wideout of Carr's career and probably (depending on how you feel about Wes Welker) the top receiver to play in a Josh McDaniels system since Randy Moss.
Adams arrived in Vegas with considerable momentum, with his back-to-back All-Pros aiding Aaron Rodgers to consecutive MVPs. Although Adams and Carr famously played together at Fresno State, we will soon learn more about Rodgers' impact on Adams' NFL success. The situations are different, but the Raiders acquiring Jordy Nelson (at 33) did not go well. The prospect of Vegas unleashing the well-rounded Adams-Hunter Renfrow–Darren Waller trio on secondaries presents tremendous intrigue. The modern Raiders have not deployed a troika quite like this, which should keep Carr's mid-career rise on course.
Betting on a receiver remaining elite into his early 30s is a risk the Raiders were willing to take, with the Adams deal's practical guarantees running through 2024. (The ninth-year veteran turns 30 in December.) Of the top 35 receiving yardage numbers since 2012, only two came from 30-somethings (Andre Johnson and Brandon Marshall, both at 31).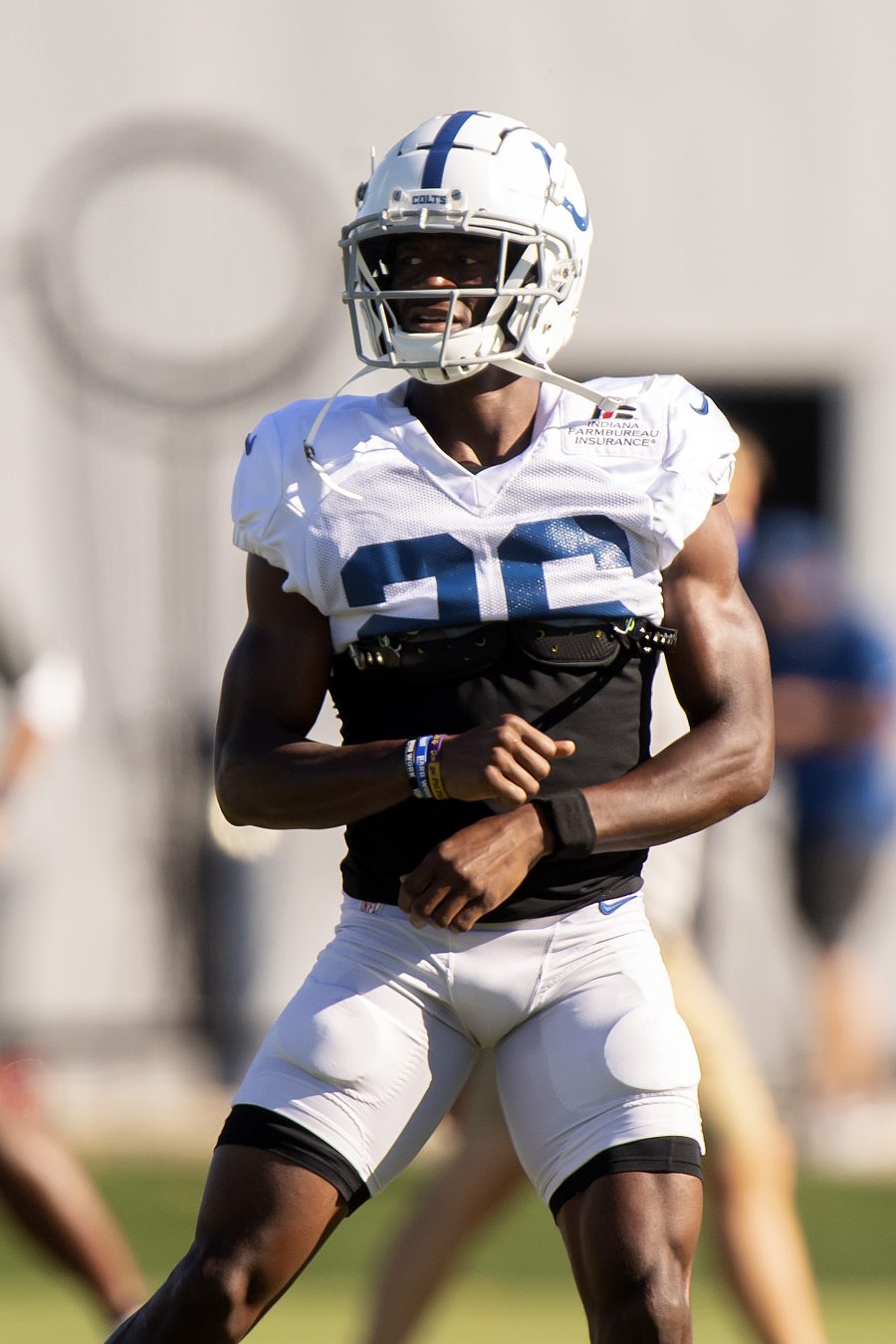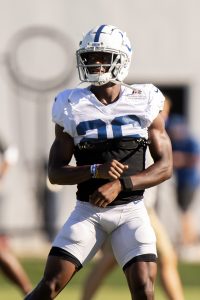 For a minute (literally, as the transactions came seconds apart) a strange reality in which the Raiders rostered Ngakoue, Maxx Crosby and Chandler Jones unveiled itself. But the team quickly revealed its plans by making Ngakoue, 27, a Vegas one-and-done. Ngakoue and Jones totaled 36 pressures last season, but the former will follow Gus Bradley from Nevada to Indiana. Ngakoue, who will play for Bradley in a third city, worked as a fine Crosby sidekick in tallying 10 sacks and two forced fumbles. The Raiders are betting Jones, despite being five years older, will be a better Crosby edge bookend.
Ya-Sin is coming off his best season, which Pro Football Focus ranked as a top-30 campaign among 2021 cornerbacks. The Raiders now have a contract-year corner to evaluate. Ya-Sin is expected to team with Trayvon Mullen outside, with potential slot standout Nate Hobbs accompanying them on most downs. The Raiders effectively chose Ya-Sin, a 2019 second-rounder, over giving Casey Hayward a slight raise.
Edwards' exit leaves the Raiders without their first six picks from the 2020 draft. The former third-round pick follows first-rounder Henry Ruggs (waived in November 2021), first-rounder Damon Arnette (waived in November 2021), third-rounder Tanner Muse (waived in September 2021) and third-rounder Lynn Bowden Jr. (traded in September 2020) in not making it to Year 3 with the Raiders. The 6-foot-3 target showed a bit more promise as an NFL sophomore (571 receiving yards), but the Ziegler-McDaniels pair identified outside help to staff the team's tertiary receiver spots.
Notable signings:
Low-cost performers, including a batch of ex-Patriots, came to Vegas in droves this year. But the team spent notable cash on a couple of defenders. Jones fronts that pack, with the six-year Cardinal committing to the NFL's other desert city. Similar to the Adams trade, the Raiders are betting on the back end of a star's prime. With Crosby rushing on the other side and a slew of ex-New England staffers running the Raiders now, this is probably the ideal locale for Jones (107.5 career sacks) to maximize his early 30s and push for a Hall of Fame spot. McDaniels, Ziegler and new DC Patrick Graham were with the Patriots throughout Jones' four-year Foxborough run.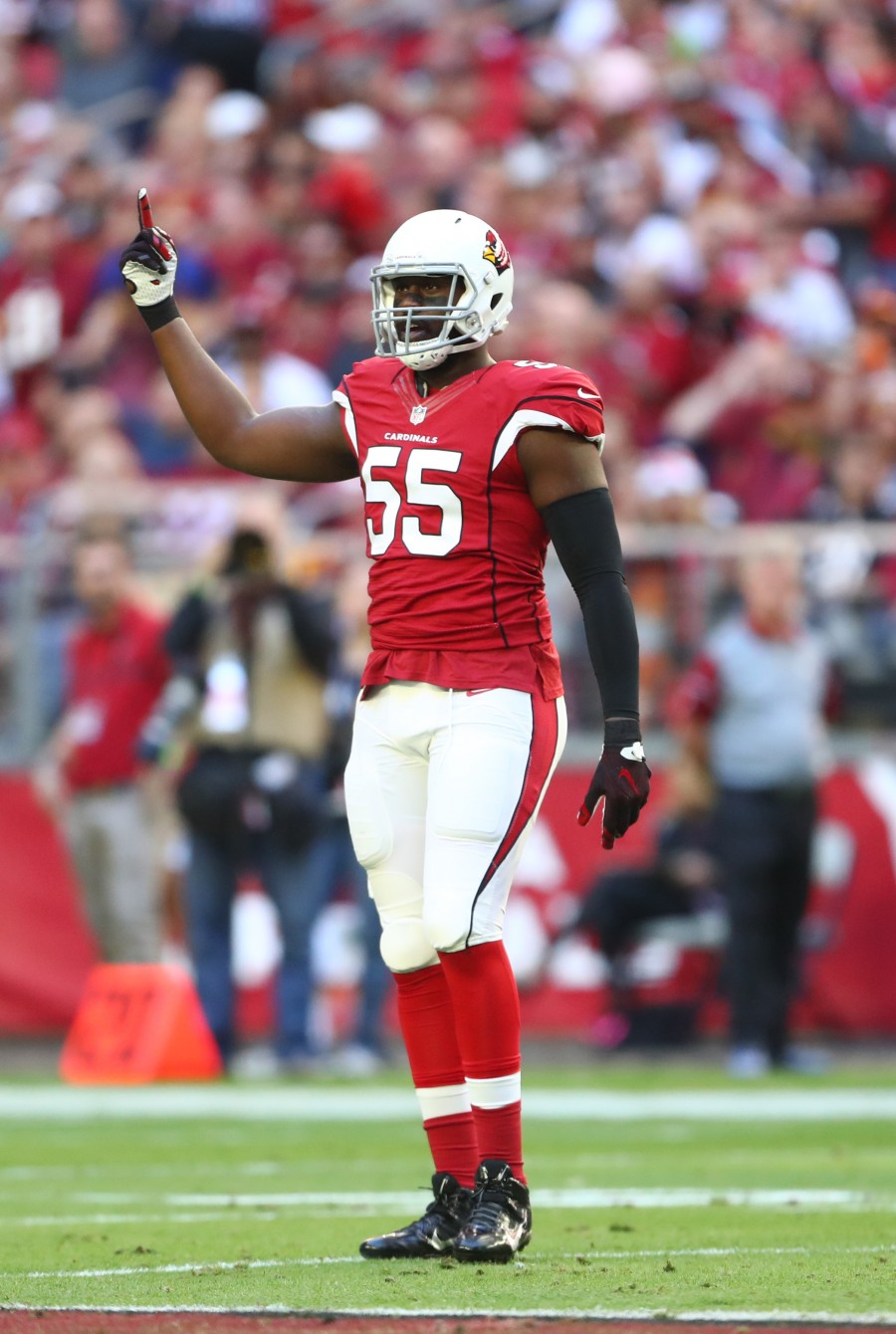 Jones' 2020 biceps injury and the ex-first-rounder's age during his Cards contract year worked against him maximizing his value. The two-time All-Pro watched several younger edge rushers pass his 2017 extension. T.J. Watt has since moved the position's AAV ceiling to $28MM. Jones' All-Pro seasons came in 2017 and '19, and while earning $16.5MM on average for five years is nothing to complain about, the Syracuse product's bad timing kept him from a salary tier he probably deserved to infiltrate. But Jones still did well to cash in with the Raiders, who guaranteed the first two years of his $17MM-AAV deal.
Jones, 32, did enough to earn All-Decade acclaim and bounced back from his injury with a 10.5-sack 2021 season. Granted, five of those came in one game — a Week 1 barrage against the Titans, the first game after Cardinals management did not grant his offseason trade request — but Jones' 26 QB hits matched his 2019 season. The Raiders have rostered Khalil Mack, the 2016 Defensive Player of the Year, and deployed the Ngakoue-Crosby duo for a year. But Crosby and Jones being signed long-term together forms what is probably the team's top edge duo this century.
The Titans did not make Brown an offseason priority, letting him go for barely the league minimum. But coverage is the four-year starter's strong suit. Considering Brown signed for $5.3MM last year and rated as a top-20 PFF linebacker from 2018-20, this could be a quality buy-low bet. Brown, 27, could play a three-down role alongside Denzel Perryman. Injuries over the past two years dropped Brown's price, but linebackers with his skillset and resume are worth more than $1MM.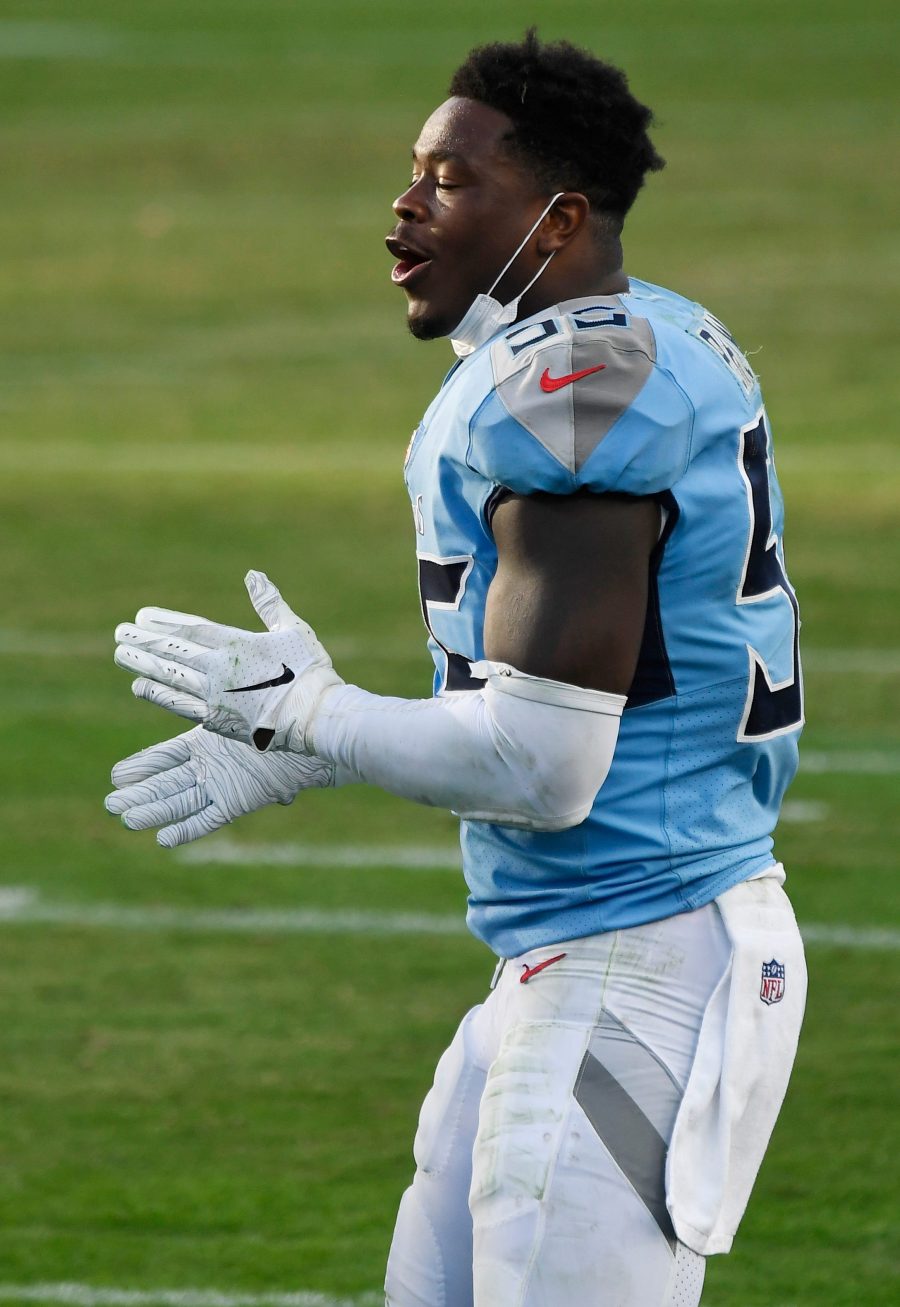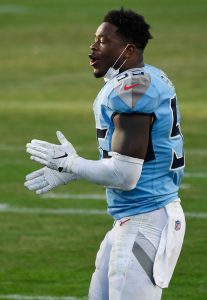 Hollins, Cole and Robinson will tag in to fill the spots of Edwards, DeSean Jackson and Zay Jones. While McDaniels will surely flood his top three skill-position players with targets, the Raiders did not draft a receiver. Openings for Carr's Nos. 3 and 4 wideouts exist.
Cole, 29, comes in with the most experience, having led the Jaguars' surprising AFC championship game-qualifying outfit in receiving (748 yards). The Division III product showed deep-threat capabilities in 2017, with 17.8 yards per reception, but has not matched that output since. Robinson is accustomed to seeing favorable coverage, having been on a team with Hill and Travis Kelce throughout his career. Jones and Edwards ranked in the top 15 in 2021 average depth of target (14.0 yards apiece). Seeing how the post-Ruggs/D-Jax Raiders dial up deep opportunities and round out their receiving corps will be somewhat interesting to start this season.
Similar to the incoming wideouts, the Raiders shuffled out their interior D-linemen. Well, save for Hankins, who has now signed four Raiders contracts during a five-year tenure. A fifth-round pick, Nichols broke into the Bears' starting lineup as a rookie — on a defense full of veteran front-seven contracts — and remained part of the team's upper-echelon, Mitchell Trubisky-restricted defenses from 2019-20. Nichols racked up eight sacks and 22 QB hits over the past two seasons. The Raiders did not stop with Nichols, adding four more vets (Butler, Lancaster, Kyle Peko and Andrew Billings) and drafting two interior D-linemen on Day 3. Las Vegas ranked 19th against the run last season.
A starter after Marcus Peters' injury last season, Averett figures to play a similar insurance role. Mullen underwent foot surgery in May, injecting some doubt into the contract-year cover man's status for training camp. Targeted 101 times last season, Averett still ranked in the top 30 among corners in passer rating allowed as the closest defender in coverage. The former Alabama national champion starter intercepted three passes last season as well. As a depth piece, Averett brings upside.
Notable losses:
The Raiders overhauled much of their depth chart this offseason. Changes at linebacker created a chunk of cap space for the team, which used the maximum two post-June 1 designations to cut ties with 2020 signees Littleton and Kwiatkoski. Littleton's impact did not match his Rams output, and Kwiatkoski's 2021 role became reduced after the Raiders traded for Perryman and signed Wright. The 10-year Seahawk also logged a career-low 37% snap rate. It appears it is Seahawks or retirement for Wright.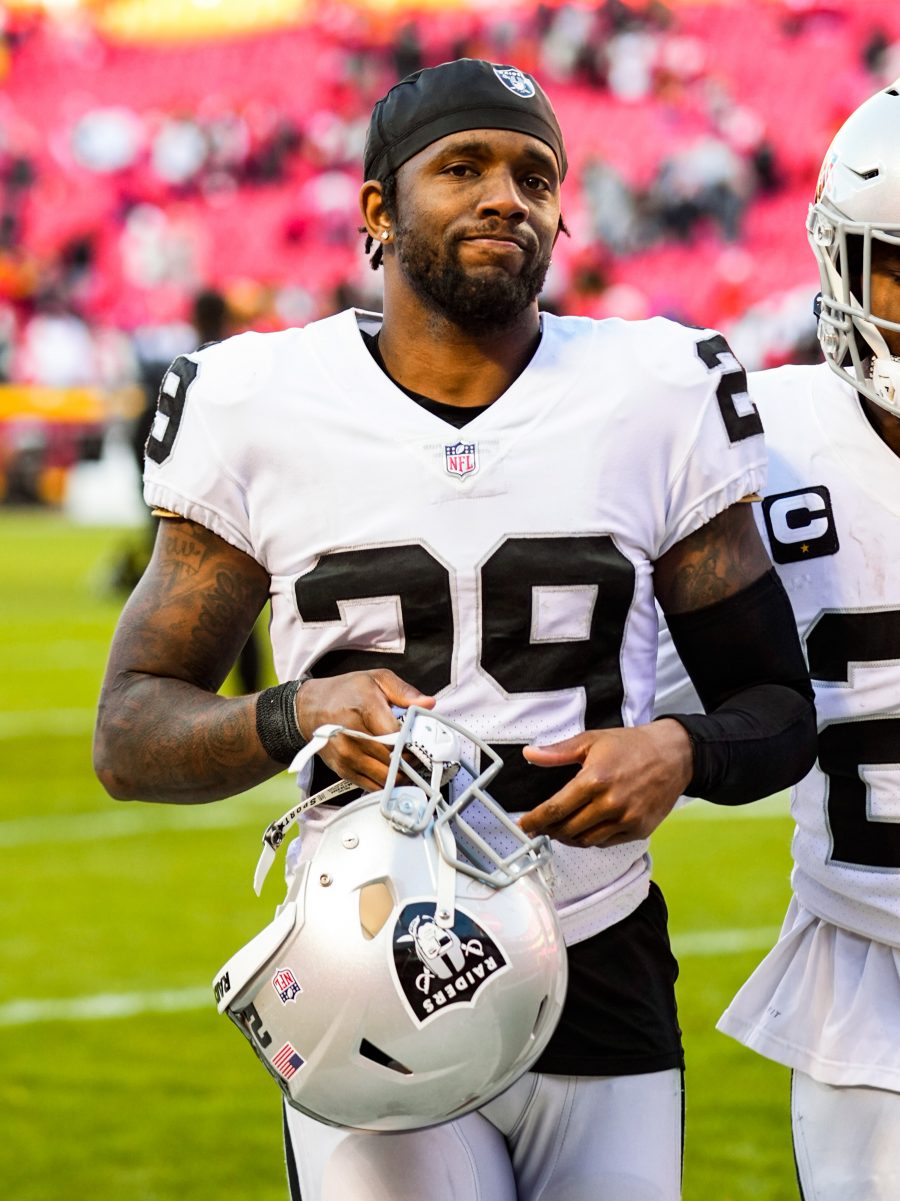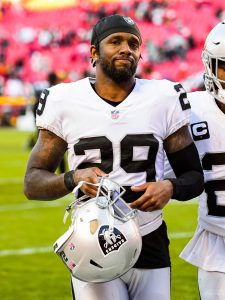 Hayward completed a bounce-back season in Vegas, showing the form that convinced the Chargers to extend him in 2018. The Los Angeles cap casualty rated as a top-15 corner, per PFF, last season. The Raiders passed on re-signing the 32-year-old corner, who only received a two-year, $11MM deal from the Falcons, instead placing their bet on Ya-Sin.
Mariota (two years, $18.75MM) will join Hayward in Atlanta, being set to receive — after three years as a backup — an unlikely opportunity to show starter form again. The Raiders signed the former Titans No. 2 overall pick to push Carr in 2020, giving him a two-year, $17.6MM deal. But the ex-Heisman winner did not threaten the incumbent's spot. Mariota soon became a trade-rumor fixture but accepted a 2021 pay cut to remain Carr's backup. The Raiders mixed in their QB2 as a sporadic run option but obviously were not going to match the Falcons' offer.
Mariota, however, did give the team a quality backup. Carr has missed just two career games, but new QBs Mullens and Stidham do not provide the same security.
Zay Jones signed for a stunning $14MM fully guaranteed. The Jaguars gave the former second-round pick a three-year, $24MM deal to join their now-Christian Kirk-fronted receiving corps. Nelson Agholor's 2021 exit moved Jones up in the Raiders' receiving hierarchy, after the latter posted just 154 receiving yards in 2020. Jones' 546 yards helped the 2021 Raiders' cause, but his contract marked one of the offseason's most surprising deals. Jackson, 35, made a minor impact as a Raider — mainly during Thanksgiving's pass interference-fest, which helped the Raiders sneak into the playoffs — but is near the end. The veteran deep threat did not list the Raiders as one of the franchises for whom he would delay retirement.
Draft picks:
For as much remodeling as the Raiders did at other position groups, the increasing likelihood of the team running out the same offensive line — or close to it — is odd. This configuration includes cornerstone left tackle Kolton Miller but features question marks just about everywhere else. Parham being the only notable front-five addition runs the risk of undercutting McDaniels' first offense.
Gruden and Mayock dismantled a veteran group last year, trading Pro Bowlers Rodney Hudson and Trent Brown while also unloading seven-year starter Gabe Jackson. Their replacements underwhelmed. PFF graded Las Vegas' O-line 28th last season, and ESPN's run block win rate metric graded this crew 31st. Carr took 40 sacks last season — fifth-most in the league. First-round pick Alex Leatherwood was hastily shifted to guard, but the surprising first-round pick is back in the mix for the Raiders' right tackle gig. The team returns center Andre James, the unit's second-best blocker (low bar), with 2020 fourth-rounder John Simpson, Parham and a back-from-injury Denzelle Good being the top guard options.
Because of the funds freed by the Kwiatkoski and Littleton post-June 1 cuts, the Raiders hold the NFL's fourth-most cap space — at $21.6MM. Even for mere camp competition, available veterans could help this bunch. Ereck Flowers and Daryl Williams reside as free agent guard options, and although James signed an extension last year, center offers more free agent solutions — in J.C. Tretter, Matt Paradis and Trey Hopkins. Riley Reiff and Bobby Massie reside as unsigned right tackle options.
Extensions and restructures:
A busy offseason included extensions for Gruden-era cornerstones and the lone remaining Reggie McKenzie find on the team. Carr's second Raiders extension is less straightforward than his 2017 re-up. Although the deal includes $65.5MM in injury guarantees, the Raiders have a narrow window to escape post-2022 payments.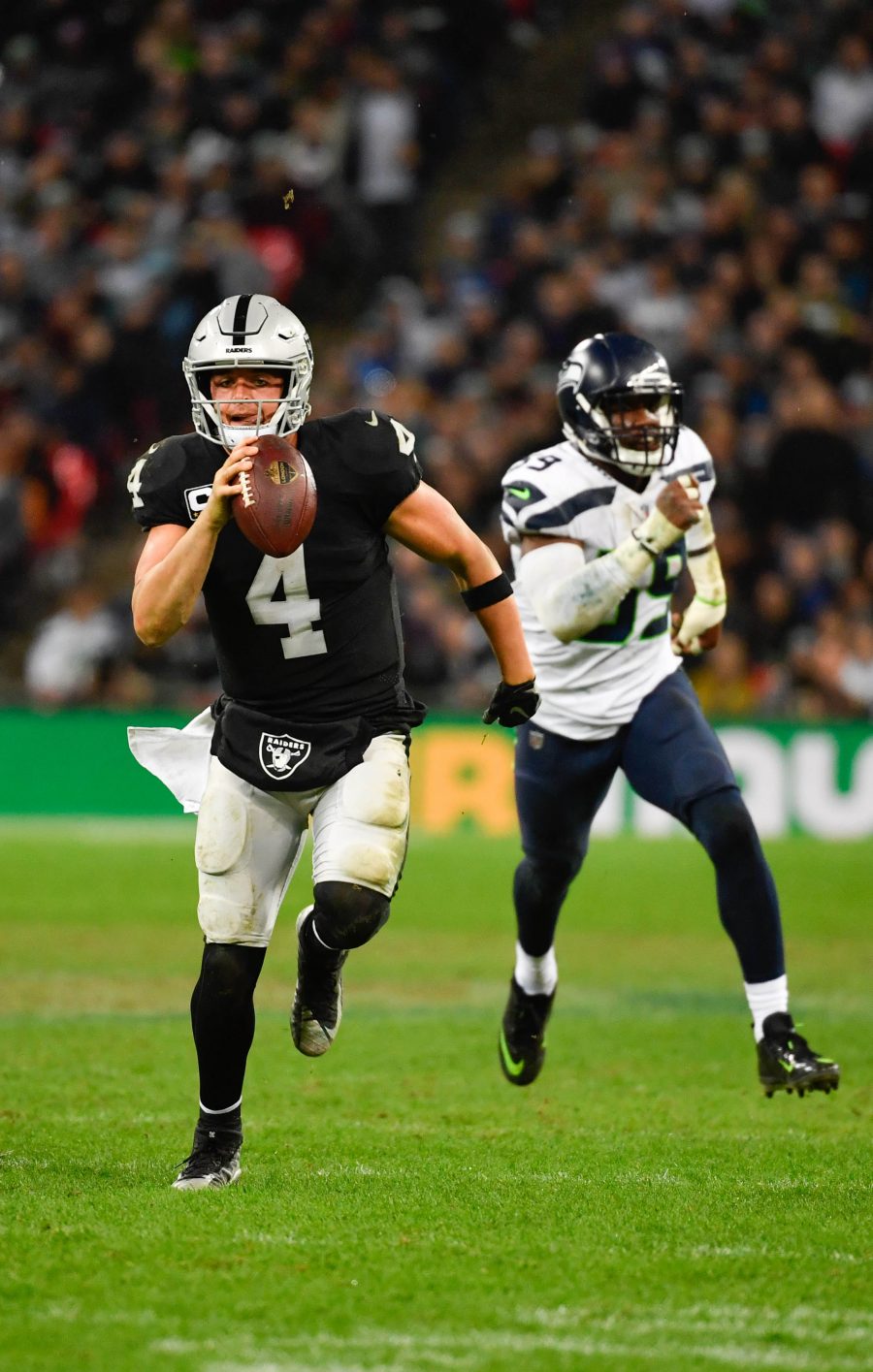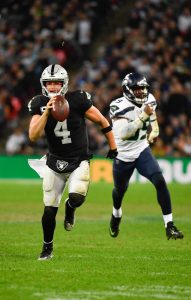 Three days after Super Bowl LVII, Carr will see $40.5MM guaranteed (his 2023 salary and part of his 2024 pay). That gives the Raiders a short time to work out a trade. Carr trade buzz persisted for several offseasons, but no deals came to fruition. If, however, McDaniels determines — as he once did in Denver — his starting quarterback is not a fit, the Raiders can move on. Of course, Carr has been viewed as too good to jettison for years. Will the team's new regime continue to regard him as such?
The 31-year-old QB took steps back after he became the NFL's first $25MM-per-year player five years ago, but he began to make strides under Gruden. Carr finished in the top 11 in QBR in 2019 and '20, and despite one of the NFL's worst O-lines and Ruggs being waived midseason, the veteran passer ranked 14th in this metric in 2021. Ken Stabler remains the longest-tenured QB in Raiders history, but "The Snake" sat behind Daryle Lamonica for five seasons. Carr's eight-year starter run is the longest for a QB in Raiders annals.
Prior to extending Carr, Ziegler and McDaniels took care of perhaps the Gruden-Mayock period's greatest find. Crosby's eight 2021 sacks did not match his rookie-season output (10), but the former fourth-round pick was a force in the team's do-or-die Week 18 matchup against the Chargers. Crosby torching Storm Norton went a long way toward granting the Raiders playoff access, and the Eastern Michigan product's 30 QB hits last season more than doubled his previous career-best mark.
While Crosby received only $26.5MM fully guaranteed — behind Jones' new deal, Clelin Ferrell's rookie contract and ranking 27th among NFL edge rushers — his 2022 and '23 base salaries are locked in. Crosby will also see his 2024 base ($19MM) more become fully guaranteed in 2023. Unlike Carr, there does not seem to be much ambiguity regarding the organization's long-term plans with Crosby, who is going into his age-25 season.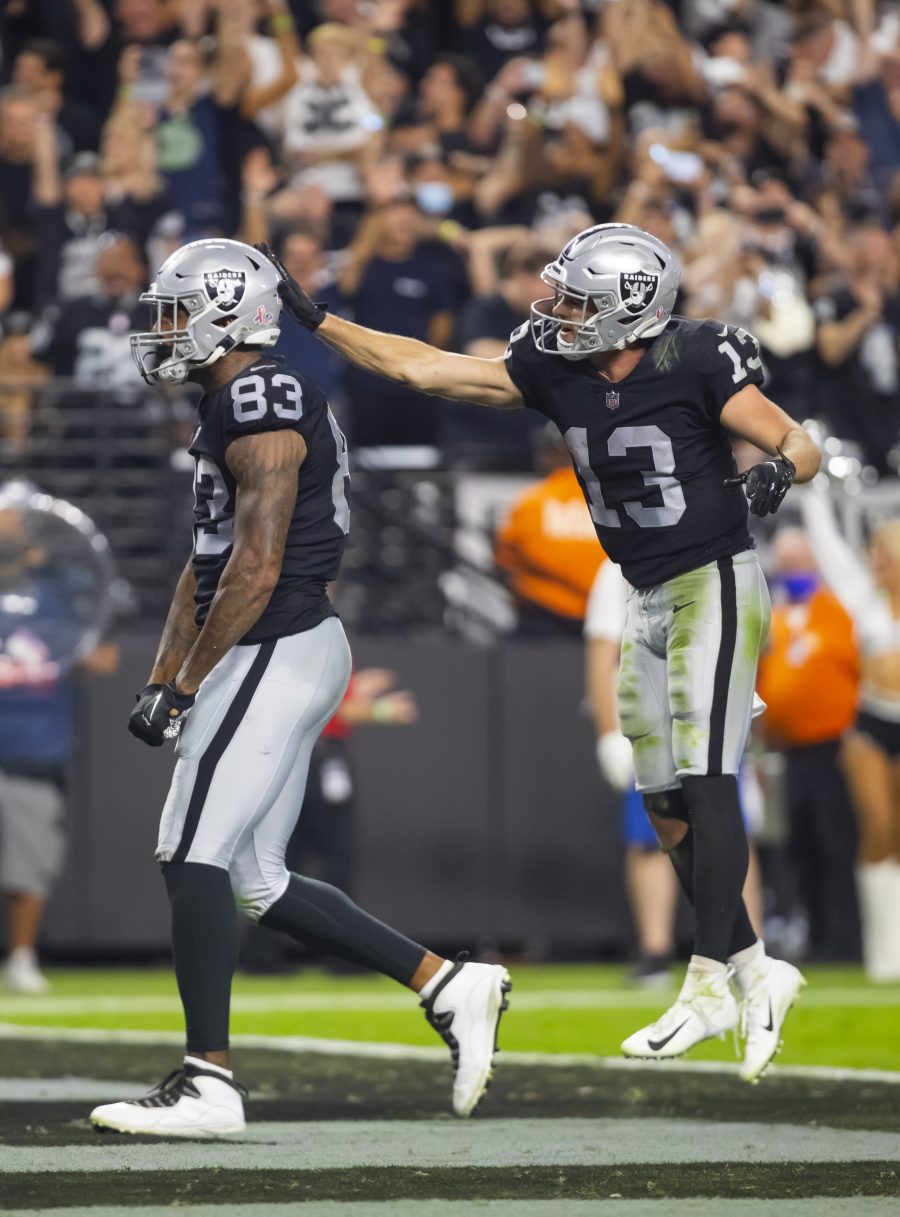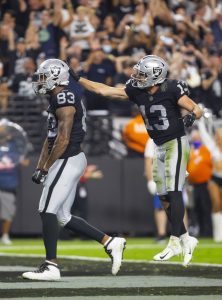 Renfrow's deal does bring some uncertainty, though not for the established slot receiver. The Raiders have now locked down Renfrow and Adams, effectively, through 2024. This leaves Darren Waller in the dark. The Pro Bowl tight end stepped in and saved the Raiders, to some degree, after their ill-advised Antonio Brown trade combusted before the mercurial wideout could play one game in Silver and Black. Waller has two 1,100-yard seasons on his resume. Only eight tight ends in NFL history have accomplished that. Yet, Waller is about to enter training camp as the NFL's 17th-highest-paid tight end — by virtue of an extension he signed back in 2019, during the ex-Raven receiver's breakout season.
If the Raiders try to table a Waller extension to 2023 — the rumored plan — it might be difficult for the soon-to-be 30-year-old playmaker to absorb such a scenario, especially when Renfrow (one 1,000-yard campaign) is now tied to a contract worth more than double his per year. That creates an interesting storyline to follow, especially as the Raiders have assembled their best pass-catching armada since at least Tim Brown–Jerry Rice–Jerry Porter. The ages of the Raiders new trio give it a higher ceiling compared to the one with the declining greats (feat. Porter) 20 years ago.
Renfrow having broken out before McDaniels' arrival also raises the ceiling for this partnership. McDaniels was the Patriots' OC when Welker began his breakout — one that enhanced the profile of the slot position as a whole — and was back in that role when Julian Edelman morphed from special-teamer to legit Welker successor. Renfrow established a rapport with Carr quickly, but his 1,038-yard season moved the Clemson alum into the market for a big-ticket re-up.
The Raiders now have two pass catchers earning at least $15MM per year, matching only the Chargers, Rams and Buccaneers. Waller should be pushing for a deal in the $15MM-AAV neighborhood. Will the Raiders go through with it?
Other:
On the HC radar for years leading up to his 2018 Colts commitment-decommitment sequence, McDaniels still lingered as a name — albeit a polarizing one — to monitor during recent offseason hiring cycles. After his 10th year back as New England's OC, the patient assistant chose Las Vegas as his landing spot. For a stretch, it looked like the Raiders would legitimately promote Bisaccia. The ST coordinator-turned-HC guided the team to the playoffs following the Gruden- and Ruggs-generated midseason turmoil, but he is now in Green Bay back in a special teams role.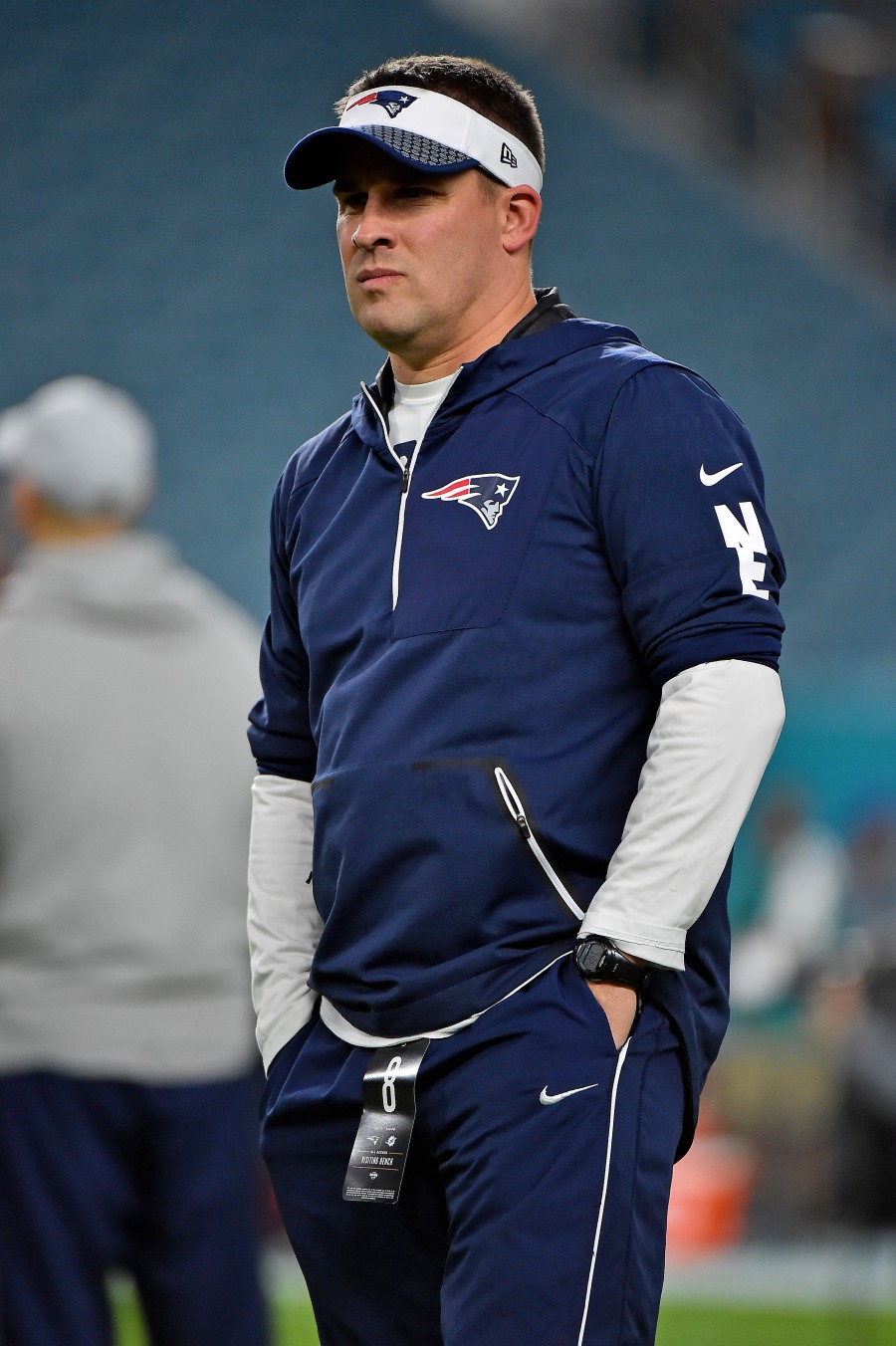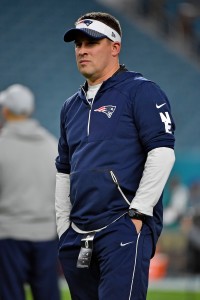 Eight HC openings emerged early this offseason; McDaniels, 44, was only connected to the Raiders job. He will attempt to buck the trend of Bill Belichick assistants failing on their own and try to bounce back from one of the worst HC efforts in recent memory. McDaniels succeeded Mike Shanahan in Denver in 2009, and after the Broncos gave their young coach de facto GM powers, a slew of strange personnel decisions — headlined by McDaniels' Jay Cutler feud/trade and decision to move back into the 2010 first round for Tim Tebow — ensued. The Broncos fired their increasingly unpopular HC late in the 2010 season, with a videotaping scandal ending the tenure, and McDaniels' one-year Rams OC run ended with St. Louis' offense ranking last.
But McDaniels was at the controls when Tom Brady vaulted onto the MVP tier in 2007. Divisive reputation aside, McDaniels has been a play-caller since the 2006 season and is regarded as one of the best. Mac Jones' debut season provided additional evidence. Belichick's right-hand man became famous for game-plan malleability, with the Pats shifting from spread attacks to frequent fullback involvement throughout McDaniels' second stint as their OC. The Raiders are betting on the veteran staffer's maturation and doubled down on it by bringing in Ziegler, who has final say over the 53-man roster.
Nick Caserio spent much of his Patriots tenure as Belichick's top personnel lieutenant. Ziegler, 44, assumed that role only after Caserio departed for the Texans' GM job in 2021. Caserio and McDaniels were often linked to relocating together. Instead, Ziegler, who also worked with McDaniels in Denver, made the move out of Foxborough with him. Belichick front office staffers have a history of failing on their own as well; Scott Pioli did not fare well as Chiefs GM. Ziegler received one other GM interview, with the Broncos in 2021, prior to joining the Raiders.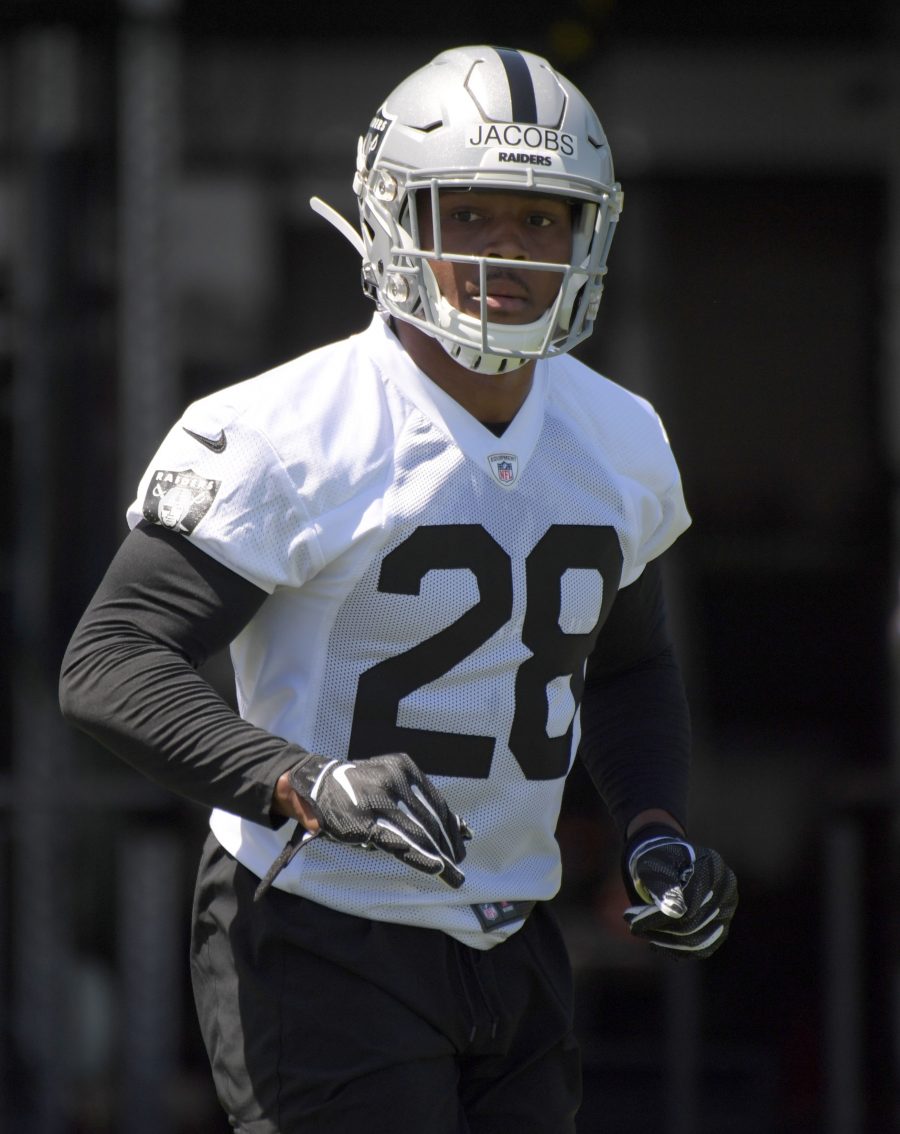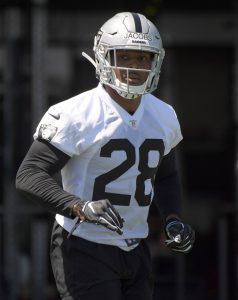 Mick Lombardi, son of ex-Patriots exec and Browns GM Mike Lombardi, and Graham will contribute to the latest Patriots West effort. Graham, 43, was a New England staffer from 2009-15. Lombardi, 33, spent the past three years with the Pats. Graham's DC stretch has come with ex-Patriots coworkers (Brian Flores in Miami, Joe Judge in New York and now McDaniels). His 2020 Giants defense made a surprising vault to ninth in scoring, leading to HC interviews, but Big Blue's 2021 unit finished outside the top 20 in points and yards. Bradley's lone Raiders defense extended the franchise's streak of bottom-half defensive finishes (points-wise) to 19.
Although Crosby and Renfrow becoming standout contributors saved the Raiders' 2019 offseason from full-on ignominy, the year that saw Antonio Brown, Trent Brown, Tyrell Williams and Lamarcus Joyner come to Oakland also included a top-five whiff (Ferrell). Viewed as a reach at No. 4 overall in the moment, Ferrell dropped from struggling starter in 2019-20 to a player who did not see much playing time last season. He may now be on the Raiders' roster bubble. A Hard Knocks cast member in 2019, Abram has not justified the Raiders' investment. His coverage skills have not impressed. After grading Abram as 2020's worst full-time safety, PFF merely slotted him 75th last season.
By far the most productive of the Raiders' three 2019 first-rounders, Jacobs joins Abram and Ferrell as a 2023 free agent-to-be. The Alabama-developed back has two 1,000-yard seasons and excelled down the stretch last season, despite the Raiders' bleak O-line situation, to help the team to the playoffs. Jacobs' NFL odometer (732 carries) fails to paint the full picture. The 24-year-old back only logged 251 college carries. That should matter in Raiders extension negotiations or 2023 free agency talks. The Ziegler-McDaniels duo declining an $8MM 2023 option points Jacobs to the market, where he could join Saquon Barkley, Kareem Hunt and others. Jacobs can certainly enhance his value this year, particularly if he can stay healthy.
Top 10 cap charges for 2022:
These being a 2022 payroll's top 10 cap figures looks unusual, but the Raiders both finalized major extensions this offseason — thus pushing big hits to future years — and opted for low-cost quantity to fill out their first McDaniels-era depth chart. Was this the right approach?
Bovada gives the Raiders the longest odds of any AFC West team, by a notable margin, at reaching Super Bowl LVII. But the team landed a big coaching fish and added two star-level talents at premier positions this year. The Raiders being stationed in an NFC division would bolster their chances at a Super Bowl push, but in the loaded AFC West, such a climb will be more difficult. Though, McDaniels and Ziegler are signed to be in Vegas for the long haul. The big-picture decisions they made in their first offseason in charge will go a long way toward determining the team's contender viability beyond 2022.
Follow @PFRumors